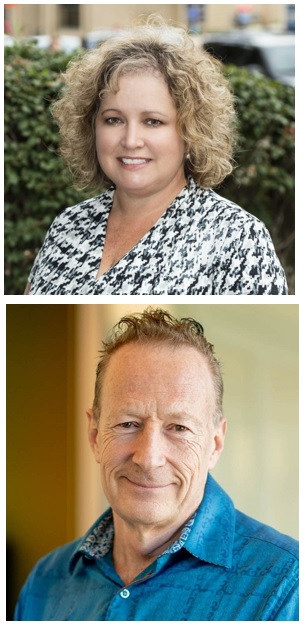 The University of Pittsburgh Office of Innovation and Entrepreneurship presented its 2022 Celebration of Innovation on April 21, 2022. This event recognized the achievements of Pitt faculty and student innovators who are seeking to improve people's lives through the commercialization of their ideas and discoveries. In addition to recognizing all faculty and students who submitted an invention disclosure, were issued a U.S. patent, or had their innovation licensed, there were seven special awards presented. The efforts of two McGowan Institute for Regenerative Medicine faculty members were recognized among these special awards.
Emerging Innovator
Kacey Marra, PhD (pictured top), Professor of Plastic Surgery and Bioengineering and Vice Chair of Research for the Department of Plastic Surgery
The Emerging Innovator Award is presented to an early-to-mid career Pitt faculty member who has worked towards achieving impact for their research through commercial translation, and a dedication to mentoring the next generation of innovators and entrepreneurs.
Dr. Marra is a pioneering innovator around the problem of repairing large gap nerve injuries. She was inspired in this work after receiving funding from the Department of Defense for her research and meeting soldiers who had suffered significant nerve damage from combat wounds. Dr. Marra and her lab have demonstrated in animal studies the ability to restore up to 80 percent of nerve function in large-gap injuries through the application of a biodegradable tube containing a time-released protein growth factor.
During her time at the Pitt, she has submitted 23 invention disclosures to the Innovation Institute, has been issued six patents on her discoveries, and has had her innovations licensed six times, including the formation of three startup companies. This puts her in the top handful of women innovators in the university's history.
Dr. Marra launched her own company, Nerve Repair Technologies, in 2018. She is presently raising a seed round and preparing to hire a CEO to help the company take its next steps toward an application to the Food and Drug Administration to conduct clinical trials.
Watch the award presentation here.
Startup of the Year
Co-Founder: Eric Lagasse, PharmD, PhD (pictured bottom), Associate Professor in the Department of Pathology, University of Pittsburgh, with a secondary appointment in Pitt's Clinical and Translational Institute
For over a decade, Dr. Lagasse has been researching the regeneration of organ tissue as part of the McGowan Institute of Regenerative Medicine. This kind of work at the McGowan Institute represents the progression of discovery from the pioneering organ transplantation work of the late Thomas Starzl, MD, PhD.
Dr. Lagasse discovered that hepatocyte cells of the liver, when introduced into the lymph nodes, will grow functional liver tissue. In effect, the lymph nodes become bioreactors inside the body. This opens up the possibility of extending the lives of people suffering end stage liver disease, bridging them to a potential transplant, or even eliminating the need for a transplant.
Dr. Lagasse engaged with Michael Hufford, PhD, an entrepreneur in residence at the Pitt Innovation Institute, to begin exploring the commercial potential of his discovery. Dr. Hufford, a veteran life sciences executive and two-time Pitt alumnus, who had several successful startup exits under his belt, was impressed with the solid pre-clinical work that Dr. Lagasse and his co-founder McGowan Institute affiliated faculty member Paulo Fontes, MD, had done to lay a strong preliminary regulatory framework.
LyGenesis raised investment rounds totaling $7 million as it performed additional pre-clinical work recommended by the FDA. At the end of 2020, the company raised another $11 million investment round and announced it had been cleared to conduct a Phase 2a study of the safety, tolerability, and efficacy of its first-in-class novel cell therapy for patients with end-stage liver disease.
LyGenesis is currently also in earlier stages of development of similar cell therapies for the pancreas, kidneys, and thymus, and most recently it has also begun a program for the treatment of inborn errors of metabolism in infants that has demonstrated positive in vitro results.
The company last spring moved into offices in the city's Squirrel Hill neighborhood and is poised for incredible growth, right here in Pittsburgh.
Watch the award presentation here.
"Universities are places where new knowledge is developed and disseminated. At Pitt, our faculty and students are passionate about translating new knowledge into new products and services and companies that make an impact on the world and our regional economy," said Evan Facher, PhD, MBA, Vice Chancellor for Innovation and Entrepreneurship.
Dr. Facher added, "The Celebration of Innovation is our opportunity to congratulate those Pitt innovators who have achieved significant milestones on the path to commercialization and to recognize those who are helping them on their journeys."
Congratulations, all!
Read more…
University of Pittsburgh Innovation Institute 2022 Celebration of Innovation Awards (with videos of all presentations)