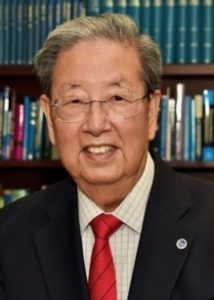 Savio Woo, PhD (pictured), distinguished university professor emeritus and founding director of the Musculoskeletal Research Center at the University of Pittsburgh, is being recognized as an Honorary Member of the American Society of Mechanical Engineers (ASME) for his pioneering work in biomechanics.
The Board of Governors of ASME unanimously elected Dr. Woo for his "dedication to joint biomechanics, exemplified by innovative use of robots; and for excellence in mentorship."
"As a pioneer in bioengineering, his research has significantly contributed to the use of tissue engineering to provide positive outcomes to patients with ligament and tendon injuries," Thomas Costabile, PE, executive director and CEO of ASME, said. "We are proud of his distinguished career, service to the engineering profession and his years of dedication to ASME as a Life-Fellow."
McGowan Institute for Regenerative Medicine faculty member Sanjeev Shroff, PhD, Interim Dean of the Swanson School of Engineering and a longtime colleague of Dr. Woo in the Department of Bioengineering, said this honor is just further recognition of Woo's contributions to the school and field.
"Dr. Woo is a giant in the field of musculoskeletal biomechanics and tissue engineering," Dr. Shroff said. "The election as an ASME Honorary Member is a recognition of his outstanding scholarship, teaching, and professional service. I am honored and proud to be Dr. Woo's colleague at the Swanson School of Engineering."
Dr. Woo, a former McGowan Institute faculty member, joined Pitt in 1990 and is renowned for his over 50 years of translational research in healing, repair, and regeneration of tissues. He and his team have authored over 311 original research papers and 158 book chapters and review articles. He has edited 14 books.
"I am delighted that Dr. Woo has received this recognition of his exceptional service to our profession through teaching, leadership and mentorship of hundreds of students, fellows, residents and (younger) colleagues, including me," Karen Ohland, president of ASME, said. "My time working for Dr. Woo provided me with many life lessons and was key to my continued involvement with ASME."
Dr. Woo praises his team for helping him reach this milestone.
"This is a great honor and is truly a testament to all the impactful body of work that our team has done," Dr. Woo said. "Let me also thank David Vorp, Jennifer Wayne, Kerry Athanasiou, Jeff Weiss, and Rouzbeh Amini for nominating me for this great honor."
Throughout the course of his career, Dr. Woo has received more than 70 of the highest awards from universities and engineering and medical professional societies. He is a member of the National Academy of Medicine, the National Academy of Engineering, and the Academia Sinica. Dr. Woo also received the Olympic Prize for Sports Science from the International Olympic Committee and the first Olympic Gold Medal at the 1998 Nagano Games in Japan, the only non-athlete to be so honored.
Congratulations, Dr. Woo!
Illustration:  University of Pittsburgh Swanson School of Engineering.
Read more…
University of Pittsburgh Swanson School of Engineering News Release