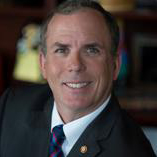 Sigma Xi, the Scientific Research Honor Society, has honored McGowan Institute for Regenerative Medicine affiliated faculty member Rory Cooper, PhD, with the John P. McGovern Science and Society Award. Recipients of this award represent individuals who have supported research, the communication of science, and the impact of science on society.
Presentation of the award will take place at the virtual Sigma Xi Annual Meeting and Student Research Conference on Nov. 4-7. Dr. Cooper will present the talk, "Participatory Action Design and Engineering: Forging a New Freedom!" that will suggest pathways to expand the talent pool of scientists and engineers. Dr. Cooper will also speak about the work that he and his colleagues are doing to create technologies and systems for older adults and people with disabilities.
Dr. Cooper is the founding director and VA senior research career scientist of the Human Engineering Research Laboratories at Pitt. He is also an elected fellow of the National Academy of Inventors and has authored or co-authored more than 300 peer-reviewed journal publications.
Congratulations, Dr. Cooper!
Read more…