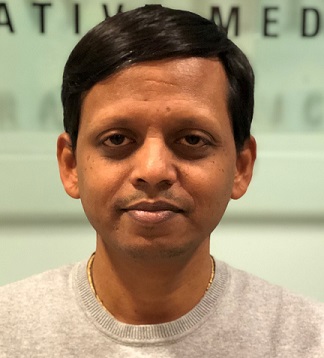 McGowan Institute for Regenerative Medicine affiliated faculty member Mangesh Kulkarni, PhD, assistant professor of bioengineering at the University of Pittsburgh Swanson School of Engineering, was awarded $17,793 in funding from the Central Research Development Fund (CRDF) to support research for the treatment of inflammatory bowel disease (IBD).
Dr. Kulkarni's project aims to develop an integrative treatment approach utilizing the interspecies interactions between innate immunity cells and gut microbiota, which is a collection of microorganisms in the intestine.
While these microorganisms can positively affect one's health, a microbial imbalance – or dysbiosis – in the body has been associated with a variety of illnesses and diseases. Researchers speculate that dysbiosis may have an effect on the body's immune system – specifically on macrophages, which are multifunctional white blood cells in the body.
"This project will seek to understand how dysbiosis during colitis affects the intestinal macrophages at the molecular level and get insights into pathways affected by colitis, focusing on those regulating the macrophage polarization," said Dr. Kulkarni.
Macrophage polarization refers to the process in which macrophages adopt different functions in response to signals from their microenvironment. A functional imbalance among the macrophages may have a connection to a number of immunity-related diseases, including IBD.
"As a step towards developing a novel therapeutic avenue for colitis, we seek to examine the feasibility of specific and relevant miRNA therapy to modulate the macrophage polarization," Dr. Kulkarni continued. "This strategy holds the promise of curbing the progression of intestinal inflammation and thus provide therapeutic benefit in IBD."
Dr. Kulkarni joined the Department of Bioengineering in fall 2018 and works with McGowan Institute faculty member Bryan Brown, PhD, assistant professor of bioengineering.
"I'm very excited about the work that Dr. Kulkarni is doing," said Dr. Brown. "This grant from the CRDF will enable him to perform studies that will inform the development of new therapeutic strategies for a disease which currently has few effective treatment options."
The CRDF Small Grants Program aims to provide opportunities for faculty, especially early career faculty, at the University of Pittsburgh to engage in high-quality research, scholarship, and creative endeavors. The program provides seed funding to develop ideas to the point where external funding can be obtained and awards support for scholarship in areas where external funding is extremely limited.
Read more…
University of Pittsburgh Swanson School of Engineering News Release