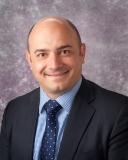 The FlowTriever percutaneous mechanical thrombectomy system (Inari Medical) is safe and provides immediate benefits to patients with acute pulmonary embolism (PE), interim results of the real-world FLASH registry suggest.  McGowan Institute for Regenerative Medicine affiliated faculty member Catalin Toma, MD, Director of Interventional Cardiology for the Heart and Vascular Institute, Director of the Interventional Fellowship at UPMC, and an Assistant Professor of Medicine at the University of Pittsburgh School of Medicine, presented study results during TCT Connect 2020.
"FLASH represents the largest prospective hemodynamic study of any PE treatment ever undertaken and is the first major all comers study of a purely mechanical thrombectomy approach to PE," said Dr. Toma.
The FlowTriever system consists of three self-expanding nitinol mesh disks designed to pluck out a clot and deliver it to a large-bore aspiration catheter for extraction; the system is meant to be used without thrombolytic therapy. It was cleared by the US Food and Drug Administration in May 2018 based on results from the FLARE investigational device exemption trial.
Among the first 230 patients enrolled in the study, there were no deaths and only three major adverse events (all major bleeds) within the first 48 hours of the procedure. An access-site complication occurred in one patient.  Significant improvements in various hemodynamic measures were seen immediately after thrombectomy, with relief of dyspnea occurring within 48 hours.
"The interim results of the FLASH registry reinforce the excellent FlowTriever safety profile in 230 real-world PE patients," Dr. Toma concluded, adding that the improvements in hemodynamics and dyspnea were "achieved with a short device time, with most patients not needing ICU care following the procedure. Further data will help design definitive studies in PE."
Underscoring the need to find safe and effective treatment options for acute PE, Dr. Toma noted that acute mortality rates are up to 40% for high-risk (massive) PE and 15% for intermediate-risk (submassive) PE at 90 days. Advanced treatment options currently center around thrombolytic therapy, but that comes with a roughly 10% risk of major bleeding, including a 2% risk of intracerebral hemorrhage (ICH).
Optimal treatment for patients at risk of deterioration, Dr. Toma said, should carry low procedural and bleeding risks and immediately improve hemodynamics, "which could be useful in interrupting the PE death spiral, especially in patients with signs of cardiogenic shock."
FLASH is a prospective, multicenter registry that will ultimately include up to 500 patients with intermediate- or high-risk PE.  Dr. Toma reported data on the first 230 patients (mean age 60.7; 52.2% men) enrolled at 19 US sites. Most patients (93.0%) had intermediate-risk PE, with the minority having high-risk PE. More than two-thirds (69.7%) had concomitant deep vein thrombosis and 38.3% had a contraindication to lytics.
Read more…