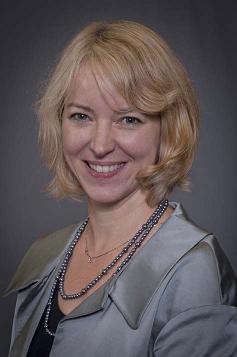 McGowan Institute for Regenerative Medicine affiliated faculty member Anne Robertson, PhD, William Kepler Whiteford Endowed Professorship of Mechanical Engineering and Materials Science and Professor of Bioengineering, was among a prestigious group of scholars invited to give a keynote lecture at the 6th International Conference on Computational and Mathematical Biomedical Engineering. The conference was hosted by Tohoku University in Sendai City, Japan.
The title of Dr. Robertson's lecture was "Identifying Physical Causes of Failure in Brain Aneurysms."  A subarachnoid hemorrhage, a type of stroke with high mortality and disability rates, is often caused by the rupture of a cerebral aneurysm. However, if the aneurysm is not ruptured, treatment for this condition can be more dangerous than the risk of rupture itself.  Therefore, there is a need to develop reliable methods for assessing rupture risk.
Dr. Robertson's presentation discussed her group's recent findings which demonstrate the need to identify the actual physical causes for wall vulnerability as a vital component of accessing rupture risk.  This research is done by using data driven computational simulations obtained from human aneurysm tissue. New tools for mapping heterogeneous experimental data for the wall to the 3D reconstructed vascular model make it possible to evaluate the associations between critical aspects of aneurysm wall structure and both hemodynamic and intramural stress.
Other Pitt members of this multi-institutional research team include Spandan Maiti, PhD, who holds a primary appointment in Bioengineering and a secondary appointment in MEMS and McGowan Institute affiliated faculty member Simon Watkins, PhD, Distinguished Professor of the Department of Cell Biology and Director of the Center for Biologic Imaging.   Doctoral students Fangzhou Cheng, Michael Durka, Ronald Fortunato, Piyusha Gade and Chao Sang as well as postdoctoral researchers Yasutaka Tobe, PhD, and Eliisa Ollikainen, PhD, also made substantial contributions to this work.
One of the main focuses of Dr. Robertson's research is the relationship between soft tissue structure and mechanical function in health and disease for soft tissues such as cerebral arteries, cerebral aneurysms, tissue engineered blood vessels and the bladder wall.  Her research is heavily supported by the National Institutes of Health where she is a standing member of the Neuroscience and Ophthalmic Imaging Technologies (NOIT) Study Section.
Read more…
University of Pittsburgh Swanson School of Engineering News Release