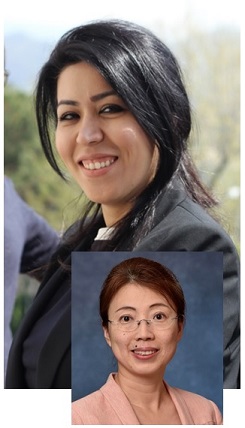 A poster presented by Asiyeh Golabchi, PhD, a bioengineering postdoctoral research associate at the University of Pittsburgh, was selected as one of the best poster presentations at the 2019 Postdoctoral Data & Dine Symposium.  Dr. Golabchi works in the Neural Tissue Engineering (NTE) Lab directed by McGowan Institute for Regenerative Medicine faculty member Xinyan Tracy Cui, PhD, professor of bioengineering in Pitt's Swanson School of Engineering.  Dr. Golabchi's research focuses on developing a molecular-level understanding of neurobiological interactions to neural implants.
Hosted by the University of Pittsburgh Postdoctoral Association, the Data & Dine Symposium is an opportunity for postdoctoral associates and scholars at Pitt to present their research to colleagues, faculty, and administrators. The event recognizes 10 participants with a $750 travel award for the best poster presentations. Dr. Golabchi received an award for her work entitled, "Neuronal cell adhesion molecule L1 improves quality of the chronic neural recording in mouse visual cortex."
Dr. Golbachi explained that these devices, which are used to record and stimulate the brain, have been an invaluable tool for neuroscience research and clinical applications, but their functional longevity has proven to be a hurdle for researchers.
"Neural implants have been used to help people who have lost abilities due to trauma or disease regain those abilities and improve their quality of life," said Dr. Golabchi. "However, many medical, biological, and technical considerations have to be taken into account when using these devices."
"Current neural implants are limited by the body's natural conditions to safely operate and avoid toxicity and degradation," she continued. "The requirements for a functional and stable long-term neural interface are still relatively unknown."
Dr. Golabchi's research develops biomaterial strategies and novel technologies to control neuroinflammatory responses, both acute and chronic, to implantable devices.
"Asiyeh is most deserving of this award from Pitt's Postdoctoral Association. Her work with neural implant technology demonstrated the potential to improve neural recording stability and longevity through biomimetic coating," said Dr. Cui. "Such coating may be optimized for commercial translation and benefit many implantable devices in both research and clinical settings."
Dr. Golabchi received her PhD in neuroscience and brain technologies from Istituto Italiano di Tecnologia, in collaboration with the University of Genoa, under the supervision of Dr. Axel Blau. During Dr. Golabchi's doctoral research, she used microfabrication methods to develop a flexible polymer-based microelectrode array for interfacing with neurons at a high spatiotemporal resolution for both in vivo and in vitro applications.
Illustration:  University of Pittsburgh Swanson School of Engineering (Dr. Golabchi).
Read more…
University of Pittsburgh Swanson School of Engineering News Release
Poster (Neuronal cell adhesion molecule L1 improves quality of chronic neural recording in mouse visual cortex.  Asiyeh Golabchi, Kevin M. Woeppel, and X. Tracy Cui.  Abstracts, Biomaterials.org, 2019.)