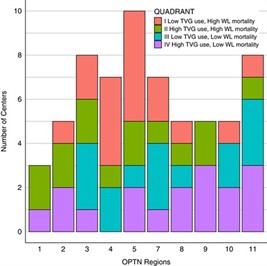 George V. Mazariegos, MD, McGowan affiliated faculty and the Director of the Hillman Center for Pediatric Transplantation at the Children's Hospital of Pittsburgh of UPMC, is the lead author of a study published in the July 2023 issue of Liver Transplantation.
The article, titled "Center use of technical variant grafts varies widely and impacts pediatric liver transplant waitlist and recipient outcomes in the United States," assesses the impact of technical variant grafts (TVGs), including living donor and deceased donor split/partial grafts, on waitlist and transplant outcomes for pediatric liver transplant candidates.
The research suggests that greater use of partial liver transplants could help save the lives of children on liver transplant waitlists. The study found that medical facilities offering TVGs had fewer waitlist deaths than those providing whole deceased donor liver transplants only.
"Since the first successful liver transplant in Pittsburgh 42 years ago, we've made tremendous advances, but significant gaps still remain nationally," said Dr. Mazariegos. "It's tragic that 6% of children are still dying on the liver transplant waitlist in the United States. The goal is zero."
More training, support, and collaboration between medical facilities on TVG transplants could help to eliminate pediatric waitlist mortality.
"We need more training and support to develop technical variant graft programs and expertise at transplant centers across the country," said Dr. Mazariegos. "At the end of the day, it's about every center committing to giving every child the best opportunity to receive and thrive after their transplant. I strongly believe that the way forward is collaboration, not competition."
Dr. Mazariegos maintained that pediatric liver transplant waitlist mortality "is a solvable problem, and we can fix it today if we work together to identify critical challenges and best practices."
Find the full study at Liver Transplantation here.
Read a longer article about the study here.