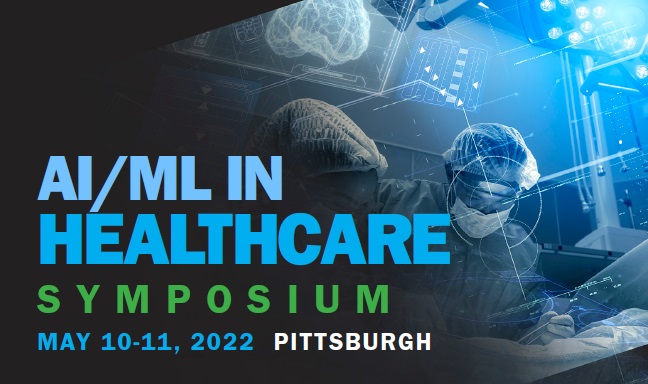 The inescapable pain and death of war have also produced many of the medical breakthroughs that have enhanced our health in peacetime. The Civil War created advances in surgical techniques. World Wars I and II led to the development of prosthetics and the widespread use of antibiotics. And, the Vietnam War taught new lessons in emergency evacuations. Today, America's military is playing a major role in what may be the next big innovation in healthcare — the use of artificial intelligence and machine-learning computer programs to improve the detection, diagnosis, and treatment of disease.
That was the theme of a symposium held May 10-11, 2022, at the Wyndham Pittsburgh University Center that attracted scores of researchers and healthcare leaders from the University of Pittsburgh, Carnegie Mellon University (CMU), industry, and the military. Mark Roth, a Pittsburgh freelance writer, attended the symposium and shared his insights in the Tribune-Review.
The symposium was sponsored by Pitt's Center for Military Medicine Research (CMMR), a fast-growing department at the university. In the past decade, the center has quietly secured more than $350 million in Department of Defense research grants to the University of Pittsburgh, which have been funneled to more than 130 researchers at Pitt, CMU, and UPMC. The event was funded by the Jewish Healthcare Foundation and the DSF Charitable Foundation.
Over two days of presentations, researchers highlighted dozens of projects involving AI and ML, which can detect patterns in large arrays of data that humans would have difficulty seeing and can learn how to better identify and treat diseases and injuries.
McGowan Institute for Regenerative Medicine affiliated faculty member Ronald Poropatich, MD, the CMMR's director and a retired Army colonel, said that the overarching goal of the symposium was to show "how industry, academia and government, the triple helix, will be solving really difficult problems" in the next several years, using AI/ML algorithms.
Among the military leaders present was Greg Little, a deputy in the Department of Defense's Chief Digital and Artificial Intelligence Office. Mr. Little said that "this has to be one of the most exciting and significant times in my career." In healthcare, he said, the military is trying to figure out how to "diagnose and treat problems in seconds, not hours."
Among the projects outlined at the conference:
Emerging infections: COVID-19 has shown us all how important it is to be able to detect pandemics before they gain momentum.
Gregory Cooper, MD, PhD, a researcher in Pitt's Department of Medical Bioinformatics, has developed an algorithm that can detect the emergence of unknown diseases by monitoring hospital emergency department test results and eliminating known infections such as the flu.
In a proof of principle study, Dr. Cooper's team was able to take emergency room data from Utah and accurately detect an upsurge of an initially unknown disease that turned out to be caused by an adenovirus. The algorithm is "a safety net system that's always looking at what's going on, and the sooner we can detect something accurately, the sooner we can understand it and control it," Dr. Cooper said.
Patient safety: Alexander Sundermann, DrPh, an epidemiologist at Pitt's Microbial Genomic Epidemiology Laboratory, is working on an AI program to detect hospital-acquired infections more quickly than with traditional methods. More than 700,000 patients get infections in healthcare facilities in America each year, leading to 98,000 deaths.
The Pitt program analyzes the entire genomes of bacteria in patients who have become ill and searches through their electronic health records to see if there are any common linkages among the infections.
Many of the infections are unrelated to each other, Dr. Sundermann said, but in a few cases, the program has been able to detect a culprit — in one case, a contaminated gastroscope was the cause of a serious outbreak. Since November, Dr. Sundermann said, the AI program has picked up 26 infectious outbreaks at UPMC, allowing the hospital to intervene much earlier than in the past.
While these computer programs are in their first stages, many of the researchers present feel they're on the cusp of real breakthroughs that will make the diagnosis and treatment of illnesses faster and safer.
Other McGowan Institute affiliated faculty members who were involved with/participated in the symposium include: Timothy Billiar, MD; Patrick Cantini; Gilles Clermont, MD; David Okonkwo, MD, PhD; Michael Pinsky, MD; Ethan Rossi, PhD; Yoram Vodovotz, PhD.  Jamelle Price, MBA, MS, Special Projects Coordinator at the McGowan Institute, had the administrative lead in coordination of the symposium logistics.
Illustration:  AI/ML Symposium.
Read more…