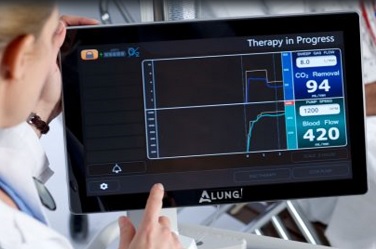 Technology developed in the McGowan Institute Medical Devices Lab under the leadership of William Federspiel, PhD, William Kepler Whiteford Professor of Bioengineering, Chemical Engineering, and Critical Care Medicine has been incorporated into products for clinical use by ALung, a University of Pittsburgh spinout company.  Dr. Federspiel is the Head of the Scientific Advisory Board and co-founder of ALung Technologies, Inc. The ALung devices are now being evaluated in several clinical trials.   ALung is the leading provider of low-flow extracorporeal carbon dioxide removal (ECCO2R) technologies for treating patients with acute respiratory failure.
Currently, ALung is working on major milestones in its clinical trial programs of the Hemolung Respiratory Assist System (RAS).  The Hemolung RAS was born from research efforts and technologies developed at the McGowan Institute.
In the United States, ALung's VENT-AVOID Trial of the Hemolung RAS is ongoing.  In the United Kingdom, the REST Trial, a landmark pivotal study of the Hemolung RAS in patients with acute respiratory distress syndrome (ARDS), is moving ahead as well.
The trials in the U.K. are designed to test 1,120 patients, while the U.S. trials may have up to 800 participants depending on the success of early patients. So far, 36 are enrolled in the U.S. and 360 across the U.K.  Peter DeComo, ALung's Chairman and CEO, estimates that the trials will carry on for another two or three years.
COPD affects 30 million Americans and is the third leading cause of death in the United States behind cancer and heart disease. Acute exacerbations, defined as a sudden worsening of COPD symptoms, are a major cause of morbidity and mortality in COPD patients. The VENT-AVOID Trial is the world's first pivotal study of extracorporeal carbon dioxide removal in the AE-COPD population. The study aims to validate the safety and efficacy of the Hemolung RAS for COPD patients experiencing acute exacerbations requiring ventilatory support.
Illustration:  ALung Technologies, Inc.
Read more…