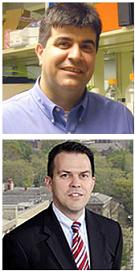 In 2017, the University of Pittsburgh School of Dental Medicine received an $11.7 million grant from the National Institute of Dental and Craniofacial Research (NIDCR) to establish a resource center dedicated to advancing therapies for regenerating damaged dental, oral, and craniofacial tissues.  Officially named the Michigan-Pittsburgh-Wyss Regenerative Medicine (MPWRM) Resource Center: Supporting Regenerative Medicine in Dental, Oral, and Craniofacial Technologies, Pitt established the center in partnership with the University of Michigan and Harvard University as part of the NIDCR's Dental, Oral, and Craniofacial Tissue Regeneration Consortium (DOCTRC). The goal of the consortium is to guide new therapies from the research stages through preclinical studies and into human clinical trials.
Charles Sfeir, DDS, PhD, associate dean for research and director of Pitt's School of Dental Medicine Center for Craniofacial Regeneration, and William Wagner, PhD, director of the McGowan Institute for Regenerative Medicine and Professor of Surgery, Bioengineering, and Chemical Engineering at the University of Pittsburgh, are the principal investigators at the MPWRM Resource Center in Pittsburgh.
GreenMark Biomedical Inc. announced it secured funding for its patented dental technology that identifies 'pre-cavities' which can be treated non-invasively before becoming cavities.  This will have major implications for treatment of tooth decay prior to the need for surgical treatment, resulting in improved oral health outcomes for patients.
GreenMark along with its collaborators at the University of Michigan (U-M) was awarded $110,000 from the National Institute of Dental and Craniofacial Research (NIDCR), National Institutes of Health (NIH) through the MPWRM Resource Center.  This grant will assist GreenMark in its development of a non-invasive treatment product aimed at preventing fully developed cavities.
The company's project, "Targeted Remineralization Treatment Using Mineral Loaded Starch Nanoparticles," has been assigned a team of 12 experts from multiple leading resources in dentistry, including the U-M School of Dentistry, University of Pittsburgh's McGowan Institute & Center for Craniofacial Regeneration, and Harvard University's Wyss Institute to provide technical advice and support.
According to GreenMark's Chairman and CEO Steven Bloembergen, PhD, "The NIH support through MPWRM provides additional financial resources and compliments the team we previously assembled for our dental diagnostic product.  It is a tremendous vote of confidence for our non-invasive treatment strategy."
Read more…