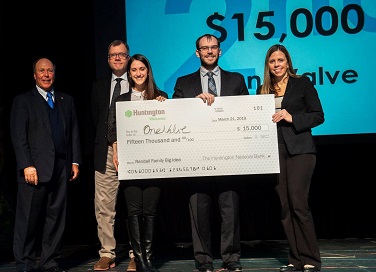 One Valve is a non-clotting, tissue-inductive prosthetic heart valve developed in the laboratories of the McGowan Institute for Regenerative Medicine which won the $15,000 prize at the 2019 Randall Family Big Idea Competition.  Collaborators on this effort include:
One Valve is a polyurethane heart valve that is non-thrombogenic, and capable of mimicking native valve mechanics, micro-structure, anatomy and function in all positions. Most importantly, the polyurethane core is replaced over time by functional host tissue without calcifying. Animal studies have yielded exciting results showing that the polyurethane valve will work well, reduce complications, reduce healthcare costs, and save thousands of lives. Once it achieves clearance and commercialization, One Valve will define a new generation of valvular heart disease technology, expanding the cardiac surgeon's ability to save lives efficiently while minimizing complication risks.
Since its inception in 2009, the Randall Family Big Idea Competition has attracted hundreds of interdisciplinary teams seeking to bring their big ideas to market.  The competition is made possible through the generous support of the Randall family. Robert P. Randall, a Pitt alumnus and trustee, was president and chief executive officer of the Three Rivers Aluminum Company (TRACO), a prominent regional door and window company, which was acquired by Alcoa and is now a division of Kawneer. Mr. Randall continues to give back to the community through his position on the Board of Trustees at the University of Pittsburgh, his work with the United States Chamber of Commerce, and as a board member of both the Allegheny Conference on Community Development and the Pittsburgh Regional Alliance.
Congratulations, all!
Illustration: (pictured left to right)
Bob Randall, Randall Family Big Idea Competition and Pitt Trustee;
Rob Rutenbar, Vice Chancellor for Research, University of Pittsburgh;
One Valve Team:
Arianna Adamo, MS-Graduate Student, University of Palermo and University of Pittsburgh, RIMED Foundation
Garrett Coyan, MD, MS-Post-Doctoral Fellow, McGowan Institute, Cardiothoracic Surgery Resident, UPMC;
Representative of Huntington Bank
Read/watch more…
YouTube (2019):  One Valve—The Self-Generating Heart Valve