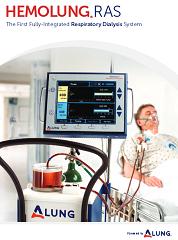 ALung Technologies, Inc., the leading provider of low-flow extracorporeal carbon dioxide removal (ECCO2R) technologies for treating patients with acute respiratory failure, announced the recent achievement of a significant milestone – enrollment of 100 patients in its U.S. based VENT-AVOID pivotal trial.
VENT-AVOID is a randomized, controlled pivotal trial (RCT) studying the avoidance or minimization of mechanical ventilation for the treatment of acute exacerbations of chronic obstructive pulmonary disease (AE-COPD). The results of the study are expected to validate the safety and efficacy of the Hemolung Respiratory Assist System (RAS) for COPD patients experiencing acute exacerbations requiring ventilatory support.  ALung's Hemolung RAS was created from technologies developed by McGowan Institute for Regenerative Medicine faculty member William Federspiel, PhD, John A. Swanson Professor in the Department of Bioengineering with secondary appointments in Chemical Engineering, Critical Care Medicine, and the Clinical Translation Institute, and the Director of the Medical Devices Laboratory at the McGowan Institute, and his team. Dr. Federspiel is ALung's Head of the Scientific Advisory Board and the company's co-founder.
COPD affects 30 million Americans and is the third leading cause of death in the United States behind cancer and heart disease. Acute exacerbations, defined as a sudden worsening of COPD symptoms, are a major cause of morbidity and mortality in COPD patients.
"The VENT-AVOID pivotal trial is currently the world's largest trial ever conducted on the utilization of ECCO2R in AE-COPD with 100 patients now enrolled. Pivotal trials of this magnitude have become increasingly difficult to conduct during the COVID-19 pandemic. However, the dedication and interest of our clinical trial sites has continued to grow as they have experienced the positive clinical impact of the Hemolung RAS and ECCO2R therapy. Based on recent declines in COVID-19 hospital admissions, we have experienced increases in screening and enrollment in the VENT-AVOID trial," stated Tracey Dill, Vice President of Clinical Operations at ALung.
Peter DeComo, Chairman and CEO of ALung stated, "We are encouraged by the progress we have made with the VENT-AVOID trial during the past 12-months, especially during the most challenging times of the COVID-19 pandemic. Subsequent to receiving Emergency Use Authorization (EUA) from the FDA, ALung has provided ECCO2R therapy to 93 COVID-19 patients worldwide. Clinical experience utilizing the Hemolung RAS in treating the first 31 patients has recently been published in the journal Critical Care Explorations… The unique safety and simplicity features of the Hemolung RAS enable use with a broader base of clinicians as compared to existing conventional extracorporeal respiratory support systems. We expect that the VENT-AVOID trial, as well as other clinical data, will validate the safety and efficacy of the Hemolung RAS for the administration of ECCO2R therapy so that it will soon be available for use by clinicians worldwide when treating acute respiratory failure including AE-COPD."
Illustration:  ALung Technologies, Inc.
Read more…
McGowan Institute for Regenerative Medicine In the News:  ALung Receives IDE Approval to Conduct VENT-AVOID Trial of the Hemolung RAS for the US Market
McGowan Institute for Regenerative Medicine In the News:  Podcast: McGowan Institute-Developed Technology—Hemolung® RAS History, COVID-19 Patients, and What's on the Horizon
Abstract (Physiologic improvement in respiratory acidosis using extracorporeal Co2 removal with Hemolung Respiratory Assist System in the management of severe respiratory failure from coronavirus disease 2019.  Akkanti, Bindu MD, FCCP; Jagpal, Sugeet MD; Darwish, Ribal MD, FCCM; Saavedra Romero, Ramiro MD; Scott, L. Keith MD, MSc, FCCM; Dinh, Kha MD; Hussain, Sabiha MD, MPH; Radbel, Jared MD; Saad, Mohamed A. MD; Enfield, Kyle B. MD, FCCM; Conrad, Steven A. MD, PhD, MCCM.  Critical Care Explorations, March 2021 – Volume 3 – Issue 3 – p e0372.)