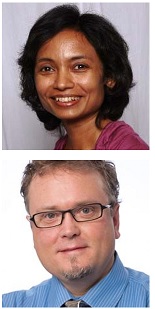 RoosterBio, a regenerative medicine manufacturing technology leader, announced four winners of the first RoosterBio Human Mesenchymal Stem/Stromal Cell (hMSCs) Development Grant aimed at facilitating investigators who share the mission of RoosterBio, Inc to accelerate the path to clinical translation for adult cell-based therapeutics.
Two of the four award recipients/projects included efforts from McGowan Institute for Regenerative Medicine affiliated faculty members. They are:
Ipsita Banerjee, PhD, Associate Professor, Department of Chemical and Petroleum Engineering, University of Pittsburgh: "Towards a biometric islet organoid engineering for applications in diabetes therapy and drug discovery"
David Vorp, PhD, Associate Dean for Research, Swanson School of Engineering, University of Pittsburgh, the John A. Swanson Professor of Bioengineering, with secondary appointments in the Departments of Cardiothoracic Surgery, Surgery, and the Clinical & Translational Sciences Institute at the University of Pittsburgh, a Co-Director of the Center for Medical Innovation, and the Director of the Vascular Bioengineering Laboratory: "Vascular regeneration driven by adipose-derived hMSC"
The award winners receive RoosterBio's cell and media products totaling up to $25,000 each and an additional $500 RoosterBio Travel Grant to support trainees presenting a poster or talk at an eligible conference.
RoosterBio launched the hMSC Development Grant in 2018 to supply standardized, highly engineered hMSC bioprocess systems to streamline product development and manufacturing process design for projects in early stage development, focused on proof of concept and/or understanding the impact of donor variability or manufacturing scale-up on final product quality attributes. Priority was given for projects identified in focus areas including gene editing, exosomes or extracellular vesicles (EVs), tissue engineering and bioreactor expansion; however, applications for all emerging areas were encouraged. Grant applicants were required to be affiliated with a research and development (R&D) lab at a university or industry setting with access to lab space.
"MSCs are a critical raw material for many regenerative medicine (RM) products which until now have faced a significant bottleneck in RM product development," said RoosterBio CEO Margot Connor. "Breaking down those barriers requires process innovations that lead to a paradigm shift in adult stem cell product development, clinical translation and commercial-scale manufacturing. We are pleased to support each of the winners with our systems and watch their research move forward."
Congratulations, Drs. Banerjee and Vorp!
Read more…