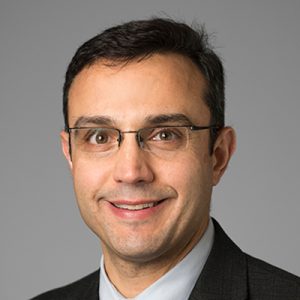 Chadi Hage, MD (pictured), renowned for his clinical expertise in treating patients diagnosed with common to complex lung conditions, has been appointed as medical director of the UPMC Lung Transplant program. He is also an affiliated faculty member of the McGowan Institute for Regenerative Medicine.
Dr. Hage's research and clinical interests include fungal infections, lung transplant, extracorporeal membrane oxygenation (ECMO), and transplant critical care.
"With his arrival to UPMC, Dr. Hage will educate our team and offer care for patients from around the world with the most complex lung conditions," said Pablo Sanchez, MD, chief, Division of Lung Transplant and Lung Failure and McGowan Institute affiliated faculty member. "Our lung specialists are national leaders, and our lung transplant program has become one of the leading centers in management and treatment of life-threatening lung diseases, and we welcome Dr. Hage to our team."
Over the course of his 25-year career, Dr. Hage has treated patients with common and complex lung conditions, vastly researched various subjects pertaining to pulmonary medicine and worked to advance quality improvement and diversity, equity, and inclusion initiatives. He joins a multidisciplinary, nationally recognized team of physicians, investigators, and surgeons who carry on a legacy of clinical excellence and innovation that spans four decades.
Dr. Hage comes to UPMC from Indiana University Health, where he had served as associate professor of clinical medicine since 2014. He led the lung transplant research program and fungal research at Indiana University School of Medicine in addition to clinical trials that dealt with a patient's immune system and its response to COVID-19.
He received his medical degree from Lebanese University School of Medicine and completed his residency and fellowship in infectious diseases and pulmonary-critical care medicine at Indiana University.
"I look forward to expanding the lung transplant program, developing multidisciplinary clinical programs, and helping our patients with lung complications lead full and healthy lives," said Dr. Hage.
Dr. Hage is well published on endemic mycoses (histoplasmosis and blastomycosis), fungal infections of the immunocompromised patients, as well as outcomes of lung transplants.
UPMC's Lung Transplantation Program is one of the most experienced centers in the world for lung and combined heart-lung transplantation. Since the program's inception in 1982, the team has performed more than 2,350 lung and heart-lung transplants. The UPMC Lung Transplant Program works with the UPMC Comprehensive Lung Center to provide exceptional care for patients along the entire spectrum of lung diseases.
Welcome, Dr. Hage!
Read more…