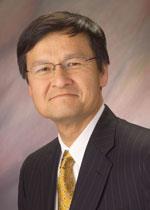 Joon S. Lee, MD, has been appointed Chief Medical Officer of the UPMC Insurance Services Division including its flagship the UPMC Health Plan. In this prominent role, Dr. Lee will provide medical leadership for the clinical team serving the 3.5 million members of the UPMC insurance and health management companies. He will direct clinical innovation efforts to improve health outcomes and will further advance UPMC's goals as an integrated delivery and financing system. In addition to his role as Chief Medical Officer, he will continue his faculty appointment in the Department of Internal Medicine, University of Pittsburgh. Dr. Lee will report to Diane Holder, Executive Vice President of UPMC, President of Insurance Services and President and CEO UPMC Health Plan.
Dr. Lee is currently Division Chief of Cardiology at the University of Pittsburgh School of Medicine and Executive Director of UPMC's Heart and Vascular Institute (HVI), one of the largest cardiovascular care delivery organizations in the country. He is recognized as an outstanding clinician, researcher, teacher, and innovator. An interventional cardiologist by training, Dr. Lee's research and clinical interests include the role of stem cells in the treatment of coronary artery disease and catheter-based treatment of valvular disease. He has been instrumental in advancing innovation in clinical care at UPMC and recognized as an outstanding leader who is constantly pushing the envelope for new therapies to support recovery from cardiac related problems and prevention strategies to promote health and wellness.  Dr. Lee is also an affiliated faculty member of the McGowan Institute for Regenerative Medicine.
Dr. Lee received his bachelor's degree from Dartmouth College and his medical degree from Duke University's School of Medicine. He completed a medical internship and residency, as well as two cardiology fellowships, at Massachusetts General Hospital in Boston. He joined the University of Pittsburgh faculty in 1996. Dr. Lee is certified in cardiovascular disease and interventional cardiology by the American Board of Internal Medicine. He is a member of the American College of Physicians and a fellow in the American College of Cardiology.
"I am very excited that Dr. Lee is joining UPMC Insurance Services Division in this major leadership role," said Ms. Holder. "As a senior thought leader with extensive clinical and administrative experience, Dr. Lee is well positioned to support the transition to value-based care delivery models, lead translational research efforts, and enhance clinical care and innovative prevention and support programs for our members. As a practicing physician, Dr. Lee has vast experience in health care integration and offers a strong patient/consumer-focused approach."
Read more…