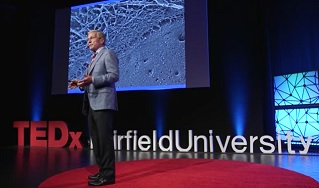 With its theme of Inspiration and Innovation, Fairfield University, Fairfield, Connecticut, hosted a recent TEDx on October 28, 2019.
McGowan Institute for Regenerative Medicine deputy director Stephen Badylak, DVM, PhD, MD, was one of the nine speakers for this event.
During his talk, Dr. Badylak spoke of efforts in regenerative medicine in early 1993 to today.  He explained that research from 1993 paved with way for experiments and theories today, and today's milestones will continue to pave the way for future efforts.  He spoke of —
Regenerative medicine concepts in 1993 believed that it was possible to generate functional tissues outside of the body and with them replace virtually any body part.  That has not happened yet, but much was learned during this period.
In 1996 there was an explosion of knowledge in stem cell biology.  Through this knowledge, it was thought this was THE answer.  Although today there are over 2,800 active, registered clinical stem cell trials, there are no approved surgical uses for stem cells.
In his research, Dr. Badylak and his team have learned that the extracellular matrix (ECM) is the ideal microenvironmental niche for stem cell production.  With this knowledge, one specific treatment for esophageal cancer is being tested.  Fourteen patients have undergone the replacement of their abnormal esophagus lining cells with ECM.  The ECM promotes the regeneration of a new, normal esophagus lining and these patients are now living with the positive results of this treatment.
Every one of the above examples has advanced the field of regenerative medicine.  In closing, Dr. Badylak leaves viewers with one last thought:  The field of regenerative medicine is not about living to be 120 years old.  Regenerative medicine is focused on a better quality of life vs. a quantity of life.
Dr. Badylak is a professor in the Department of Surgery at the University of Pittsburgh. He has practiced both veterinary and human medicine and holds more than 65 U.S. patents and 300 patents worldwide. He has authored more than 380 scientific publications and 55 book chapters. He has served as chair of several study sections at the National Institutes of Health (NIH), and is currently a member of the College of Scientific Reviewers for NIH. Dr. Badylak has either chaired or been a member of the Scientific Advisory Board to several major medical device companies, and presently serves as chief scientific officer for ECM-Therapeutics in addition to his professorial role at the University. More than ten million patients have been treated with bioscaffolds developed in Dr. Badylak's laboratory.
In the spirit of ideas worth spreading, TEDx is a program of local, self-organized events that bring people together to share a TED-like experience. These local, self-organized events are branded TEDx, where x = an independently organized TED event.
Illustration:  TEDx Fairfield University