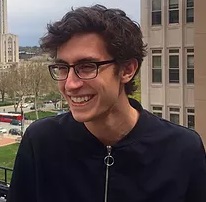 The National Science Foundation (NSF) Graduate Research Fellowship Program is designed to ensure the vitality and diversity of the scientific and engineering workforce in the United States. The program recognizes and supports outstanding students in science, technology, engineering and mathematics disciplines who are pursuing research-based master's and doctoral degrees.
One of the awardees is Kalon Overholt, a bioengineering undergraduate student, who has worked under the mentorship of McGowan Institute for Regenerative Medicine affiliated faculty member Rocky Tuan, PhD, in the Center for Cellular and Molecular Engineering (CCME) for the past three years. Currently Dr. Tuan serves as the Vice-Chancellor and President of The Chinese University of Hong Kong.
Mr. Overholt's research is focused on developing a device to study how biochemical crosstalk between bone and cartilage may contribute to the mechanism of osteoarthritis. He plans to pursue a graduate degree in biological engineering at the Massachusetts Institute of Technology starting in the Fall 2019.
The support accorded to NSF Graduate Research Fellows is intended to nurture awardees' ambition to become lifelong leaders who contribute significantly to both scientific innovation and teaching.  Fellows receive an annual stipend of $34,000 for three years, as well as a $12,000 cost of education allowance for tuition and fees.
Congratulations, Mr. Overholt!
Illustration:  The University of Pittsburgh Biomedical Engineering Society.
Read more…
University of Pittsburgh Swanson School of Engineering News Release