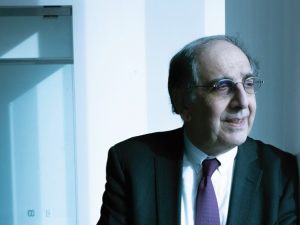 By Cristina D'Imperio
At 25 years old, José-Alain Sahel, MD was a medical resident at the University of Strasbourg in France tasked with the job of informing parents when their children were found to have permanent vision loss.
Dr. Sahel, now Distinguished Professor of the Department of Ophthalmology at the University of Pittsburgh School of Medicine, director of the UPMC Eye Center, and the Eye and Ear Foundation Endowed Chair of Ophthalmology, as well as a McGowan affiliated faculty member, spoke with the Richard King Mellon Foundation about his experiences.
"I tried to be nice," he said, "but you cannot be nice when you say that. People hate you. They just hate you. It had a real impact on me." At times, parents would yell, patients would cry, and Dr. Sahel would feel frustrated he was unable to help them.
These early frustrations as a resident, however, spurred Dr. Sahel to dedicate himself to research.
He completed his residency at the University of Strasbourg and became a research fellow at the Massachusetts Eye and Ear Infirmary, a visiting scholar in the Department of Molecular and Cellular Biology at Harvard University, and a visiting lecturer at Harvard Medical School. He eventually founded the Vision Institute in Paris and served as its director from 2008 until 2020.
Dr. Sahel is now globally recognized for his expertise in vision restoration techniques. He has developed several interventions, including stem cell implantation, gene therapy, innovative pharmacologic approaches, and retinal prostheses for numerous vision impairments that currently are untreatable.
In the last decade, he has led pioneering efforts in optogenetic vision restoration, a technique in which cells in the retina are genetically modified to express light sensitive proteins. Now, Dr. Sahel has overseen more than 80 clinical trials.
One recent trial combined gene therapy with light-enhancing glasses as a visual prothesis. The trials demonstrated that the patients, who suffer from blindness, were able to perceive light stimuli. One of the patients in the trial had been blind for decades.
Dr. Sahel called the people who volunteer for clinical trials "the real heroes," the pioneers who are willing to help researchers push "the biomedical frontier."
Fueled by early frustrations, Dr. Sahel himself has pushed the boundaries of the biomedical frontier over the past four decades. He now finds his work gratifying, stating that the most rewarding moments are working with patients and their families. He wants to give patients suffering from blindness hope. "The main thing," he states, "is there is a path forward. It's not desperate. It's not the end."
Read more from the Richard King Mellon Foundation here, by logging in to LinkedIn.
Photo courtesy of George Lange.