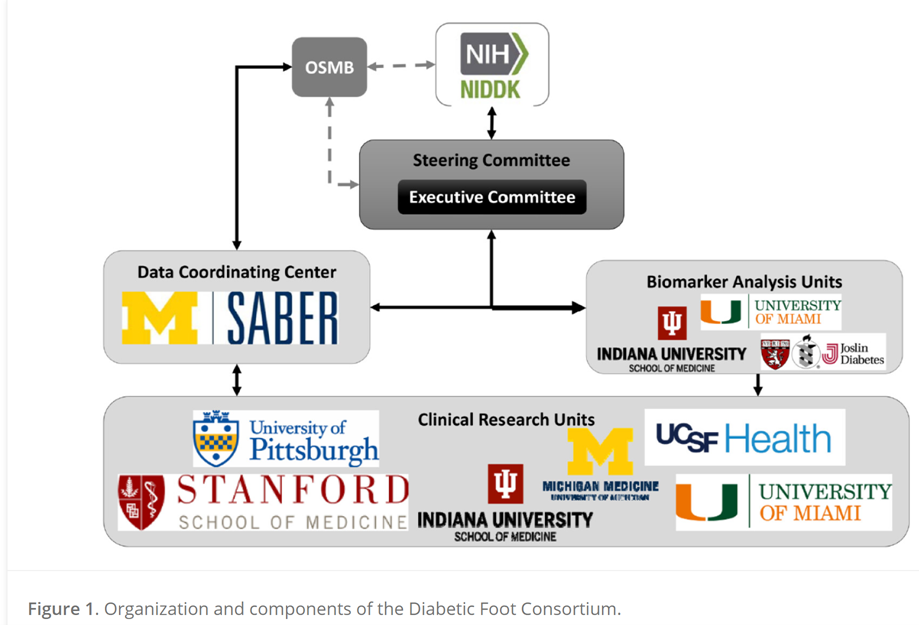 By Cristina D'Imperio
In 2020, six U.S. research institutions launched the first-ever multicenter network to study diabetic foot ulcers (DFUs). Funded by the National Institutes of Health's National Institute of Diabetes and Digestive and Kidney Diseases (NIDDK) beginning in 2018, the Diabetic Foot Consortium (DFC) is comprised of the University of Pittsburgh and the McGowan Institute; University of Michigan at Ann Arbor; University of California, San Francisco; Stanford University, Palo Alto California; University of Miami Miller School of Medicine; Indiana University, Indianapolis; and the University of Arizona.
According to the CDC, 37.3 million Americans have diabetes – the equivalent of 11.3% of the U.S. population. Diabetes is ranked as the 8th leading cause of death in the U.S., contributing to more than 100,000 deaths annually.
One of the most frequent complications in diabetes is DFUs. There is a lifetime incidence of foot ulcers between 19% and 34% in diabetics. More than half of DFUs become infected, and approximately 20% of moderate or severe infections lead to amputation. DFUs are the leading cause of lower limb amputations in the U.S.
The DFC aims to lay the foundation for a clinical trial network to test how to improve diabetic wound healing and prevent amputations among the millions of American adults with diabetes.
Chandan K. Sen, PhD, Director of the McGowan Institute, states, "The McGowan Institute will be home to the Pennsylvania site of the DFC, and the Joslin Diabetes Center at Harvard will be our satellite site. Clinical research across 20 UPMC wound care sites supported by innovative basic science research and industry partnerships will position the McGowan Institute as a national leader in this emergent health care discipline."