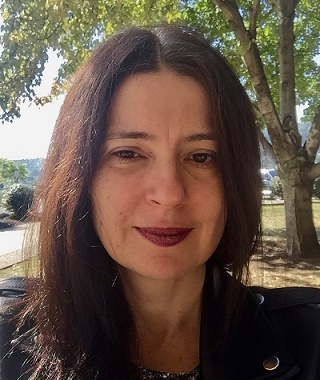 McGowan Institute for Regenerative Medicine affiliated faculty member Jelena Janjic, PhD, Associate Professor, School of Pharmacy, Graduate School of Pharmaceutical Sciences, Duquesne University, recently participated in Carnegie Mellon University's TEDx program.  In her talk entitled "When in Pain, Innovate," Dr. Janjic challenged the current approach to pain management to designing new pain medicines and took her audience through innovations in nanotechnology that focus on a unique approach to remedy and diagnose pain. Watch her presentation here. (starts around 4:06:20)
Dr. Janjic pioneered nanotechnology development for chronic pain and her work is supported by the National Institutes of Health and the U.S. Air Force. The theranostic pain nanomedicine she designed is able to simultaneously image and modulate immune cells for therapeutic intervention in a number of inflammatory diseases including chronic pain. Her work on pain nanomedicine drew international and national attention. She won the Pittsburgh Business Times Innovator Award and was inducted into Duquesne University Research Hall of Fame in 2018. For the past 10 years, her focus was nanotechnology for imaging and drug delivery with two patents, more than 40 peer-reviewed publications and book chapters, and invited presentations at national and international meetings.
Dr. Janjic holds a pharmacy degree from Belgrade University, S.R. Yugoslavia, and a PhD in Medicinal Chemistry/Pharmaceutical Sciences from University of Pittsburgh School of Pharmacy. She completed post-doctoral training at Scripps Florida in drug discovery and Carnegie Mellon University in imaging nanotechnology. She is full time faculty at Duquesne University Pharmacy School since 2009. Dr. Janjic is the Founder and has served as a Co-Director of the Chronic Pain Research Consortium (CPRC) at Duquesne University since May 2011. She also serves as the ORISE Faculty Fellow and a Principal Scientist with the 59th Medical Wing U.S. Air Force, USAISR.
Read more…