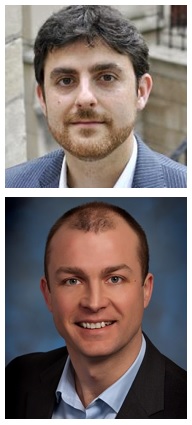 Peripheral nerve matrix (PNM) is an injectable gel derived from porcine tissue that promotes and supports repair and regeneration in injured peripheral nerves. PNM technology is based on 4 years of research in the laboratory of McGowan Institute for Regenerative Medicine faculty member Bryan Brown, PhD, Assistant Professor in the Department of Bioengineering with secondary appointments in the Department of Obstetrics, Gynecology, and Reproductive Sciences and the Clinical and Translational Science Institute at the University of Pittsburgh, and the laboratory of McGowan Institute affiliated faculty member Jonathan Cheetham, VetMB, Diplomate ACVS, PhD, Associate Professor of Clinical Sciences at Cornell University.  PNM is the first product for Renerva, LLC, a Pittsburgh-based medical device company developing innovative technology for peripheral nerve injuries. PNM is protected by five patents licensed from the University of Pittsburgh and Cornell University.
Renerva, LLC, has received $2.4 million in nondilutive financing from the U.S. Department of Defense through a Medical Technology Enterprise Consortium (MTEC) Award. The award will enable Renerva to complete its preclinical program and begin human clinical trials.
PNM has the potential to play a significant role in accelerating and improving structural and functional recovery following different modalities of nerve injury. "Remarkably, based on the impact shown in several animal studies, PNM has the potential to return functionality to patients that are left otherwise disabled from different types of nerve injury," noted Chief Technology Officer Dr. Brown, who holds equity in the company.
"With 20 million patients suffering from different types of peripheral nerve injuries in the U.S. alone, our technology has the potential to treat a broad range of nerve injuries. A peripheral nerve surgeon enthusiastically called PNM the 'Neosporin® of Nerve Repair', hinting at its broad potential and widespread adoption," said Lorenzo Soletti, PhD, MBA, Chief Executive Officer of Renerva. "Our commercial rollout will first focus on PNM as an adjunct treatment for existing surgical procedures to repair or release traumatically or chronically injured peripheral nerves.
That market will then be expanded to treat patients affected by nerve injury through ultrasound or image-guided delivery of PNM to the affected nerves."
Renerva's Chief Medical Officer, Paul Gardner, MD, said, "While our initial clinical focus for PNM is in the upper extremities, which are associated with the highest incidence of traumatic nerve injuries, I treat many patients affected by nerve injuries in the head and neck as a result of tumors, traumatic injuries and other conditions. Facial nerve injuries have a very debilitating social impact on patients as the face is so intimately involved in our nonverbal communication and appearance. Indeed, nerve injury affects everything from facial sensation to swallowing and speech.  Giving these patients even a portion of their function back would make a world of difference. Enhancing the ability of a nerve to heal would represent a true paradigm shift in this space." Dr. Gardner holds equity in the company and is an Associate Professor in the University of Pittsburgh Department of Neurological Surgery and the Executive Vice Chair of Surgical Services and Neurosurgical Director of the UPMC Center for Cranial Base Surgery.
Read more…
University of Pittsburgh Swanson School of Engineering News Release