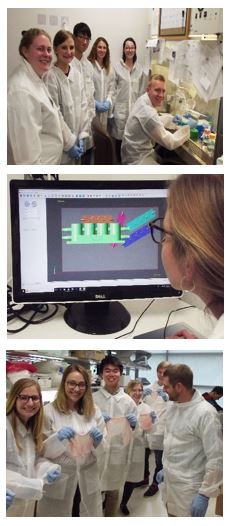 The 6th Annual McGowan Institute Regenerative Medicine Summer School (June 16-21, 2019) has just concluded with 19 students from universities across the U.S. being introduced to the science, as well as the clinical and commercial potential of regenerative medicine-based therapies through a combination of lectures and hands-on laboratory activities.
The summer program is under the direction of Bryan N. Brown, PhD, Associate Professor, Department of Bioengineering, Department of Obstetrics, Gynecology, and Reproductive Sciences, and the Clinical and Translational Science Institute.  Dr. Brown is also the Director of Educational Outreach-McGowan Institute.
Following the summer school week, ten of the trainees began an 8-week internship where each student is working in the lab of a McGowan affiliated faculty member.
Through the generosity of the Bayer USA Foundation, this year's program is being offered to the participating students at no cost to the participants.  The summer school program has been endorsed by the Society for Biomaterials and the Tissue Engineering and Regenerative Medicine International Society (TERMIS).
Our thanks to the faculty and staff for your contributions to this very successful event.
View photos from the summer school here.