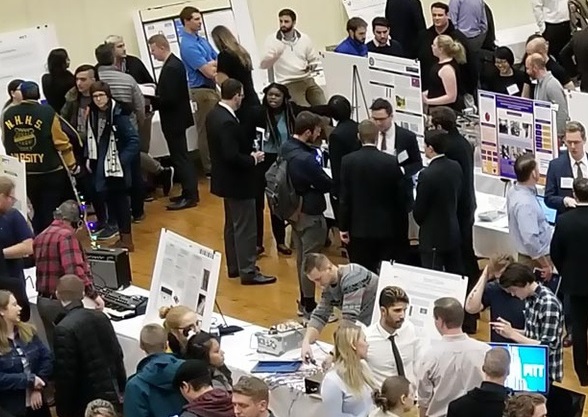 Each semester, students at the University of Pittsburgh Swanson School of Engineering get the chance to show off their creativity and highlight their designs at the Design EXPO, held this year in the University Club on April 22, 2022. Students prepared their displays showcasing their work from the School's Capstone Design courses or highlighted concepts and prototypes from the Product Realization and Art of Making courses. The students presented their projects, and judges from industry visited the booths in turn to talk with students and view their work.
The Department of Bioengineering team project, "Pediatric IV Site Stabilization Device," won 3rd Place in this year's competition. Two of the students on the project work in the labs of McGowan Institute for Regenerative Medicine faculty members Fabrisia Ambrosio, PhD, and Steven Little, PhD. The winning team members include Reetwan Bandyopadhyay (from the Little Lab), Sydney Borcherding, Pooja Chawla, McKenzie Dowd, Adarsh Mallepally (from the Ambrosio Lab), Darini Rajesh, Jessie Rindfleisch, and Alyssa Zehner.
"Engineering is all about solving problems and finding opportunities for innovation, and the Design EXPO shows that our students are already doing exactly that," said Mary Besterfield-Sacre, PhD, associate dean for academic affairs and Nickolas A. DeCecco Professor of industrial engineering. "They put their newly learned engineering skills to good use, and they never fail to impress with their ingenuity and creativity."
Dr. Ambrosio is the Director of Rehabilitation for UPMC International and an Associate Professor in the Department of Physical Medicine and Rehabilitation at the University of Pittsburgh. She holds secondary appointments in the Departments of Bioengineering, Physical Therapy, Orthopaedic Surgery, Microbiology and Molecular Genetics, and Environmental and Occupational Health.
Dr. Little is the Distinguished Professor, the Chairman of the Department of Chemical and Petroleum Engineering, and the William Kepler Whiteford Endowed Professor in the Departments of Chemical and Petroleum Engineering, Bioengineering, Immunology, Ophthalmology, and Pharmaceutical Sciences.
Congratulations, all!
Illustration:  University of Pittsburgh Swanson School of Engineering.
Read more…