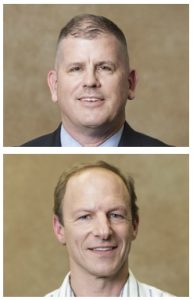 Researchers at the University of Pittsburgh School of Health and Rehabilitation Sciences (SHRS) recently received a combined $7.5 million in grant funding from the Department of Defense, Congressionally Directed Medical Research Programs. The three funded projects will study aspects of both physical and mental recovery to improve care practices for future active and retired service members.  One of the projects, entitled "Studying Cognitive Readiness and Resilience," will be co-led by McGowan Institute for Regenerative Medicine affiliated faculty member Bradley Nindl, PhD, SHRS professor and director of Pitt's Neuromuscular Research Laboratory/Warrior Human Performance Research Center.
Given the unpredictable nature of the armed forces, military personnel face a unique set of stressors that are taxing to the mind as well as the body. Dr. Nindl and Anne Germain, PhD, associate professor of psychiatry at the Pitt School of Medicine and director of Pitt's Sleep and Behavioral Neuroscience Center, received $2.5 million to study the mental readiness and resiliency of military service members. This grant will be used to develop a comprehensive series of cognitive, behavioral, and sensorimotor readiness metrics to evaluate, validate, and encourage mental preparedness for military service.
The other two projects funded include "Determining Optimal Timing of Surgery and Rehabilitation for Knee Injuries" and "Avoiding Complications When Using Prosthetics."
"We are honored to use our expertise to advance health care and quality of life for those who have so valiantly served our country," said McGowan Institute affiliated faculty member David Brienza, PhD, SHRS associate dean of research. "These three projects fill critical research needs and stand to make a tremendous difference in the lives of our country's military personnel."
Illustration:  SHRS.
Read more…
UPMC/University of Pittsburgh Schools of the Health Sciences Media Relations News Release