Program Agenda
THURS, SEPT 24TH
LOCATION:
1:30-3:00
Registration Open
Doubletree:

Atrium – 2nd Floor

2:30-3:30
Pre-Symposium Workshop: "Regenerative Medicine 101" – Fabrisia Ambrosio, PhD, MPT, Assistant Professor, University of Pittsburgh
Doubletree:

University Hall I-IV

6:00pm
Opening of Symposium:
6:00-7:30
Plenary session – "Pathway to the clinic: translational examples of regenerative rehabilitation for the treatment of volumetric muscle injuries"
Mayo Clinic
6:00-6:10
Welcome and Introductions: – Moderator: Micheal Boninger, MD, Professor and Chair, Department of Physical Medicine and Rehabilitation, University of Pittsburgh; Medical Director of the Center of Excellence in Wheelchairs and Associated Rehabilitation Engineering at the VA Pittsburgh Health Care System.
Geffen Auditorium
6:10-6:35
Thomas Rando, MD, PhD, Director, Rehabilitation Research, VAPAHCS and Professor of Neurology, Stanford University
Geffen Auditorium
6:35-7:00
Benjamin T. Corona, PhD, Research Physiologist, Extremity Trauma and Regenerative Medicine, Center for the Intrepid, San Antonio Military Medicine Center, San Antonio, TX
Geffen Auditorium
7:00-7:25
Stephen Badylak, DVM, PhD, MD, Professor of Surgery, University of Pittsburgh
Geffen Auditorium
7:25-7:30
Wrap-up and conclusion of day one
Geffen Auditorium
7:30-8:30
Evening cocktail reception
Landow Atrium,
Gonda Bldg.
FRIDAY, SEPT 25TH 8:00AM TO 5:30PM
Doubletree
7:00
Registration Opens
Atrium – 2nd Floor
7:15-8:15
Continential Breakfast –Seating available in University Hall I, Boardrooms A & B and Commons Room
Atrium – 2nd Floor
8:00-8:15
Introductory Remarks
University Hall II-IV
8:15-9:15
Local Keynote: Anthony J. Windebank, MD, Professor of Neurology, Mayo Clinic

Topic: Stem cell therapies for the treatment of ALS

University Hall II-IV
9:15-9:30
Break
Atrium – 2nd Floor
Session #1: Interfacing Rehabilitation with Gene Therapies
9:30-9:55
Andre Terzic, MD, PhD, Director, Mayo Clinic Center for Regenerative Medicine

Title: "Regenerative Medicine Blueprint: From Principles to Practice"

University Hall II-IV
9:55-10:20
Martin Childers, DO, PhD, Professor of Rehabilitation Medicine, University of Washington

Topic: Gene therapy for neuromuscular diseases

University Hall II-IV
10:20-10:45
Christopher H. Evans, PhD, Professor of Orthopedics and Physical Medicine and Rehabilitation, Mayo Clinic

Topic: Gene therapy for cartilage and bone regeneration

University Hall II-IV
10:45-10:55
Short talk selected from abstract – TBA
University Hall II-IV
10:55-11:05
Break
Atrium – 2nd Floor
Session #2: Mechanical stimulation as a tool to promote musculoskeletal regeneration
11:05-11:30
Nathan LeBrasseur, PhD, Associate Professor of Physical Medicine and Rehabilitation, Mayo Clinic

Topic: The effect of exercise on skeletal muscle signaling responses

University Hall II-IV
11:30-11:55
George J. Christ, PhD, Professor of BME and Orthopaedic Surgery and Director of Basic Science & Translational Research for Orthopaedic Surgery, University of Virginia

Topic: Skeletal Muscle Engineering

University Hall II-IV
11:55-12:20
Fabrisia Ambrosio PhD, MPT, Assistant Professor, University of Pittsburgh

Topic: Electrical stimulation rejuvenates muscle stem cell behavior

University Hall II-IV
12:20-12:30
Short talk selected from abstract – TBA
University Hall II-IV
12:30-1:30
Buffet Lunch –Seating available in University Hall I, Boardrooms A & B and Commons Room
Atrium – 2nd Floor
12:45-1:15
Meet the Mentor
Commons Room
1:15-2:00
Poster & Networking Session
Chancellor Room
2:00 – 3:00
Defining Compatibility Gaps and Programmatic Needs: DoD and VA Perspectives Moderator: Thomas Rando, MD, PhD (tentative) – Speakers: TBD – Town Hall / Panel Discussion
University Hall II-IV
3:00-3:15
Break
Atrium – 2nd Floor
Session #3: Manipulation of the microenvironment to enhance neurological regeneration and recovery
3:15-3:50
Linda Noble-Haeusslein, PhD, Professor of Neurological Surgery and Physical Therapy and Rehabilitation, University of California, San Francisco

Topic: Optimizing a platform for regenerative strategies in SCI

University Hall II-IV
3:50-4:15
Randy Trumbower, PT, PhD, Assistant Professor of Rehabilitation Medicine, Emory Universtiy

Topic: Intermittent hypoxia for the treatment of SCI

University Hall II-IV
4:15-4:40
Kendall H. Lee, MD, PhD, Professor of Neurosurgery and Physiology, Mayo Clinic

Topic: Limb reanimation in SCI

University Hall II-IV
4:40-4:50
Short talk selected from abstract – TBA
University Hall II-IV
4:50-5:00
Break
Atrium – 2nd Floor
5:00-6:00
Keynote: Tony Wyss-Coray, PhD, Professor of Neurology, Stanford University

Topic: Systemic factors regulating brain function and behavior

University Hall II-IV
6:00-8:00
Reception & Tours of Mayo campus facilities
Mayo Clinic:

Dan Abraham Healthly Living Center (DAHLC)

SAT, SEPT 26TH 8:00AM TO 11:00AM
DOUBLETREE
7:15-8:15
Continential Breakfast–Seating available in University Hall I, Boardrooms A & B and Commons Room
Atrium – 2nd Floor
8:00-9:00
'Global perspectives in Regenerative Rehabilitation'
Moderated by: Michael Boninger, MD, Professor and Chair of Physical Medicine and Rehabilitation, University of Pittsburgh; Medical Director of the Center of Excellence in Wheelchairs and Associated Rehabilitation Engineering at the VA Pittsburgh Health Care System.
University Hall II-IV
9:00-9:10
Break
Atrium – 2nd Floor
Session #4: Interfacing Rehabilitation with Stem Cell Therapies
9:10-9:35
George H. Kraft, MD, Professor of Rehabilitation Medicine and Neurology, University of Washington

Topic: Stem cell therapies for the treatment of multiple sclerosis

University Hall II-IV
9:35-10:00
Marni D. Boppart, ScD, Associate Professor of Kinesiology and Community Health, University of Illinois (YI, W)

Topic: Stem cell transplantation & exercise for muscle regeneration

University Hall II-IV
10:00-10:25
Carmen Terzic, MD, PhD, Chair of Physical Medicine and Rehabilitation, Mayo Clinic

Topic: Stem cell therapies and cardiovascular rehabilitation

University Hall II-IV
10:25-11:00
Panel Discusion on 'Vision of This Emerging Field From the Educators and Students' Perspectives

Moderator: Anthony Delitto, PhD, PT, FAPTA, Professor and Associate Dean of Research, School of Health and Rehabilitation Sciences, University of Pittsburgh

University Hall II-IV
11:00-11:15
Closing remarks/Announcement regarding the 5th Symposium:

Randy Trumbower, PT, PhD, Assistant Professor of Rehabilitation Medicine, Emory University

University Hall II-IV
Continuing Education Credit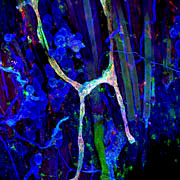 The University of Pittsburgh School of Medicine is accredited by the Accreditation Council for Continuing Medical Education to provide continuing medical education for physicians.
The University of Pittsburgh School of Medicine designates this live activity for a maximum of 11.5 AMA PRA Category 1 Credit(s). Physicians should claim only the credit commensurate with the extent of their participation in the activity.
Other health care professionals are awarded 1.1 continuing education units (CEU?s) which are equal to 11.5 contact hours.
The University of Pittsburgh is an affirmative action, equal opportunity institution.

Participation by all individuals is encouraged. Advance notification of any special needs will help us provide better service. Please notify us of your needs at least two weeks in advance of the program by calling 001 (412) 624 5293.
Photo is courtesy of the Center for Biologic Imaging at the University of Pittsburgh.