Welcome to CATER
The McGowan Institute for Regenerative Medicine at the University of Pittsburgh has been awarded a highly competitive Training Grant from the National Institute of Biomedical Imaging and Bioengineering (NIBIB), National Institutes of Health; the Cellular Approaches to Tissue Engineering and Regeneration (CATER) Training Program's mission is to provide a solid foundation upon which to build a productive independent career in cellular and tissue based therapies within the field of regenerative medicine to solve human disease and injury. This goal is accomplished via a highly coordinated and mentored interdisciplinary training program that traverses departments and disciplines, and combines required and elective courses, research activities, and specialized Professional Development opportunities

CATER trainees along with CATER Director and Assistant Director in December 2018. From left to right: (back row) Sam LoPresti, George Gabriel, Marty Haschak, Daniel Zuppo, Jackie Russell, Drew Bradshaw, Michael Behrens, Meghan Mooring, Kien Tran, Ernesto Bedoy, (front row) Karis Kosar, Alexis Nolfi, Dr. Paul Monga, Dr. Andrew Duncan, Abby Stahl, Laura Molina
The Training Program incorporates faculty from the Swanson School of Engineering, the McGowan Institute for Regenerative Medicine, and the School of Medicine. The instruction and research experience reside at the leading edge of regenerative medicine with a focus on cell and tissue engineering. The faculty represents departmental diversity since they come from Pathology, Surgery, Bioengineering, Developmental Biology, Computational Biology, Chemical Engineering, Orthopaedic Surgery and many other departments within the School of Medicine and Swanson School of Engineering. Traversing these broader themes the trainees are instructed in fundamental biology and physical concepts in stem cell biology, angiogenesis, tissue regeneration, extracellular matrix biology, tissue engineering, inflammation and biomaterials. This combination of training faculty research expertise and coursework provide a rich educational experience and more numerous training opportunities for the students than could be obtained within the individual university departments.
Nominations/Applications are not being accepted at this time. Annual application period is May 1st to June 30th.  Please feel free to stop back during that time for complete application details.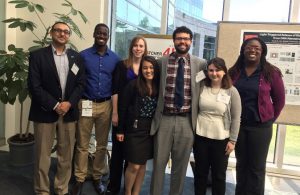 CATER trainees (present & past) at
the poster session at 2016 NIBIB
training grantees meeting.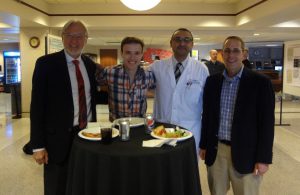 CATER site visit by Dr. Baird (poster session)