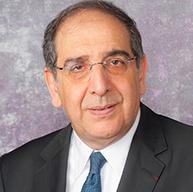 One of the four human sight-restoring technologies featured in Popular Mechanics includes the work of the University of Pittsburgh School of Medicine Eye Center's researchers who are developing goggles that have a camera and processor to translate images from the environment into pulses of light. Reporter Connie Chang zeros in on their work.
Pittsburgh scientists are pursuing vision restoration through optogenetics, in which retinal neurons are induced—via a virus that targets specific cells—to express light-sensitive proteins in their cell membranes. McGowan Institute for Regenerative Medicine affiliated faculty member José-Alain Sahel, MD (pictured), the Chair of Ophthalmology at the University of Pittsburgh School of Medicine and Director of the UPMC Eye Center, and colleagues were the first to successfully implement this technique in patients, as reported in a Nature Medicine paper published in 2021.
Their method requires a camera and processor to translate images from the environment into pulses of light that can excite the transformed neurons, which is likely more reliable and versatile than traditional prostheses. Cells in the retina continue to express the photosensitive protein after a one-time injection of the virus, while physical implants could degrade and stop working, accompanied by risks of infection. "And the goggles, since they're outside the eyes, can evolve over time," Dr. Sahel says. "They're already different from the first goggles we developed, with more to come."
What do patients see?
"The type of signal that's produced with this [light-sensitive] protein is a new type of signal, and the patient has to learn how to make sense out of it," Dr. Sahel says, comparing the process to learning a foreign language. Each pixel in the camera reacts to a change in light, so it's like looking at a scintillating screen, where pixels flash as the light changes at that position. This neuromorphic camera, notes Dr. Sahel, is designed to partially mimic how the retina responds to light.
Signals arise, therefore, when the object moves or the patient shifts their head or their eyes in a type of edge detection, explains Dr. Sahel. Gradually, patients are able to discern shapes, light sources, edges, and objects in motion. Dan Dunfee, a patient participating in the clinical trial in Pittsburgh, says it's like looking out of glasses smeared with Vaseline at a world bathed in different intensities of blue.
"I see contrast and light and the edges where the contrast and light change," Mr. Dunfee tells Popular Mechanics. "And when I find what I think is an edge of something, I'll scan around to find the other edges of it—and from that, I get a sense of size, shape, and how reflective an object is."
Ms. Chang is a freelance writer in the Bay Area — covering science, parenting, and health. She's a recovering scientist, inveterate knitter, and fan fiction enthusiast.
Read more…
Clinicaltrials.gov: Dose-escalation Study to Evaluate the Safety and Tolerability of GS030 in Subjects with Retinitis Pigmentosa (PIONEER)
Abstract (José-Alain Sahel, Elise Boulanger-Scemama, Chloé Pagot, Angelo Arleo, Francesco Galluppi, Joseph N. Martel, Simona Degli Esposti, Alexandre Delaux, Jean-Baptiste de Saint Aubert, Caroline de Montleau, Emmanuel Gutman, Isabelle Audo, Jens Duebel, Serge Picaud, Deniz Dalkara, Laure Blouin, Magali Taiel & Botond Roska. Partial recovery of visual function in a blind patient after optogenetic therapy. Nature Medicine, 27, 1223–1229 (2021).)