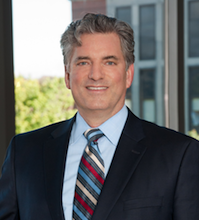 Fetal obstructive hydrocephalus causes permanent brain damage due to increased intracerebral pressure. Because of obstruction of the flow of cerebrospinal fluid (CSF), CSF accumulates within the cerebral ventricles, causing increased intracerebral pressure, which leads to decreased blood flow, as well as damage from stretch of neurons. In-utero relief of increased intracerebral pressure may result in normal brain development, thereby preventing lifelong disability.
McGowan Institute for Regenerative Medicine affiliated faculty member Stephen Emery, MD, Associate Professor, Department of Obstetrics, Gynecology, & Reproductive Sciences, Maternal Fetal Medicine, at Magee-Womens Hospital of UPMC, and the Director of the Center for Innovative Fetal Intervention at Magee-Womens Hospital of UPMC, recently spoke with Regenerative Medicine Today host John Murphy, McGowan Institute Executive Director, about
Listen to their conversation here.
Pittsburgh ABC affiliate WTAE reported on the first-of-its-kind in utero fetal surgery to repair spina bifida.  Dr. Emery was a lead on the team of physicians and medical professionals involved in this surgery.  Watch the broadcast here.
South Bend NBC affiliate WNDU reported on the minimally invasive technique called microcoil embolization to treat chorioangioma of the placenta which is a rare tumor with a frequency of about one percent, which usually presents as a solitary nodule or, less frequently, as multiple nodules. It is found on the fetal surface of the placenta. Most chorioangiomas are small and possess no clinical significance. On the contrary, clinically significant chorioangiomas, greater than five cm, may be associated with pregnancy complications.  Dr. Emery was a lead on the team of physicians and medical professionals involved in this surgery. Watch the broadcast here.
The NAFTNet is a voluntary association of 36 medical centers in both the United States and Canada that perform advanced in-utero fetal therapeutic procedures. Physicians at these Fetal Treatment Units practice in both academic and community-based environments and specialize in fields such as maternal-fetal medicine, pediatric surgery, neonatology, pediatric cardiology, and fetal ultrasound.  The primary goal of NAFTNet is to provide an umbrella organization to assist the various medical centers that practice fetal medicine, promote cooperation between these centers and foster research in the field of fetal therapy.
Read more…