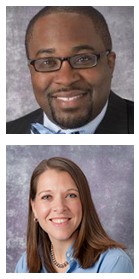 With a passion for research, McGowan Institute for Regenerative Medicine affiliated faculty member MaCalus Hogan, MD, MBA, is interested in musculoskeletal regenerative medicine with a focus on tendon, ligament, and cartilage bioengineering. He is currently directing the Foot and Ankle Injury Research Group and co-directs the Musculoskeletal Growth and Regeneration Lab.
Dr. Hogan, Vice Chair of Education and Residency Program Director in the Department of Orthopaedic Surgery at the University of Pittsburgh Medical Center and Associate Professor in the Departments of Orthopaedic Surgery and Bioengineering at the University of Pittsburgh, and Jeanne Doperak, DO, a primary care sports medicine physician, an Assistant Professor at the University of Pittsburgh School of Medicine, and a "residency liaison" in the Departments of Orthopaedics and Sports Medicine, recently spoke with Regenerative Medicine Today host John Murphy, McGowan Institute Executive Director, about
UPMC COVID-19 Return to Sports Guidelines: Three playbooks (youth, high school, collegiate) to assist coaches, athletic trainers, and organizers with creating a safe environment for youth athletes, fans, and staff amidst COVID-19
similarities and differences of the athletic environments addressed for the three groups of athletes
the team effort necessary towards the implementation of the guidelines
Listen to their conversation here.
Illustration:  McGowan Institute for Regenerative Medicine (Hogan)/UPMC (Doperak)