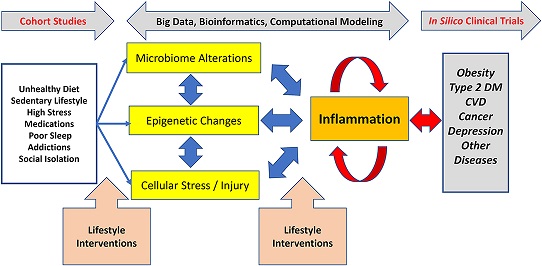 Declining life expectancy and increasing all-cause mortality in the United States have been associated with unhealthy behaviors, socioecological factors, and preventable disease. A growing body of basic science, clinical research, and population health evidence points to the benefits of healthy behaviors, environments, and policies to maintain health and prevent, treat, and reverse the root causes of common chronic diseases. Similarly, innovations in research methodologies, standards of evidence, emergence of unique study cohorts, and breakthroughs in data analytics and modeling create new possibilities for producing biomedical knowledge and clinical translation. To understand these advances and inform future directions research, The Lifestyle Medicine Research Summit was convened at the University of Pittsburgh on December 4–5, 2019.
McGowan Institute for Regenerative Medicine faculty member Yoram Vodovotz, PhD, Professor in the Department of Surgery and Director of the Center for Inflammation and Regeneration Modeling at the McGowan Institute, and Michael Parkinson, MD, Sr. Medical Director, UPMC Health Plan, and Principal, P3 Health Consulting, recently spoke with Regenerative Medicine Today host John Murphy, McGowan Institute Executive Director, about the 2-days Lifestyle Medicine Research Summit which prioritized major research questions from basic science to population health.
This intentionally broad but interrelated perspective included lifestyle-induced or -associated inflammation; immune dysfunction; cellular dysbiosis; microbiome alterations; neuroplasticity; genomics, epigenetics, proteomics, metabolomics, and computational and systems approaches for assessing health and disease. Innovative research methodologies considered included new approaches to clinical trials design, in silico (computer) modeling, and opportunities for population-based and/or banked serological/specimen investigations using existing cohorts. The foundational and synergistic roles of sociocultural influences, built environment, and environmental exposures, as well as the need to focus on underserved and understudied populations, were also emphasized. Notably, the Summit was the first Lifestyle Medicine meeting with so wide-ranging an interdisciplinary scope.
During this podcast, they discuss:
the current status of the six core areas of Lifestyle Medicine: plant-predominant nutrition, physical activity, sleep, stress, addictive behaviors, and positive psychology/social connection
the framework of the bridge between Lifestyle Medicine and Regenerative Medicine for treatment and reversal of chronic disease (i.e., cardiovascular disease, diabetes, cancer, inflammatory- and immune-related disorders and other conditions)
how to accelerate the adoption and dissemination of clinical Lifestyle Medicine interventions
Listen to their conversation here.
Read the publication from the Summit here.
See presentations from the Summit here.
Illustration:  Figure 1. Lifestyle-associated pathogenesis, interventions, and emerging methods for lifestyle medicine research. Unhealthy lifestyles cause dysregulation in the microbiome, epigenetic changes, and various types of cellular stress and injury which, together, drive inflammation. In turn, inflammation can drive further derangements in the microbiome, can cause distinct epigenetic changes, and can drive further cellular stress and injury. This positive feedback leads to a process wherein inflammation becomes chronic and self-sustaining, ultimately resulting in chronic diseases, such as Type 2 diabetes. The non-linear nature of these processes means that simple reductionist approaches to understanding the connections between lifestyle mismanagement and chronic disease are likely to fail. Effective lifestyle interventions prevent, treat, and reverse common chronic diseases. To accelerate the adoption and dissemination of clinical lifestyle medicine interventions, there is a need for cutting edge biological and computational approaches decipher this complexity. Adapted from Figure 3, Bodai et al. (5) with permission from The Permanente Press.  Frontiers in Medicine, 22 December 2020.
Read more…
Lifestyle Medicine Research Summit: Agenda and Presentations
Paper (Prioritized research for the prevention, treatment, and reversal of chronic disease: recommendations from the Lifestyle Medicine Research Summit.  Yoram Vodovotz, Neal Barnard, Frank B. Hu, John Jakicic, Liana Lianov, David Loveland, Daniel Buysse, Eva Szigethy, Toren Finkel, Gwendolyn Sowa, Paul Verschure, Kim Williams, Eduardo Sanchez, Wayne Dysinger, Victoria Maizes, Caesar Junker, Edward Phillips, David Katz, Stacey Drant, Richard J. Jackson, Leonardo Trasande, Steven Woolf, Marcel Salive, Jeannette South-Paul, Sarah L. States, Loren Roth, Gary Fraser, Ron Stout, and Michael D. Parkinson. Frontiers in Medicine, 22 December 2020.)