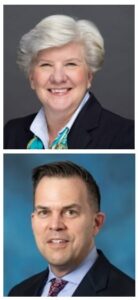 The International Space Station (ISS) U.S. National Laboratory and the McGowan Institute for Regenerative Medicine (MIRM) are working on a multi-year research alliance to push the limits of biomedical research and development aboard the orbiting laboratory. The alliance — a core element of the ISS National Laboratory Industrial Biomedicine Program — serves as a benchmark for how the ISS National Laboratory develops similar programs in the future involving research and development activities aboard the space station.
The ISS National Laboratory and MIRM are collaborating with partners from industry, other academic research centers, and government agencies to drive the progress of regenerative medicine research onboard the ISS. The program focuses on microgravity life sciences research and development, with a line of sight toward products and services for clinical application on Earth. For instance, exploiting the unique behavior of stem cells in microgravity could improve cell-based therapies for a variety of diseases and impairments, such as traumatic brain injury and type I diabetes. Similarly, microgravity could allow 3D printers to create complex tissue structures that are difficult to achieve in the presence of full gravity.
Christine Kretz, Vice President of Programs and Partnerships for the ISS National Laboratory, Center for the Advancement of Science in Space, and William Wagner, PhD, Director of the McGowan Institute as well as Distinguished Professor of Surgery, Chemical Engineering, and Bioengineering at the University of Pittsburgh, recently spoke with Regenerative Medicine Today host John Murphy, McGowan Institute Executive Director, about
Expanded capabilities on the International Space Station (ISS) regarding biotechnology
How space station access and current costs associated with low earth orbit (LEO) research is supporting LEO biomanufacturing today
Current biotechnology areas well suited to LEO biomanufacturing include stem cell behaviors, microphysical systems (organ-on-a-chip), biomaterials self-assembly, 3D printing
Astronaut-driven vs future automated research processes
Quality management systems on ISS and their impact on FDA approvals for product developments
Listen to their conversation here.
Illustration:  International Space Station National Laboratory (Kretz)/McGowan Institute for Regenerative Medicine (Wagner)
Read more…
UPMC/University of Pittsburgh Schools of the Health Sciences News Release
McGowan Institute for Regenerative Medicine In the News: New Alliance with the International Space Station U.S. National Laboratory