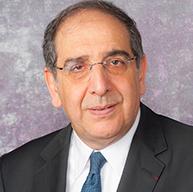 The mission of the UPMC Eye Center is to improve quality of life through the preservation and restoration of vision.  The UPMC Eye Center is focused to:
be a leader in the delivery of eye care
advance the frontiers of eye research
educate the next and current generations in the fundamentals and state of the art in eye health, disease, and treatment
bring innovations in science and technology from the laboratory to our patients
The UPMC Eye Center, the Department of Ophthalmology of the University of Pittsburgh School of Medicine, has one of the top basic and clinical research programs in the country. Ranked 8th last year in National Eye Institute funding, UPMC Eye Center's research focuses on ocular immunology, infectious disease, molecular genetics and molecular biology of retinal disease, glaucoma, and advanced diagnostic imaging technology development.
McGowan Institute for Regenerative Medicine affiliated faculty member José-Alain Sahel, MD, Chair and Distinguished Professor of the Department of Ophthalmology at the University of Pittsburgh School of Medicine, Director of the UPMC Eye Center, the Eye and Ear Foundation Chair of Ophthalmology, the Founder and Director of the Vision Institute in Paris, and a Professor at the Sorbonne's Medical School Université Pierre-et-Marie-Curie, recently spoke with Regenerative Medicine Today host John Murphy, McGowan Institute Executive Director, about
vision research areas and their corresponding principal investigators, i.e. cornea (Yiqin Du, MD, PhD), glaucoma (Yiqin Du, MD, PhD), retinal photoreceptors (Leah Byrne, PhD), optic nerve regeneration (Jeffrey Gross, PhD), ophthalmic imaging technologies (Ethan Rossi, PhD)
vision rehabilitation through the training of patients post-vision restoration
clinical trials for future therapies and technologies
Listen to their conversation here.
Read more…
Abstract (Depicting brighter possibilities for treating blindness.  José-Alain Sahel, Jean Bennett, Botond Roska.  Science Translational Medicine, 2019 May 29;11(494):eaax2324.)