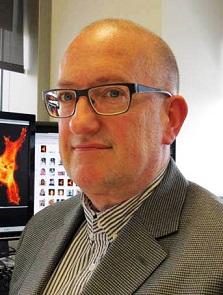 In the Mechanics of Morphogenesis Lab, team members carry out interdisciplinary research at the interface of physics, engineering, mathematics, and developmental biology.  What you cannot follow in real time in the body, these researchers follow with sophisticated micromechanical test devices and imaging systems.  Once this data is gathered, they then create elaborate computer modeling simulations which can be easily and frequently changed to produce knowledge out of the reach of mathematical analysis or natural experimentation alone.
McGowan Institute for Regenerative Medicine affiliated faculty member Lance Davidson, PhD, Professor and Wellington C. Carl Faculty Fellow of Bioengineering in the University of Pittsburgh's Swanson School of Engineering and an Adjunct Faculty Member in Developmental Biology and Computational and Systems Biology at Pitt and in Biomedical Engineering at Carnegie Mellon University, is the head of the Mechanics of Morphogenesis Lab and recently spoke with Regenerative Medicine Today host John Murphy, McGowan Institute Executive Director, about
computational and experimental data complementation and how mechanics affect cell biology shape and tissue movement,
today's tools used in the laboratory can highlight very nuanced differences in basic research studies, and
broadening scientific training opportunities for modern research.
Listen to their conversation here.
Dr. Davidson said, "Using the power of computation in conjunction with advanced biomechanical experiments could really impact our knowledge of disease development and treatment."
Read more…
McGowan Institute for Regenerative Medicine In the News:  MechMorpho Lab Brings Computation and Experimentation Closer Together