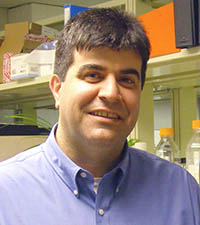 With funding from the National Institutes of Health, National Institute of Dental & Craniofacial Research (NIDCR), the University of Pittsburgh School of Dental Medicine will establish a new Research Training Program aimed at preparing the next generation of Craniofacial/Dental focused scientists. Major research foci at Pitt Dental are Craniofacial/Dental Genetics and Craniofacial/Dental Tissue Regeneration as well as translational research. Trainees will be included at both the pre-doctoral and post-doctoral levels.
The project principal investigator is McGowan Institute for Regenerative Medicine faculty member Charles Sfeir, DDS, PhD (pictured), Associate Dean of Research in the University of Pittsburgh School of Dental Medicine, an Associate Professor in the Clinical and Translational Science Institute, an Associate Professor in the School of Dental Medicine (Departments of Oral Biology and Periodontology) and the School of Engineering (Biomedical Engineering), and the Founding Director of the Center for Craniofacial Regeneration. The project is funded for 5 years.
The project abstract follows:
We will establish a new Pittsburgh Craniofacial Sciences Training Program (PCSTP) at the University of Pittsburgh School of Dental Medicine (Pitt Dental) to train and mentor a new generation of leaders in Dental Oral and Craniofacial (DOC) sciences. Our goal is to address the critical shortage of craniofacial biologists nationwide through the PCSTP. Pitt Dental is an ideal academic setting for a high-caliber program, including strong institutional investment in internationally recognized research programs in craniofacial genetics and regenerative medicine. Indeed, Pitt Dental has ranked in the top 10 dental schools receiving NIDCR funding each of the past 6 years, while the University has ranked 6th or higher nationally in total NIH funding for more than a decade. Concerted efforts to grow the research enterprise at Pitt Dental over the last 15 years led to a doubling in the number of accomplished research faculty and the completion of a new state-of-the-art research tower in 2015. The thriving Pitt Dental research ecosystem is multi- and inter-disciplinary and team-based. Our current oral and craniofacial sciences trainees work alongside PhD students from the Departments of Bioengineering (School of Engineering) and Human Genetics (Graduate School of Public Health), all of whom identify themselves as craniofacial scientists. Pitt Dental leadership fully recognizes the strategic importance of our program and has committed significant resources in personnel and support for the students in the PCSTP. The PCSTP will be administered and managed in the Department of Oral and Craniofacial Sciences, with additional faculty from other Pitt Dental or University departments (primarily Prosthodontics, Human Genetics, and Bioengineering). Trainees will be admitted to the Oral and Craniofacial Sciences PhD program and following the completion of their first year (supported by Pitt Dental), the strongest students will be considered for acceptance into the PCSTP. Postdoctoral trainees can apply to participate in either the conventional postdoctoral training or enroll in the PhD program for individuals holding a DDS/DMD. Finally, the R90 component will provide opportunities for individuals with foreign DDS/DMD degrees to participate. The PCSTP provides courses, research experiences, seminar series, journal clubs, an annual symposium, and an annual retreat (for PCSTP trainees and faculty only) and will leverage University resources, such as training in artificial intelligence, data science and the responsible conduct of research (RCR) and in methods to enhance reproducibility. Our trainees will benefit from a wealth of mentors, seminars, conferences, shared facilities, intramural pilot awards, and specialized training and experiences available through hundreds of laboratories and clinics across the six schools of the health sciences and the Pitt Clinical and Translational Sciences Institute (including its RCR Center and Institute for Clinical Research Education).
Read more…
NIH Reporter: Pittsburgh Craniofacial Sciences Training Program