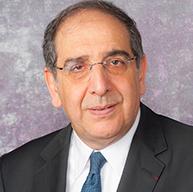 Leber Hereditary Optic Neuropathy (LHON) is a rare maternally inherited mitochondrial genetic disease, characterized by the degeneration of retinal ganglion cells that results in brutal and irreversible vision loss that can lead to legal blindness, and mainly affects adolescents and young adults. LHON is associated with painless, sudden loss of central vision in the 1st eye, with the 2nd eye sequentially impaired. It is a symmetric disease with poor functional visual recovery. 97% of patients have bilateral involvement at less than one year of onset of vision loss, and in 25% of cases, vision loss occurs in both eyes simultaneously. The estimated incidence of LHON is approximately 800-1,200 new patients who lose their sight every year in the United States and the European Union.
Co-founded by José-Alain Sahel, MD, a McGowan Institute for Regenerative Medicine affiliated faculty member, GenSight Biologics, a biopharma company focused on developing and commercializing innovative gene therapies for retinal neurodegenerative diseases and central nervous system disorders, announced recently that the journal Science Translational Medicine has published results from the REVERSE pivotal Phase III clinical trial of LUMEVOQ® gene therapy in ND4 LHON subjects along with key results from a non-human primate study investigating the contralateral effect of the gene therapy. The paper published under the title "Bilateral visual improvement with unilateral gene therapy injection for Leber hereditary optic neuropathy" is the first peer-reviewed article based on Phase III clinical trial data to document sustained and clinically meaningful bilateral improvement in visual outcomes from a unilateral injection of a gene therapy.
"Our study provides great hope for treating this blinding disease in young adults," said Dr. Sahel, co-corresponding author and Director of the Institut de la Vision (Sorbonne-Université/Inserm/CNRS), Paris, France, where LUMEVOQ®'s underlying mitochondrial targeting technology was developed. "Our approach isn't just limited to vision restoration: other mitochondrial diseases could be treated using the same technology," added Dr. Sahel, who is also Chairman of the Department of Ophthalmology at Centre Hospitalier National d'Ophtalmologie des XV-XX, Paris, France, and Professor and Chairman of the Department of Ophthalmology at the University of Pittsburgh School of Medicine and UPMC (University of Pittsburgh Medical Center).
Treated eyes showed a mean improvement in best-corrected visual acuity (BCVA) of 15 letters on an ETDRS chart, representing three lines of vision, while a mean improvement of 13 letters was observed in the sham treated eyes. As some patients were still in the dynamic phase of the disease process upon enrolment, the visual gain from the nadir (worst BCVA for each eye) was even larger, reaching 28.5 letters for the treated eyes and 24.5 letters for sham-treated eyes.
The findings from the REVERSE trial and the non-human primate study were key components of the data package submitted by GenSight Biologics in September 2020 to the European Medicines Agency when it applied for marketing authorization for LUMEVOQ® as treatment for patients with visual loss due to LHON caused by a confirmed mutation in the ND4 mitochondrial gene. The agency's decision is expected in Q4 2021.
"As someone who treats these young patients, I get very frustrated about the lack of effective therapies," said Dr Sahel. "These patients rapidly lose vision in the course of a few weeks to a couple of months. Our study provides a big hope for treating this blinding disease in young adults."
Read more…
University of Cambridge News Release
GenSight Biologics News Release
Abstract (Bilateral visual improvement with unilateral gene therapy injection for Leber hereditary optic neuropathy.  Patrick Yu-Wai-Man, Nancy J Newman, Valerio Carelli, Mark L Moster, Valerie Biousse, Alfredo A Sadun, Thomas Klopstock, Catherine Vignal-Clermont, Robert C Sergott, Günther Rudolph, Chiara La Morgia, Rustum Karanjia, Magali Taiel, Laure Blouin, Pierre Burguière, Gerard Smits, Caroline Chevalier, Harvey Masonson, Yordak Salermo, Barrett Katz, Serge Picaud, David J Calkins, José-Alain Sahel.  Science Translational Medicine, 2020 Dec 9;12(573):eaaz7423.)