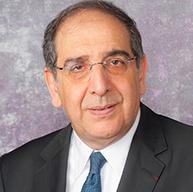 Gene therapy is a highly promising approach for the treatment of retinal blinding diseases, however, safe, efficient, and controlled gene delivery to the retina, particularly in the macula, remains a significant challenge. McGowan Institute for Regenerative Medicine affiliated faculty member José-Alain Sahel, MD (pictured), Chair and Distinguished Professor of the Department of Ophthalmology at the University of Pittsburgh School of Medicine, Director of the UPMC Eye Center, and the Eye and Ear Foundation Endowed Chair of Ophthalmology, is the co-principal investigator on the newly funded NIH/National Eye Institute project entitled, "Retinal-adhesive thermoresponsive gel for AAV-mediated gene delivery to the outer retina." The project began on September 30, 2022, running for almost 4 years.
This project will develop an innovative biocompatible retinal-adhesive gel loaded with next-generation viral vectors as a new approach for safe and efficient targeting of photoreceptors and RPE via focal epiretinal gene delivery. As proof of concept, this novel gene therapy delivery system will be used to treat two well-characterized models of human retinal degeneration diseases: NPHP5-LCA and RPE65-LCA2.
The abstract of this project follows:
Until recently, there have been no effective treatments for retinal degenerations. FDA approval of Luxturna, the first gene therapy for bi-allelic mutations in RPE65, has opened the field for application to a broader range of retinal diseases. The rapidly growing number of clinical trials and emerging companies reflect the impact of this success and indicate the high expectations for retinal gene therapy. However, there is a significant need to develop new approaches for the many remaining forms of retinal degenerations, as RPE65-related dystrophies affect a very small population of patients. Moreover, the combination of the vector and surgical approach used for this disease is suboptimal for targeting the fovea in retinas with significant structural alterations. The major obstacles that must be addressed to improve clinical outcomes and extend the application of gene therapies to numerous retinopathies at various disease stages are: 1) efficient vector delivery to the central retina without damaging remaining photoreceptors, a significant, documented concern with sub-retinal injections in conditions where the retina is structurally compromised, 2) efficiently targeting gene delivery to affected cells, especially photoreceptors and RPE across the retina, and 3) limiting the inflammatory/immune responses associated with intravitreal injections. These issues are relevant to all current and future retinal gene therapy programs. Here, we address each of these obstacles through development of an innovative new epiretinal gene therapy approach for NPHP5-LCA and RPE65-LCA2, in which a novel, biocompatible, retinal adhesive gel developed by our team releases high efficiency AAVs directly to the retina. We have created a comprehensive and efficient development plan that allows for rapid translation, drawing on the complementary skill sets of a team of experts with a track record of successful translational development. We will further develop the tunable, biocompatible gel and injection system to deliver these vectors directly to the retina, and we will incorporate a backing layer into the implant that allows for directionality of vector release for increased efficiency. We will determine the most efficient implant-compatible photoreceptor and RPE-targeting AAV vectors by utilizing our recently developed single cell RNA-Seq paradigm. We will fully validate this new gene therapy platform in two well-studied naturally occurring models of LCA that affect primarily the photoreceptors (NPHP5-LCA) and RPE (RPE65-LCA2), and we will characterize immune response and toxicity. The innovative approach developed herein will result in a new platform for direct, non-invasive, and efficient AAV delivery to the retina, reducing diffusion and required dosage as well as the related immune response. This novel gene delivery platform has direct applicability to all outer retinal disease targets, paving the way forward for a safer, more efficient, and targeted approach to treat a wide spectrum of disorders.
Congratulations, Dr. Sahel!
Read more…
NIH Reporter: Retinal-adhesive thermoresponsive gel for AAV-mediated gene delivery to the outer retina