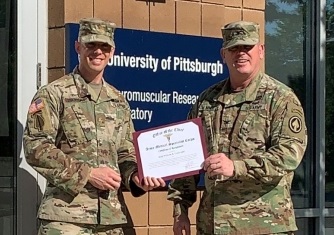 Major Will Conkright, currently enrolled in the Doctor of Philosophy in Rehabilitation Science program at the University of Pittsburgh's School of Health and Rehabilitation Sciences, was the recipient of the 2020 Colonel Mary Lipscomb Hamrick Army Medical Specialist Corps Manuscript Award for his publication titled "Differential Recovery Rates of Fitness Following U.S. Army Ranger Training." The article was published in the May 2020 issue of the Journal of Science and Medicine in Sports.  Major Conkright's main academic advisor is McGowan Institute for Regenerative Medicine affiliated faculty member Brad Nindl, PhD (COL, USAR), who is the director of the University of Pittsburgh Neuromuscular Research Lab/Warrior Human Performance Research Center.
Selection for this award is highly competitive and is given to researchers demonstrating excellence in publishing peer-reviewed literature with profound relevance and impact to the military. Major Conkright is an active duty Army officer and is currently engaged in his doctoral studies at the NMRL/WHPRC. He was presented this award via a virtual awards presentation hosted by Colonel John Balser (SP Corps Chief).
Illustration:  University of Pittsburgh School of Health and Rehabilitation Sciences.
Read more…
University of Pittsburgh School of Health and Rehabilitation Sciences News Release
Abstract (Differential recovery rates of fitness following U.S. Army Ranger training.  William R Conkright, Nicholas D Barringer, Paula B Lescure, Kimberly A Feeney, Martha A Smith, Bradley C Nindl.  Journal of Science and Medicine in Sports, 2020 May;23(5):529-534.)