---
2018 Health Care Hero Award Winners:  Drs. Stephen Badylak and J. Peter Rubin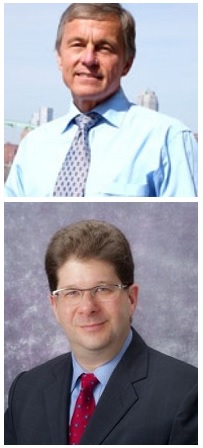 Sponsored by the Pittsburgh Business Times, the 2018 Health Care Hero Awards honor the individuals, companies, and organizations in western Pennsylvania for their contributions to improving health care in our region.
This year, McGowan Institute for Regenerative Medicine Deputy Director Stephen Badylak, DVM, PhD, MD, Professor in the Departments of Surgery and Bioengineering, and Director of the Center for Pre-Clinical Tissue Engineering within the McGowan Institute, and J. Peter Rubin, MD, Chair of the Department of Plastic Surgery, UPMC Endowed Professor of Plastic Surgery, and Professor of Bioengineering at the University of Pittsburgh, Co-Director of the Adipose Stem Cell Center, and Founder and Director of the Center for Innovation in Restorative Medicine in the Department of Surgery at the University of Pittsburgh, together will receive a distinguished Health Care Hero Award in the Health Care Innovation category.
Drs. Badylak and Rubin have revolutionized the care for individuals who have experienced severe volumetric loss of muscle tissue in the extremities (arms and legs) due to traumatic events such as a bomb or a car accident. An example of how this innovative therapy has restored a young soldier to full health and functionality after being injured in combat follows:
Sergeant Ronald Strang survived an IED blast in Afghanistan that shredded muscle from his left leg. After 18 months and 14 surgeries, his movement was still very limited. So, he entered a study led by Drs. Badylak and Rubin that utilized a new approach to rebuild lost muscle. Prior to the application of the experimental procedure, Sergeant Strang's quadricep had lost 68 percent of muscle tissue.  Sergeant Strang then underwent a groundbreaking surgery that used tissue scaffolding created from a pig's bladder to spur new muscle growth. The outcome was remarkable—prior to the surgery using his injured leg, Sergeant Strang could only hop forward about one inch; six months later, he was asked to jump again, using only his wounded left leg. This time, he was able to leap 24 inches!
For the study, the researchers used an extracellular matrix (ECM) scaffold that is created by removing all of the cells from a pig's bladder. This decellularized scaffold is implanted in the body, and the scaffold receives cells from the patient to form new tissue.  This scaffold methodology was the core technology that permitted the miraculous improvement of 13 test subjects in a Department of Defense sponsored study.
Dr. Badylak has been researching the effects of ECM since 1987. He began by using tissue that contained cells but soon discovered that it was the cell-less ECMs that promoted recovery. It appears that the removal of cells limits complications such as the rejection of foreign cells as well as the development of infection. Dr. Rubin developed the ECM implant procedure.
This was the first ever study to regenerate muscle in humans by applying ECMs, although researchers have previously used ECMs to repair other body parts such as hernias and esophageal lining. The scientific principles are the same, no matter the body part. These cell-free scaffolds look like a translucent sheet. When placed in a patient's body, they recruit the patient's own stem cells and alter the function of "inflammatory" cells so that they all aid in the regeneration of healthy tissue.
In each of the study's thirteen surgeries, scar tissue from the damaged leg muscles was removed, and the ECMs were placed next to nearby healthy muscle. Within months, mature skeletal muscle cells emerged at the site of the ECM placement, along with other cells that appeared to be actively regenerating into skeletal muscle cells. The ECMs, meanwhile, did their job and eventually dissolved altogether, leaving only healthy muscle.
The results didn't only show dramatic improvement on physical tests. Sergeant Strang and the other participants are now engaging in a range of activities including running, bicycling, playing soccer, and even skiing—exercises they couldn't have enjoyed before their surgery.
The Department of Defense is working to make this innovative therapy across the entire military health system, and civilians are being helped by this new procedure.  Drs. Badylak and Rubin's innovation has helped many in need, and their creativity will undoubtedly help thousands in need in the future…both military and civilian. Based on their innovation, creativity, and productivity they are health care heroes.
Other winners with UPMC/Pitt affiliation include:
Health Care Innovation–
Lanie Francis, MD, UPMC Hillman Cancer Center
Scott Lammie, UPMC Insurance Services Division
Health Care Executive–
Diane Hupp, Children's Hospital of Pittsburgh of UPMC
Steven Reis, MD, University of Pittsburgh Clinical and Translational Science Institute
Winners and finalists was honored at an annual awards event at the Fairmont Pittsburgh on September 13, 2018.
Congratulations to all!
---
RESOURCES AT THE MCGOWAN INSTITUTE
October Histology Special
Safranin O Staining for Cartilage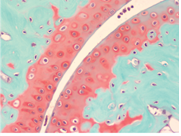 Over the last years, surgeons and scientists have elaborated a series of cartilage repair procedures that help to postpone the need for joint replacement.  Bioengineering techniques are being developed to generate new cartilage, using a cellular "scaffolding" material and cultured cells to grow artificial cartilage.
Safranin O Staining is used for the detection of cartilage, mucin, and mast cell granules on formalin-fixed, paraffin-embedded tissue sections, and may be used for frozen sections as well. The cartilage and mucin will be stained orange to red, and the nuclei will be stained black. The background is stained bluish green.
Through the month of October you will receive 30% off your Safranin O Staining when you mention this ad.  Contact Lori at the McGowan Core Histology Lab and ask about our staining specials.  Email perezl@upmc.edu or call 412-624-5265.  As always, you will receive the highest quality histology in the lowest amount of time.
Did you know the more samples you submit to the histology lab the less you pay per sample?  Contact Lori to find out how.
---
UPCOMING EVENTS
Would you like to learn more about flow cytometry?  Ever wonder how hard – or easy – it would be to incorporate flow cytometry into your research?  Have you wondered what types of experiments can be done by flow cytometry?  Have you had a reviewer ask you to corroborate your results by another method and suggest flow cytometry?  Ever think – 'that experiment just takes too long to set up and be ready during 'regular' hours.  If only I could acquire the data myself during off-hours.'?  Do you have experiment ideas or problems you would like to discuss with the experts?  Would you like to 'try' – for free?
For answers to these questions and more – please join us for the MACS Flow Cytometry Seminar on Wednesday, October 10, 2018 at noon, presentation by Patrick Murphy, Miltenyi Flow Cytometry Specialist.  We will be in Bridgeside Point 2, Room 402.  Lunch will be provided, so please contact either Patrick, Sarah or myself to reserve your spot.  No one will be turned away, but we do want to make sure everyone gets to eat!
A wet lab, demos and a chance for you to operate the MACSQuant, will be held after the seminar, starting about 2pm, in Rm333.  A pre-stained sample will be provided – OR – you can run your own stained sample.  Please let us know if you are interested in participating in the wet lab demos.  For complete details, please see the attached flyer.  We look forward to seeing all of you there.
---
7th Annual Internal Symposium on Regenerative Rehabilitation Symposium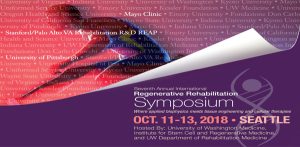 The Symposium on Regenerative Rehabilitation is the largest medical and scientific conference specific to Regenerative Rehabilitation in the world, bringing together two disparate disciplines, regenerative medicine and rehabilitative research, into one synergistic field of science. Innovative ideas, concepts and technologies were shared, deliberated and debated at this premier event.  This new and innovative approach combines discoveries in tissue engineering and cellular therapies with rehabilitative treatments, resulting in improved functional outcomes for patients. This Symposium encourages the participation of scientists, clinicians and physical therapists who are in the fields of regeneration, physical medicine and rehabilitation. The Symposium agenda is designed to create a platform for bridging these areas of expertise in a setting that fosters discussion, interaction, cross-discipline pollination and networking.
The Symposium will be held October 11-13, 2018 in Seattle, Washington.
---
SCIENTIFIC ADVANCES
The First Demonstration of a Tissue Forming Through an Endogenous Process in the Brain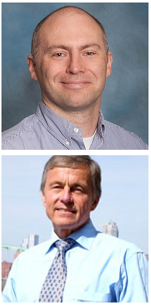 Extracellular matrix (ECM) hydrogel promotes tissue regeneration in many peripheral soft tissues. However, the brain has generally been considered to lack the potential for tissue regeneration.  In their study published in Acta Biomaterialia, McGowan Institute for Regenerative Medicine affiliated faculty member Michel Modo, PhD, Professor in the Department of Radiology at the University of Pittsburgh with secondary appointments in the Department of Bioengineering and the Center for Neural Basis of Cognition, and McGowan Institute Deputy Director Stephen Badylak, DVM, PhD, MD, Professor in the Department of Surgery at the University of Pittsburgh and Director of the Center for Pre-Clinical Tissue Engineering within the Institute, demonstrated that tissue regeneration in the brain can be achieved using implantation of ECM hydrogel into a tissue cavity. They and the research team further demonstrated that a structure-function relationship is key to promote tissue regeneration in the brain.  This approach offers new avenues for the future treatment of chronic tissue damage caused by stroke and other acute brain injuries.
The scientists concluded that the present study suggests that implantation of ECM hydrogel can lead to an induced regeneration of brain tissue.  Although further optimization and a better mechanistic understanding is required to afford greater control over the processes involved in tissue regeneration, in situ engineering of brain tissue using inductive biomaterials is encouraging and opens new therapeutic avenues.
Read the paper's abstract:
The brain is considered to have a limited capacity to repair damaged tissue and no regenerative capacity following injury. Tissue lost after a stroke is therefore not spontaneously replaced. Extracellular matrix (ECM)-based hydrogels implanted into the stroke cavity can attract endogenous cells. These hydrogels can be formulated at different protein concentrations that govern their rheological and inductive properties. We evaluated histologically 0, 3, 4 and 8 mg/mL of porcine-derived urinary bladder matrix (UBM)-ECM hydrogel concentrations implanted in a 14-day old stroke cavity. Less concentrated hydrogels (3 and 4 mg/mL) were efficiently degraded with a 95% decrease in volume by 90 days, whereas only 32% of the more concentrated and stiffer hydrogel (8 mg/mL) was resorbed. Macrophage infiltration and density within the bioscaffold progressively increased in the less concentrated hydrogels and decreased in the 8 mg/mL hydrogels. The less concentrated hydrogels showed a robust invasion of endothelial cells with neovascularization. No neovascularization occurred with the stiffer hydrogel. Invasion of neural cells increased with time in all hydrogel concentrations. Differentiation of neural progenitors into mature neurons with axonal projections was evident, as well as a robust invasion of oligodendrocytes. However, relatively few astrocytes were present in the ECM hydrogel, although some were present in the newly forming tissue between degrading scaffold patches. Implantation of an ECM hydrogel partially induced neural tissue restoration, but a more complete understanding is required to evaluate its potential therapeutic application.
Abstract (Biodegradation of ECM hydrogel promotes endogenous brain tissue restoration in a rat model of stroke.  Harmanvir Ghuman, Carrinton Mauney, Julia Donnelly, Andre R. Massensini, Stephen F. Badylak, Michel Modo.  Acta Biomaterialia; online 16 September 2018.)
---
Scientists Identify Genetic Variants Almost Exclusive to African Americans That Predict Poor Outcomes in Dilated Cardiomyopathy Heart Disease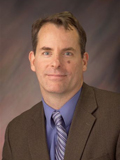 Genetic testing is a powerful diagnostic tool that is increasingly being used for the diagnosis of dilated cardiomyopathy, a disease in which the heart becomes enlarged, making it difficult to pump blood. Cardiomyopathy affects more than 3.5 million people in the United States. African Americans are at especially high risk but have been underrepresented in genetic studies, often due to socioeconomic barriers and other health disparities.
Now, after years of work, researchers at the Lewis Katz School of Medicine at Temple University (LKSOM)—with collaboration from McGowan Institute for Regenerative Medicine affiliated faculty member Dennis McNamara, MD, Professor of Medicine, University of Pittsburgh and the Director of the Heart Failure/Transplantation Program at the University of Pittsburgh Medical Center, and others—have identified four variations in a gene known as BAG3 that are linked to a poor outcome. The study, published in the journal JAMA Cardiology, is the first to describe genetic variants that are almost exclusive to African Americans that impact outcome in dilated cardiomyopathy patients.
"Few research groups have examined genetic causes of dilated cardiomyopathy or genes that might predict disease outcome in patients of African ancestry," explained senior investigator Arthur M. Feldman, MD, PhD, Laura H. Carnell Professor of Medicine at LKSOM. Moreover, few studies have focused on therapy of heart failure in African Americans; heart failure constitutes a set of signs and symptoms that complicate dilated cardiomyopathy.
To better understand the role of genetic factors in patients of African ancestry, Dr. Feldman and colleagues accessed DNA samples originally obtained from patients enrolled in previous clinical studies that had included the collection of DNA. In total, they were able to obtain genomic DNA for 509 African American patients.
Through genomic sequencing analyses, the researchers discovered four BAG3 variants that were significantly associated with dilated cardiomyopathy outcome. "When we looked at the relationship between the variants and heart failure outcomes, we found that individuals carrying BAG3 mutations had a nearly two-fold increase in risk of dying or being hospitalized with heart failure," said Dr. Feldman. Out of the study population, about 10 percent of patients carried at least one of the mutations.
According to Dr. Feldman, the variants identified in BAG3 previously were thought to be benign or likely benign. However, when expressed in vitro in human heart muscle cells stressed by oxygen deprivation followed by reoxygenation – recapitulating events in heart failure – each variant was found to produce pathogenic effects. The effects included an increase in programmed cell death, or apoptosis, and a reduction in autophagy, the mechanism by which cells clear out damaged cellular components and potentially harmful debris.
Similarly, when one of the mutations was put into mice with half the genetic map for BAG3, the mice developed worsening heart failure. By contrast, insertion of a normal strand of BAG3 DNA cured the mouse of heart failure.
"Normally BAG3 functions to protect and preserve heart muscle cells by blocking apoptosis and helping cells clear out misfolded proteins and damaged organelles," explained Dr. Valerie Myers, whose doctoral thesis encompassed the research and who is the lead author of the paper. Mutated BAG3, on the other hand, facilitated the death of heart muscle cells. Importantly, replacing mutated BAG3 with wild-type or normal BAG3 via gene therapy restored normal or near-normal function to the mouse heart.
Dr. Feldman and colleagues now are in the process of developing a treatment specifically for patients with BAG3 deficiency. "BAG3 protein levels can potentially be restored in patients with loss of BAG3 alleles through gene therapy," he added.
---
FDA Awards Five Grants to Advance the Development of Pediatric Medical Devices
The program aims to enhance the development, production and distribution of pediatric medical devices and has awarded $37 million to various consortia since 2009.
The PDC grant recipients and their principal investigators for 2018 are the following:
Philadelphia Pediatric Medical Device Consortium (PPDC), Matthew Maltese, PhD. Building on its successful partnerships with Drexel University and the University of Pennsylvania, the PPDC recently announced a new partnership with the McGowan Institute for Regenerative Medicine and sciVelo at the University of Pittsburgh.  The unification of the Pennsylvania biomedical ecosystem will expand the PPDC network of expertise for assisting pediatric devices.  As part of this new partnership, the PPDC will re-brand to be known as the Pennsylvania Pediatric Medical Device Consortium.  The official re-brand will be announced soon.
National Capital Consortium for Pediatric Device Innovation 2.0, Kolaleh Eskandanian, PhD, MBA.
Southwest National Pediatric Device Consortium, Chester Koh, MD.
University of California San Francisco-Stanford Pediatric Device Consortium, Michael Harrison, MD.
West Coast Consortium for Technology and Innovation in Pediatrics, Juan Espinoza, MD.
McGowan Institute for Regenerative Medicine affiliated faculty members involved in the PPDC include:
William Wagner, PhD, Director, McGowan Institute, Professor of Surgery, Bioengineering and Chemical Engineering at the University of Pittsburgh, and Pittsburgh site Co-Principal Investigator
Donald Taylor, MBA, PhD, Founder & Executive Director, sciVelo at the University of Pittsburgh, and Pittsburgh site Co-Principal Investigator
Patrick Cantini, McGowan Institute Strategy and Business Development Officer and Program Manager/Pittsburgh site
Illustration:  Philadelphia Pediatric Medical Device Consortium.
---
Engineering Team Designs Exoskeleton Technology to Help People Walk Again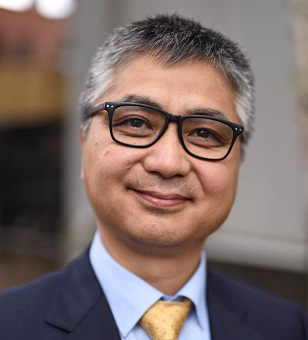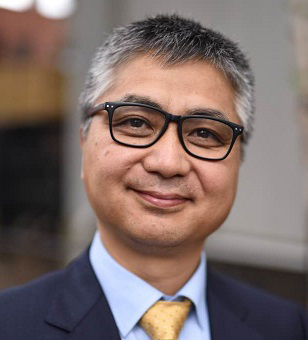 It seems like something straight out of a science fiction movie: humans wearing bionic technology to move more easily.
However, a University of Pittsburgh team—including McGowan Institute for Regenerative Medicine affiliated faculty member Kang Kim, PhD, associate professor of medicine and of bioengineering at the University of Pittsburgh and the Heart and Vascular Institute at UPMC—is turning fiction into a reality by helping people with paraplegia regain or improve mobility using robotic technology.
The team recently created a prototype hybrid exoskeleton. The hybrid aspect comes from the two types of technology being used in this project, with electrodes sending ultrasound noninvasively to make paralyzed muscles work while the battery-powered exoskeleton provides additional support to promote movement.
"We're trying to create a situation where the patient controls the exoskeleton, not the other way around," said Nitin Sharma, PhD, associate professor of mechanical engineering and materials science in Pitt's Swanson School of Engineering and the team's principal investigator.
Peter Ahwesh, who grew up in Pittsburgh and graduated from Pitt in 1995 with a bachelor's degree in history, participated in Dr. Sharma's study last year, before moving to North Carolina.
Mr. Ahwesh walked in the exoskeleton with balance support from a rolling walker. He has an incomplete spinal cord injury, meaning he has partial yet weakened movement of his legs.
While Mr. Ahwesh said he didn't find the prototype especially comfortable, he said the research being done is fantastic. He walked in the exoskeleton before the Sharma Lab worked with ultrasound.
"I appreciate the research they're doing at the Sharma Lab. There aren't many places doing such a thing to improve people's lives with these devices," said Mr. Ahwesh.
Current rehabilitative technologies predict remaining muscle function and how much assistance is needed for muscle movement, a process called electromyography. Correctly measuring how much assistance any rehabilitative device should provide is a challenge with this method, as it is limited to large muscle groups.
While the ultimate goal is to coordinate muscle movement for the entire leg, Dr. Sharma's team is focusing on the ankle for now because it is "much more complicated" than other parts of the leg, Dr. Sharma said.
"Unlike the knee joint which moves in one direction, the ankle can be flexed in multiple directions and different muscles activate that joint," Dr. Sharma said. "With electromyography, it's very challenging because there is no correct place to put these sensors, so we want to use ultrasound to figure that out."
Another member of the research team is Brad Dicianno, MD, medical director of the Human Engineering Research Laboratories and associate professor in Pitt's Department of Physical Medicine and Rehabilitation.
The project is being funded by a $509,060 CAREER award from the National Science Foundation.
---
IV Spas Promise Relief from Flu Symptoms, Hangovers—But Are They Safe?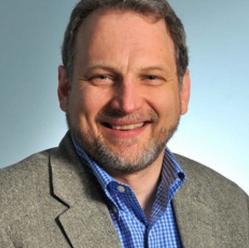 For a few years now, trendy IV (intravenous) spas have been popping up in non-medical facilities promising their clients hydration, more energy, and recovery from hangovers, jet lag, and symptoms of the flu.  But are IV treatments for these reasons safe?
Patt Johnson, Des Moines Register, was looking for an answer to this question and spoke with McGowan Institute for Regenerative Medicine affiliated faculty member John Kellum, MD, Professor in the Departments of Critical Care Medicine (primary), Medicine, Bioengineering, and Clinical and Translational Science at the University of Pittsburgh.  He is also the Director of the Center for Critical Care Nephrology and the Vice-Chair for Research, both appointments in the Department of Critical Care Medicine, and Associate Director for Acute Illness in the Institute for Personalized Medicine at Pitt. Dr. Kellum also serves as an Intensivist at UPMC.
"When I give fluids in the hospital, I do lab testing and based on that decide what fluids are needed," said Dr. Kellum.  If patients are sick enough to seek an IV, they should be going to the doctor, he said.
Dr. Kellum also noted that concierge IV services are generally unnecessary.
"The human body is not designed to take in excess fluids like that," he said. Under appropriate medical supervision, "a liter or so is not unsafe," but is also not wise to do on a consistent basis, he said.
---
MEBot Wheelchair Featured at VA Research Fair in Washington, DC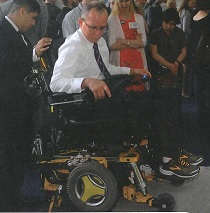 McGowan Institute for Regenerative Medicine affiliated faculty member Rory Cooper, PhD, FISA & Paralyzed Veterans of America Professor and Distinguished Professor of the Department of Rehabilitation Science & Technology, professor of Bioengineering, Physical Medicine & Rehabilitation, and Orthopedic Surgery at the University of Pittsburgh, and Founding Director and VA Senior Research Career Scientist of the Human Engineering Research Laboratories—a VA Rehabilitation R&D Center of Excellence in partnership with Pitt—participated in the recent VA Research Fair in Washington, DC.  He demonstrated MEBot, a wheelchair which can climb stairs.
The Mobility Enhancement Robotic Wheelchair (MEBot)—developed by researchers at the University of Pittsburgh's Human Engineering Research Laboratory—will tackle both curbs and challenging terrains. The large center driving wheels can reposition themselves to simulate front-, mid-, or rear-wheel driving. The four smaller caster wheels are controlled with compressed air and move up and down freely and independently. For climbing curbs, the front caster wheels lift up onto the curb, and then the driving wheels lift themselves up and forward onto the curb which lifts the chair onto the curb. This is done automatically, whenever MEBot senses a curb or step. The ultimate goal is for MEBot to climb a set of stairs.
The same general function is used to operate on icy or slippery surfaces. A traditional power wheelchair can get stuck on this kind of terrain. MEBot, however, uses its front and rear caster wheels to inch forward on the slick surface by extending its front casters, moving the seat forward, bringing the rear casters forward, and then repeating the process. Meanwhile, the seat stabilization system keeps the driver safely upright.
Friends of VA Medical Care and Health Research hosted the event, which was organized by VA's office of Research and Development.  The Friends of VA is a nonprofit group that helps Veterans receive high-quality health care, hosts events that highlight VA's research successes.
Illustration:  VA Research Currents.
VA Research Currents-compressed
---
Plastic Surgeons Spread Word of the Danger of a Deadly Surgical Procedure
According to the American Society of Plastic Surgeons, buttocks augmentation procedures with fat grafting have increased 10 percent from 2016 to 2017.  As many as one in 3,000 people who undergo the procedure die, many from a fatal fat embolism. This surgery has the highest rate of death of all aesthetic procedures.
This data precipitated the urgent warning of deaths from the procedure that was issued in mid-July by a task force of five societies representing plastic surgeons from around the world.
"Let patients know this is probably the riskiest operation right now," said McGowan Institute for Regenerative Medicine faculty member J. Peter Rubin, MD, Chair of the Department of Plastic Surgery, UPMC Endowed Professor of Plastic Surgery, and Professor of Bioengineering at the University of Pittsburgh. He is an internationally recognized expert in the science of adipose stem cells and fat grafting. He serves as co-director of the Adipose Stem Cell Center and is founder and director of the Center for Innovation in Restorative Medicine in the Department of Surgery at the University of Pittsburgh.  He is one of three co-chairs of the Gluteal Fat Grafting Task Force.
The warning was followed by a report that identified common factors in autopsy reports of patients who died and also offered guidelines for surgeons to reduce the chance of complications from the surgery.
"We're taking aggressive action to get to the root cause, to work together to make procedures safer," Dr. Rubin said.
Studies on the procedure will continue to help resolve the issues, Dr. Rubin said, but in the meantime, the safety guidelines will be explained to doctors.
"Fat grafting in the buttocks has been going on for decades," Dr. Rubin said. "In the last five years, we've seen an incredible growth in demand. Since 2014, the number of cases has doubled. Even though this procedure has been done safely for a long time, now it's being done by many surgeons. A lot don't have the same experience."
He said patients should know that some doctors operate in facilities that are not accredited or licensed for the procedure.
"You're always going to be safest in the hands of a board-certified plastic surgeon," Dr. Rubin said, recommending that people considering surgery should go online to see if their surgeon is certified by the American Board of Plastic Surgery.
"This is an operation that carries risk. Patients should know that," Dr. Rubin said.
---
AWARDS AND RECOGNITION
McGowan Institute Affiliated Faculty Receive Ladies Hospital Aid Society Awards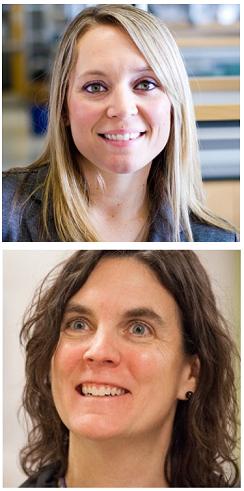 The Ladies Hospital Aid Society 2018 Trailblazer Awards went to six doctors advancing the cause of medicine in their fields. Two of the six recipients were McGowan Institute for Regenerative Medicine affiliated faculty members:
Morgan Fedorchak, PhD, Assistant Professor of Ophthalmology, Chemical Engineering, and Clinical & Translational Sciences at the University of Pittsburgh. She is also the Director of the Ophthalmic Biomaterials Laboratory at Pitt and is affiliated with the Louis J. Fox Center for Vision Restoration.  Fedorchak's research interests include drug delivery to the eye and the development of novel biomaterials for ophthalmic applications.
Elizabeth Tyler-Kabara, MD, PhD, Associate Professor in the Departments of Neurological Surgery, Bioengineering, and Physical Medicine and Rehabilitation at the University of Pittsburgh. She is the Director of the Spasticity and Movement Disorder Program at Children's Hospital of Pittsburgh of UPMC. Dr. Tyler-Kabara is on the Medical Staff of Children's Hospital and of UPMC Presbyterian and Shadyside Hospitals. She is on the Consultant Staff of Magee Womens Hospital of UPMC. At the present time, Dr. Tyler-Kabara is pursuing research interests in novel approaches to screen for inflicted childhood neurotrauma, phase 3 of the revolutionizing prosthetics program, and the cortical control of a dextrous prosthetic hand.
"We are very excited about the cutting edge work our honorees have done to date and can't wait to see how it manifests itself in the future," said Brittany Holzer, co-chair of the Fire & Ice Gala held at the Carnegie Science Center.
Winners were each surprised with $20,000 to help further their research.
Established in 1898, the Ladies Hospital Aid Society (LHAS) has been providing educational, financial, medical and social services to individuals and families in Western Pennsylvania for over 115 years.  LHAS is a 501(c)3 non-profit organization governed by a board of 30 volunteers.  More than 700 members volunteer to support programs, fund-raising, and special events.  LHAS has raised over $15,000,000 and has volunteered several million work hours since its inception.  LHAS allocates more than $350,000 annually for research, community projects, educational seminars, and social services.
---
UPMC Breast Cancer Researchers Receive Top Komen Award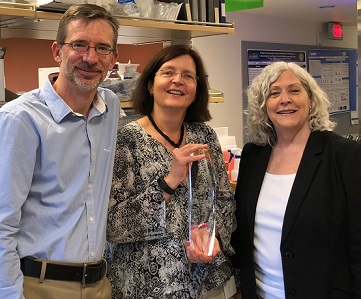 Two leading cancer researchers from the Women's Cancer Research Center, a collaborative effort between UPMC Magee-Womens Research Institute (MWRI) and UPMC Hillman Cancer Center, recently received the Susan G. Komen Greater Pennsylvania Terri L. Chapman Award.
Husband-and-wife research team Adrian Lee, PhD, and Steffi Oesterreich, PhD, operate adjoining laboratories at MWRI dedicated to breast cancer research. Dr. Lee's research focuses on clinical translational research, precision and genomic medicine, liquid biopsy, mechanisms of breast cancer metastases and novel therapies for triple-negative breast cancer. Dr. Oesterreich concentrates on research of endocrinology, genetics and molecular biology, estrogen receptor co-factors, epigenetics, mechanisms of breast cancer metastases and invasive lobular carcinoma.  Dr. Oesterreich is an affiliated faculty member of the McGowan Institute for Regenerative Medicine.
The Chapman award, established in 2010, is presented to individuals who demonstrate leadership qualities, impact and influence decision makers, and who support Susan G. Komen Greater Pennsylvania.
The award is named in honor and memory of Terri Chapman, a long-time leader of the Board of Directors of Komen Pittsburgh, who was instrumental in establishing Pittsburgh's full affiliation with Susan G. Komen, an organization with a $2 million annual operating budget, serving people within a 53-county area in Pennsylvania.
Drs. Lee and Oesterreich—both among a select 60 Komen scholars worldwide—serve on the international advisory group, which helps guide Komen's research, scientific, advocacy and educational programs in the U.S. and around the world.
Illustration:  L to R: Adrian Lee, PhD, Steffi Oesterreich, PhD, and Kathy Purcell, CEO, Susan G. Komen Greater Pennsylvania.  Komen Greater Pennsylvania.
---
Shroff Lab Graduate Student Named BioE's 2018 Wes Pickard Fellow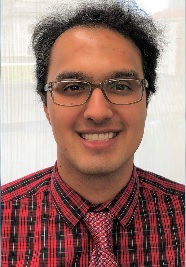 Soroosh Sanatkhani, a bioengineering graduate student working in the lab of McGowan Institute for Regenerative Medicine faculty member Sanjeev Shroff, PhD, was named the 2018 Wes Pickard Fellow by the Department of Bioengineering. Recipients of this award are selected by the department chair and chosen based on academic merit.
Mr. Sanatkhani began his studies in automotive engineering at Iran University of Science & Technology. He then joined the graduate program in Mechanical Engineering at Sharif University of Technology where he focused on bio-fluids, fluid dynamics, and hemodynamics – the study of the dynamics of blood flow. This research helped build his background in bioengineering, and after receiving his master's degree, he was awarded a scholarship to join the Swanson School of Engineering at Pitt.
Mr. Sanatkhani is involved in multiple cardiovascular research projects under the supervision of Dr. Shroff, Distinguished Professor and Gerald E. McGinnis Chair of Bioengineering at Pitt, and Prahlad G. Menon, PhD, adjunct assistant professor of bioengineering. His primary research is focused on hemodynamics indices and shape-based models of the left atrial appendage (LAA) of the heart to enhance stroke prediction in atrial fibrillation. In 2017, he was selected as the Swanson School's Berenfield Fellow, which helped fund foundational elements of his current research.
"In this study I plan to create two novel, patient-specific indices to improve the prediction of stroke in AF patients," said Mr. Sanatkhani. "The first index is a hemodynamics-based calculation of residence time in LAA, which represents the probability of clot formation in the LAA and consequently a metric for stroke risk. The second index will quantify the LAA appearance (shape), which will help us correlate the probability of stroke with geometrical features of LAA."
According to Mr. Sanatkhani, this project should result in a new and significantly improved method to predict stroke risk in patients with atrial fibrillation, which will enhance the clinical management and decrease the risk of stroke.
"The Wes Pickard Fellowship will be a valuable complement to the mentorship and training I receive from Drs. Shroff and Menon," said Mr. Sanatkhani. "My exposure to cardiovascular research throughout these projects has helped me realize that I would like to dedicate my research career to this field. This fellowship will help me continue my ongoing project on improving stroke risk prediction in atrial fibrillation."
About Wesley Pickard:
Mr. Pickard is an alumnus of the Swanson School of Engineering and earned his bachelor's degree in mining engineering at Pitt in 1961.  He retired from Synergy Inc, a Washington, DC-based consulting firm as the CFO. Over a period of 33 years, Mr. Pickard helped the company grow from five staff members to more than 200 with revenues of approximately $25 million when it was sold in 2005. His support of Pitt includes the establishment of this fellowship, and he was recently inducted into the Cathedral of Learning Society at Pitt—a giving society that honors some of our most generous alumni.
In 2010 Mr. Pickard was named the University of Pittsburgh Department of Civil and Environmental Engineering Distinguished Alumnus. He also received the Pitt Volunteer of Excellence Award in 2012 and was named a "Significant Sig" in 2017 by Sigma Chi Fraternity.  In 2018 he was selected as the overall honoree representing the entire Swanson School at the 54th annual Distinguished Alumni Banquet.
Congratulations, Mr. Sanatkhani!
Illustration:  University of Pittsburgh Swanson School of Engineering.
---
Regenerative Medicine Podcast Update
The Regenerative Medicine Podcasts remain a popular web destination. Informative and entertaining, these are the most recent interviews:
#188 –– Dr. Ipsita Banerjee discusses her research  in pancreatic islet organoid engineering.
Visit www.regenerativemedicinetoday.com to keep abreast of the new interviews.
---
PUBLICATION OF THE MONTH
Author:  Olia SE, Wearden PD, Maul TM, Shankarraman V, Kocyildirim E, Snyder ST, Callahan PM, Kameneva MV, Wagner WR, Borovetz HS, Antaki JF.
Title: Preclinical performance of a pediatric mechanical circulatory support device: The PediaFlow ventricular assist device.
Summary: OBJECTIVES: The PediaFlow (HeartWare International, Inc, Framingham, Mass) is a miniature, implantable, rotodynamic, fully magnetically levitated, continuous-flow pediatric ventricular assist device. The fourth-generation PediaFlow was evaluated in vitro and in vivo to characterize performance and biocompatibility.
METHODS: Supported by 2 National Heart, Lung, and Blood Institute contract initiatives to address the limited options available for pediatric patients with congenital or acquired cardiac disease, the PediaFlow was developed with the intent to provide chronic cardiac support for infants as small as 3 kg. The University of Pittsburgh-led Consortium evaluated fourth-generation PediaFlow prototypes both in vitro and within a preclinical ovine model (n = 11). The latter experiments led to multiple redesigns of the inflow cannula and outflow graft, resulting in the implantable design represented in the most recent implants (n = 2).
RESULTS: With more than a decade of extensive computational and experimental efforts spanning 4 device iterations, the AA battery-sized fourth-generation PediaFlow has an operating range of 0.5 to 1.5 L/min with minimal hemolysis in vitro and excellent hemocompatibility (eg, minimal hemolysis and platelet activation) in vivo. The pump and finalized accompanying implantable components demonstrated preclinical hemodynamics suitable for the intended pediatric application for up to 60 days.
CONCLUSIONS: Designated a Humanitarian Use Device for "mechanical circulatory support in neonates, infants, and toddlers weighing up to 20 kg as a bridge to transplant, a bridge to other therapeutic intervention such as surgery, or as a bridge to recovery" by the Food and Drug Administration, these initial results document the biocompatibility and potential of the fourth-generation PediaFlow design to provide chronic pediatric cardiac support.
Source:  J Thorac Cardiovasc Surg. 2018 Apr 21. pii: S0022-5223(18)31049-3. [Epub ahead of print]
---
GRANT OF THE MONTH
PI: J. Peter Rubin
Title: Integrated Clilnical and Research Systems for Diabetic Foot Wound Care
Description: Diabetes is a common, complex, and costly disease affecting 9.4% (30.3 millions) of Americans. It remains the 7th leading cause of death in the United States, contributing to over 250,000 deaths annually. Diabetic foot ulcers (DFU) are the most frequently recognized complication in diabetics with an incidence of 6% in the diabetic global population, 6% among Medicare diabetic beneficiaries, 5% among diabetic U.S. veterans and a lifetime incidence of foot ulcers between 19% and 34% in diabetics. The natural history of a diabetes-related foot ulcer is devastating. More than half of ulcers become infected and approximately 20% of moderate or severe diabetic foot infections lead to amputation. Mortality after diabetes-related amputations is greater than 70% at 5 years for all patients with diabetes, which is 2.5 times higher than in diabetic patients without a foot ulcer. This proposal is designed to establish a clinical research unit (CRU) at the University of Pittsburgh Medical Center that integrates high quality care delivery seamlessly with outstanding clinical research. The CRU will then be a participating site in the NIH consortium studying biomarkers for diabetic foot ulcer healing. Our central hypothesis is that we can address the major challenges of diabetic foot ulcer clinical research through the seamless integration of wound center clinical operations with research operations. Our specific aims are: Aim 1: Establish a unified recruiting and retention system integrated with the clinical operations of our wound care service line, and linked to our EPIC scheduling system and electronic medical record (EMR). Aim 2: Establish integrated research quality systems, linked to highly standardized clinical pathways, and supported by a wound Informatics and Data Core connecting our 8 wound care centers.
By achieving these aims, we will have a high rate of enrollment of research subjects, collect useful biomarker data, and be a valuable contributing member of the NIH research consortium.
Source: National Institute on Diabetes, Digestive and Kidney Diseases, NIH
Amount: $430,375/year
Term: 9/15/18 – 6/30/22