---
As We Celebrate Thanksgiving, Let Us Extend Our Thanks…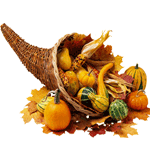 To the 230+ scientists, engineers and clinicians that are part of the team of professionals who are committed to the development and translation of regenerative medicine and medical device-based therapies
To the dedicated support staff who make it possible for the scientists, engineers and clinicians to pursue the goals and objectives of the Institute;
To the hundreds of student trainees who are learning the fundamentals and developing the applications that continue to make regenerative medicine the promise of the future in improved health care and quality of life;
To the many agencies, foundations, companies, and individual donors without whose fiscal support and encouragement the outcomes that we give thanks for would not have been possible, and;
To the many patients who have trusted our team. These individuals are the true pioneers and the heart of the achievements we recognize…
Since the formation of the McGowan Center for Artificial Organ Development (1992) and the McGowan Institute for Regenerative Medicine (2001) there have been many accomplishments advancing the science and clinical achievements in regenerative medicine-based therapies. We see progress in the areas of medical devices, tissue engineering and cell-based therapies, and the prospects for the future are many.  Thanks for the opportunities and outcomes created by all who participate in or support the initiatives of the McGowan Institute.  Best wishes for another successful year!
---
RESOURCES AT THE MCGOWAN INSTITUTE
Ho Ho HEROVICI!
The Herovici combination of picro methyl blue or aniline blue and picro acid fuchsin in proper proportion results in a red stain for  Type I mature collagen, while reticulum and newly formed Type III collagen stains blue.
The holidays are a magical time for collagen of all ages!   Bring your samples to the McGowan Histology Lab and receive a 30% discount on all Herovici Stains for the entire month of December.  Happy Holidays Collagen! Let's paint the town Red… or Blue.

You'll receive 30% off Herovici Staining for the entire month of December when you mention this ad.
Contact Lori at the McGowan Core Histology Lab and ask about our staining specials by email or call 412-624-5265.  As always, you will receive the highest quality histology in the quickest turn-around time.
Did you know the more samples you submit to the histology lab the less you pay per sample?  Contact Lori to find out how!
---
SCIENTIFIC ADVANCES
Pitt to Lead Trauma Network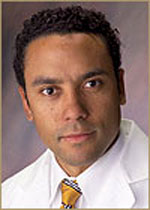 The University of Pittsburgh Schools of the Health Sciences has been awarded a U.S. Department of Defense (DOD) contract that could lead to $90 million in research over the next decade to improve trauma care for both civilians and military personnel.
The contract will launch with a $10.8 million project to create a nationwide network of trauma systems and centers capable of conducting detailed research to improve military trauma care. The Linking Investigations in Trauma and Emergency Services (LITES) Network will include extensive data collection to obtain and link information covering pre-hospital care through recovery after discharge on potentially thousands of trauma cases across the country.  McGowan Institute for Regenerative Medicine affiliated faculty member David Okonkwo, MD, PhD, Professor and Executive Vice Chair of Neurological Surgery, University of Pittsburgh, Director of Neurotrauma and of the Scoliosis and Spinal Deformity Program at UPMC, Clinical Director of the Brain Trauma Research Center, and a member of the Medical Staff for the Pittsburgh Steelers, is a co-principal investigator of the project.
In its initial project, the LITES Network is expected to provide epidemiological data on moderate and severe injuries in the U.S. and identify any regional variations in the types of injuries and the way they're managed.
A recent National Academies of Sciences, Engineering, and Medicine report determined that the lives of hundreds of U.S. service members could likely be saved in future wars if trauma care were optimal, and that those gains would lead to tens of thousands of civilian lives saved if such improvements were shared with U.S. trauma centers.
"That report set a bold goal to achieve zero preventable deaths after injury and minimal trauma-related disability," said Jason L. Sperry, MD, MPH, principal investigator, professor of surgery and critical care medicine at Pitt's School of Medicine, and trauma surgeon at UPMC. "Serendipitously, the LITES Network has the potential to spur research that will lead to clinical advancements to achieve that ambitious goal."
The University of Pittsburgh previously has collaborated with the University of Colorado and Oregon Health & Science University, and due to their integrated research approach and clinical trial experience, these three institutions will provide the trauma leadership necessary for the successful execution of the clinical trial network. The initial study also will use five other trauma centers: the University of Texas at Houston, Vanderbilt University, University of Louisville, Baylor College of Medicine, and the University of Arizona. Additional trauma centers from across the country will be involved in subsequent studies, including the University of Pennsylvania, University of Utah, University of Texas Southwestern, and the University of Florida. The Pitt Graduate School of Public Health's Epidemiology Data Center will be the data coordinating center, while the Multidisciplinary Acute Care Research Organization at Pitt will be the clinical coordinating center.
Unlike most multi-center studies of this magnitude, LITES Network projects will be made more efficient by relying on a central Institutional Review Board at Pitt. This will allow the network more flexibility to respond quickly to specific DOD project requests.
The LITES Network contract follows an established track record of Pitt successfully producing valuable results for the DOD, including the Prehospital Air Medical Plasma Trial, the Study of Tranexamic Acid During Air Medical Prehospital Trial, and the Traumatic Brain Injury Endpoints Development Initiative.
In addition to Drs. Sperry and Okonkwo, core leadership for the LITES Network includes Frank X. Guyette, MD, MPH of Pitt, Stephen R. Wisniewski, PhD, of Pitt; Ernest E. Moore, MD, of the University of Colorado; and Martin A. Schrieber, MD, of the Oregon Health and Science University. Barbara Early, BSN, of Pitt, will be the program administrator.
---
Preliminary Zika Vaccines Prevent Neurological Disorders in Newborn Mice
Two vaccines against Zika virus developed at the University of Pittsburgh School of Medicine have successfully conveyed immunity from female mice to pups conceived weeks after the mother's vaccination.
When challenged with Zika virus within a week of their birth, both vaccines protected the pups against neurological damage better than pups with no maternal-conferred immunity. The results are published online and scheduled for the November issue of EBioMedicine, a journal supported by CellPress and The Lancet.  McGowan Institute for Regenerative Medicine affiliated faculty member Louis Falo, MD, PhD, professor and chairman of the Department of Dermatology at the University of Pittsburgh, is a co-author on the study.
"We've not only developed a promising vaccine candidate to move toward larger preclinical and, eventually, human clinical trials, but also a delivery format that would be inexpensive to produce and distribute to hundreds of thousands of people," said senior author Andrea Gambotto, MD, associate professor of surgery in Pitt's School of Medicine.
Zika is a virus spread primarily through the bite of an infected mosquito of the Aedes species. When pregnant women are infected, the virus can pass to their fetus, which can damage the developing baby and cause severe neurological birth defects, including microcephaly, or an abnormally small head.
One of the two vaccines uses a "microneedle array" to deliver the vaccine just below the surface of the skin through tiny crystals that dissolve after being affixed to the skin by a Band-Aid-like patch. The technology was co-invented by Dr. Falo.
The other vaccine uses the traditional needle delivery format and adenovirus, a type of common cold virus, to present Zika antigens to the immune system to induce immunity.
Both vaccines used proteins on the "envelope," or outer shell, of the virus as the antigen to prime the immune system so it can quickly recognize and fight off the actual virus. This approach has worked in the past to develop West Nile, yellow fever, and dengue vaccines.
Three groups of female mice, with five mice per group, were immunized with either one of the two vaccines or a saline solution with no vaccine for the control group. Two weeks after the initial vaccination, the mice received a booster of the same vaccine they originally received.
Blood tests were performed at vaccination and every 2 weeks afterward. The mice showed immunity against Zika 2 weeks after immunization with the adenovirus Zika vaccine and 6 weeks after immunization with the microneedle array Zika vaccine.
Five weeks after initial immunization, the female mice were mated with unvaccinated males. Because mice do not develop microcephaly, giving the mothers Zika while pregnant would be unlikely to affect the pups. So the researchers waited until 1 week after the pups were born and then exposed them to Zika. All of the pups from the mothers immunized with adenovirus Zika vaccine and half of the pups from the mothers who received the microneedle array vaccine survived infection. Only 12.5 percent of the pups from mothers in the unimmunized control group survived.
Furthermore, all of the control group pups showed signs of neurological damage, including loss of balance, muscle weakness, and hind-limb paralysis. Five out of six of the microneedle array group pups also exhibited neurological issues, though they weren't as severe as the control group's symptoms. None of the adenovirus vaccine pups showed significant neurological problems.
Although the adenovirus Zika vaccine definitely performed better in this study, Dr. Gambotto said it was used as a proof-of-principle vaccine in mice to quickly develop and test if the envelope protein antigen would work in a mouse model. It wouldn't work well in humans because the vast majority of us have already had adenovirus colds so our immune systems would simply neutralize the vaccine and not develop proper Zika antibodies.
"We decided to move forward with the microneedle array Zika vaccine and have since developed a promising, second-generation vaccine," said Dr. Gambotto. "We are hopeful, now that Congress has approved the $1.1 billion bill to provide funding for Zika prevention and research, that we'll be able to do larger-scale studies to evaluate and develop this vaccine for possible human clinical trials in the future."
Illustration:  Pitt's School of Medicine has successfully tested a Zika vaccine on mice. TNS.
---
Dr. Fabrisia Ambrosio Named Director of Rehabilitation for UPMC International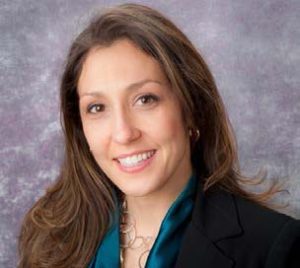 McGowan Institute for Regenerative Medicine faculty member Fabrisia Ambrosio, PhD, MPT, is the new Director of Rehabilitation for UPMC International as well as an Associate Professor in the Department of Physical Medicine & Rehabilitation at the University of Pittsburgh. Dr. Ambrosio's primary responsibility in her new role will be to coordinate and supervise operations, including clinical and research initiatives, associated with rehabilitation programs offered through UPMC International. Currently, she is working with colleagues from UPMC Italy toward the development of an Integrative Wellness Center in Tuscany. This Center, which is slated to open in February 2017, will operate as an advanced and integrated center for preventative medicine focusing on primary and secondary prevention of metabolic syndrome, cardiovascular diseases, and musculoskeletal dysfunction. The longer-term research objective is to establish a biomarker discovery platform to aid in the identification of minimally invasive indicators of health status over time, with the goal of optimizing the efficacy of rehabilitation interventions. The center in Tuscany will serve as a prototype for multiple similar centers around the world.
In her new capacity, Dr. Ambrosio will provide oversight to quality and clinical effectiveness of rehabilitation services provided by UPMC International. She will ensure implementation of the most current evidence-based practices into clinical rehabilitation services and will also take a leadership role in the development and maintenance of practice guideline manuals for use in UPMC rehabilitation clinics worldwide. Finally, Dr. Ambrosio will serve as a member of the Scientific Advisory Committee at respective programs implementing international UPMC rehabilitation services.
Dr. Ambrosio's research has the long-term goal of developing Regenerative Rehabilitation approaches to improve the skeletal muscle healing and functional recovery. Her laboratory uses murine and human models to investigate the underlying mechanisms by which targeted and specific mechanotransductive signals can be used to enhance donor and/or host stem cell functionality. Dr. Ambrosio's research has been supported by the NIH, the DOD, the Foundation for Physical Therapy, the Claude D. Pepper Older American's Independence Center, and the University of Pittsburgh Institute on Aging, among others.
Dr. Ambrosio has published and recorded several educational modules on the topic of Regenerative Rehabilitation and has assumed national leadership roles in several work group efforts to promote the integration of regenerative medicine technologies with rehabilitation approaches. She is the Founding Course Director of the Annual International Symposium on Regenerative Rehabilitation. She is also the Founding Director of the International Consortium for Regenerative Rehabilitation, which includes eleven participating institutions representing North America, Europe, and Asia.
Dr. Ambrosio graduated with a Master of Science in Physiology-Endocrinology with a specialization in skeletal muscle physiology from Laval University in Québec City, Québec. She also graduated with a Master of Physical Therapy from the Medical College of Pennsylvania and Hahnemann University, Philadelphia, Pennsylvania. In 2005, Dr. Ambrosio completed her PhD in Rehabilitation Science & Technology from the University of Pittsburgh.
UPMC International shares UPMC's clinical, technological, and managerial knowledge and expertise with partners across the globe customizing solutions so that patients and regions can benefit and thrive.  The goal is to advance UPMC's mission of positively transforming the way health care is provided. UPMC is building a global health care brand that will continue to attract the best and brightest physicians, nurses, researchers, and staff for the benefit of all of its patients and partners.
---
Balancing Time and Space in the Brain: A New Model Holds Promise for Predicting Brain Dynamics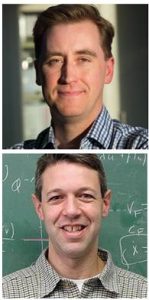 For as long as scientists have been listening in on the activity of the brain, they have been trying to understand the source of its noisy, apparently random, activity. In the past 20 years, "balanced network theory" has emerged to explain this apparent randomness through a balance of excitation and inhibition in recurrently coupled networks of neurons. A team of scientists has extended the balanced model to provide deep and testable predictions linking brain circuits to brain activity.
Lead investigators at the University of Pittsburgh say the new model accurately explains experimental findings about the highly variable responses of neurons in the brains of living animals. Their paper, "The spatial structure of correlated neuronal variability," was published online by the journal Nature Neuroscience.
The new model provides a much richer understanding of how activity is coordinated between neurons in neural circuits. The model could be used in the future to discover neural "signatures" that predict brain activity associated with learning or disease, say the investigators.
"Normally, brain activity appears highly random and variable most of the time, which looks like a weird way to compute," said Brent Doiron, PhD, associate professor of mathematics at Pitt, senior author on the paper, and a member of the University of Pittsburgh Brain Institute (UPBI). "To understand the mechanics of neural computation, you need to know how the dynamics of a neuronal network depends on the network's architecture, and this latest research brings us significantly closer to achieving this goal."
Earlier versions of the balanced network theory captured how the timing and frequency of inputs—excitatory and inhibitory—shaped the emergence of variability in neural behavior, but these models used shortcuts that were biologically unrealistic, according to Dr. Doiron.
In the context of this balance, neurons are in a constant state of tension. According to co-author McGowan Institute for Regenerative Medicine affiliated faculty member Matthew Smith, PhD, assistant professor of ophthalmology at Pitt and a member of UPBI, "It's like balancing on one foot on your toes. If there are small overcorrections, the result is big fluctuations in neural firing, or communication."
The new model accounts for temporal and spatial characteristics of neural networks and the correlations in the activity between neurons—whether firing in one neuron is correlated with firing in another. The model is such a substantial improvement that the scientists could use it to predict the behavior of living neurons examined in the area of the brain that processes the visual world.
After developing the model, the scientists examined data from the living visual cortex and found that their model accurately predicted the behavior of neurons based on how far apart they were. The activity of nearby neuron pairs was strongly correlated. At an intermediate distance, pairs of neurons were anticorrelated (When one responded more, the other responded less.), and at greater distances still they were independent.
While the scientists examined the visual cortex, they believe their model could be used to predict activity in other parts of the brain, such as areas that process auditory or olfactory cues, for example. And they believe that the model generalizes to the brains of all mammals. In fact, the team found that a neural signature predicted by their model appeared in the visual cortex of living mice studied by another team of investigators.
In addition to Drs. Doiron and Smith, McGowan Institute for Regenerative Medicine affiliated faculty member Jonathan Rubin, PhD, professor of mathematics at Pitt; Robert Rosenbaum, PhD, a former postdoctoral scholar at Pitt and now an assistant professor at the University of Notre Dame; and Adam Kohn, PhD, from the Albert Einstein College of Medicine, contributed to this work.
Abstract (The spatial structure of correlated neuronal variability.  Robert Rosenbaum, Matthew A Smith, Adam Kohn, Jonathan E Rubin, and Brent Doiron.  Nature Neuroscience; published online 10/31/16.)
---
Wave of the Future: Micro Swimming Drone to Traverse the Human Body Using Sound Waves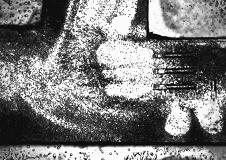 Fifty years after the release of the iconic sci-fi movie "Fantastic Voyage," researchers are beginning to launch fleets of tiny swimming robots with biomedical applications. These super-small submarines have the potential to navigate the human body less invasively and with more maneuverability than some current surgical and medical procedures. However, since the physicians and surgeons won't actually be on board the vessels like in the movie, the ability to accurately control the movement of these robots has become the focus of many studies.
Because there isn't enough room at the micro- and nano-scale to include motors, actuators, or batteries, researchers are exploring methods of directing the robot movement by using electromagnetic fields, interacting with biological and chemical fuels within the body, or even harnessing bacteria and hitching a ride. For Sung Kwon Cho, PhD, associate professor of mechanical engineering and materials science at the University of Pittsburgh's Swanson School of Engineering, the answer seems to be an arrangement of strategically positioned tiny bubbles and an acoustic field.
The National Science Foundation (NSF) awarded Dr. Cho with a 3-year, $724,691 grant for research into the development of a micro swimming drone that can be located and controlled inside the human body through ultrasound waves. When the sound waves pass through gaseous bubbles implanted into the drone, Dr. Cho and his team can propel it forward and change its direction. By adding a few more bubble-filled tubes, the drone will be able to follow a user-defined, three-dimensional path.  McGowan Institute for Regenerative Medicine affiliated faculty member Kang Kim, PhD, associate professor of medicine and bioengineering at Pitt and the Heart and Vascular Institute, UPMC, is a co-principal investigator on the project.
"We have already proven that our design works in two-dimensional space," said Dr. Cho. "By placing a bubble of air in a cylinder and passing a sound wave through it, the excited air moves in a three-dimensional space. Longer tubes respond to lower frequencies and shorter tubes respond to higher frequencies. Not only can we propel the robot forward, but we can change direction, too. There are many ways to apply this design to three-dimensional space, and the grant will fund our research into optimizing the robot for practical applications."
Dr. Cho's method of acoustically exciting micro bubbles within the robot has several advantages over previously proposed designs. Most clinics are already equipped with ultrasound systems, so ultrasound-driven robots could be easily integrated into the existing medical infrastructure. Furthermore, Dr. Cho's proposed robot is less bulky, cheaper, and more compatible with the human body than other designs.
"The proposed drone has many potential medical applications including local treatment of tumors; removal of fatty deposits on blood vessel walls; break or removal of blood clots, kidney stones, and liver stones; cleaning of burnt or wounded tissue; attack and removal of parasites; removal of tar in the lungs; and drug delivery," said Dr. Cho.
The drone will be tested under hydrodynamic conditions similar to living organs, including tests inside fish. The fish have been selected to have transparent tissue, allowing the researchers to observe the drone's movement unobstructed.
Additionally, co-principal investigator Nitin Sharma, PhD, assistant professor of mechanical engineering and materials science at Pitt, will join Drs. Cho and Kim on the study entitled "NRI: 3-D Maneuverable Feedback-Controlled Micro Swimming Drone for Biomedical Applications."
Dr. Cho's research will receive funding specifically from the NSF National Robotics Initiative, which aims to 'support the development of the next generation of robotics, to advance the capability and usability of such systems and artifacts and to encourage existing and new communities to focus on innovative application areas.'
Illustration:  University of Pittsburgh Swanson School of Engineering.
---
Pitt-UPMC Neurosurgeon to Lead BRAIN Initiative Grant to Study How We Speak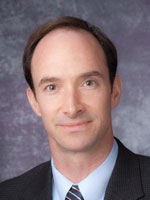 A significant grant from the National Institutes of Health (NIH) will help to fund advanced brain research at the University of Pittsburgh and UPMC focused on deeper understanding of how speech is controlled in the brain. The research team will study patients with Parkinson's disease (PD) while they undergo deep brain stimulation (DBS) surgery.
The $3.3 million grant awarded over a 3-year period, is among the third round of awards in the NIH's BRAIN Initiative launched by President Obama in 2013 as a large-scale effort to understand the brain and apply the knowledge to treating a variety of brain disorders including Alzheimer's, schizophrenia, autism and traumatic brain injury, among others.
A multidisciplinary team of experts from the University of Pittsburgh, Carnegie Mellon University, and Johns Hopkins University will be led by McGowan Institute for Regenerative Medicine affiliated faculty member Mark Richardson, MD, PhD, assistant professor of neurological surgery at the University of Pittsburgh School of Medicine, director of the Epilepsy and Movement Disorders Surgery Program at UPMC, and member of the University of Pittsburgh Brain Institute. Dr. Richardson is an internationally recognized leader in the surgical treatment of movement disorders, including both awake and interventional-MRI DBS, and gene therapy.
Since DBS produces predictable improvements in most motor symptoms of PD, but does not result in consistent improvement in speech or even negatively impacts language function, Dr. Richardson's team developed a novel method to record activity from different parts of the brain's speech circuit.
Evidence from previous studies has suggested that the basal ganglia, a group of structures in the base of the brain, play an important role in the speech motor system. However, there is no neurophysiological model for how it actually modulates speech, which is a barrier to developing specific treatments to address deficits that can significantly reduce patients' abilities to communicate.
"Our overall goals are to determine how motor and linguistic speech information is encoded in the brain, and to understand how this information can be used to treat speech disorders. Our team consists of experts in cognitive and computational neuroscience who will develop novel approaches to analyze this highly unique data," said Dr. Richardson.
The study will aim to understand which neuronal activity in the subthalamic nucleus (STN)—a component of the basal ganglia—is responsible for different aspects of speech, including articulation, volume, pitch, and efficiency, along with identifying how the STN interacts with the cortex to modulate speech. To do this, researchers will record the brain activity of PD patients during DBS surgery as they are asked to perform a variety of speech tasks.
"There are very few effective cures for neurological and neuropsychiatric disorders," said Walter J. Koroshetz, MD, director of NIH's National Institute of Neurological Disorders and Stroke. "By pushing the boundaries of fundamental neuroscience research, NIH BRAIN Initiative scientists are providing the insights researchers will need to develop 21st century treatments."
---
AWARDS AND RECOGNITION
Dr. Ricardo Londono Selected to Receive the 2017 Society of Biomaterials' Student Award for Outstanding Research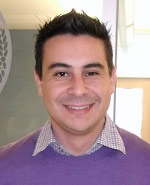 Ricardo Londono, PhD, has been selected as the recipient of the Society of Biomaterials' 2017 Student Award for Outstanding Research (PhD candidate and equivalent category). Dr. Londono is a MD/PhD student who completed his PhD training in 2015 and is expected to complete his MD training in 2017.
Dr. Londono was a graduate student in the laboratory of McGowan Institute for Regenerative Medicine deputy director Stephen Badylak, DVM, PhD, MD, for over 4 years beginning in 2011 where his research focused upon the mechanisms by which cell:matrix interactions result in constructive remodeling of tissues. As a logical component of this work, Dr. Londono developed a special interest in characterizing the host response to implantable biomaterials, including those composed of extracellular matrix, synthetic polymers, and hybrid materials. Dr. Londono's productivity during his graduate work was nothing short of remarkable, having authored 15 peer reviewed manuscripts and 3 book chapters; he was first author on 5 of these publications, one of which appeared in the Annals of Biomedical Engineering entitled "Biologic Scaffolds for Regenerative Medicine: Mechanisms of In vivo Remodeling." This manuscript has been the most highly cited paper during the past year in that journal, and Dr. Londono received an award in recognition of that accomplishment at the BMES meeting in Minneapolis in October 2016.  His work has also been published in Biomaterials (4 papers), JBMR, Acta Biomaterialia, Plos One, and Tissue Engineering (3 papers).  In keeping with his clinical and translational interests, Dr. Londono has also published in the Annals of Thoracic Surgery and the World Journal of Gastroenterology; both of these papers describing advancements in his area of clinical interest which is esophageal disease.
To highlight the importance and clinical relevance of Dr. Londono's research, a Phase I clinical study investigating the use of ECM biologic scaffolds for esophageal reconstruction is currently in progress.  This study is, in part, directly related to his work and is a rare example of the direct correlation and progression of bench top, preclinical, and now clinical research.
Coupled with his research and publication accomplishments, Dr. Londono has given podium presentations at meetings such as the Society for Biomaterials (Boston, MA – 2013) and the McGowan Institute for Regenerative Medicine Annual Retreat (Farmington, PA – 2015). As well, he maintained a stellar academic record while completing courses, in not only the medical school curriculum, but also courses in science and biomaterials, stem cells, molecular cell biology and biophysics I, cardiovascular system dynamics and modeling, a cardiovascular clinical internship, and supporting courses such as biostatistics and a regenerative medicine seminar series.
In addition to the above, Dr. Londono also found time to serve on no less than 6 separate student committees, including Chair of the MSTP diversity committee, volunteering his time as a tutor in Biology and Medical Spanish, and serving as a volunteer at the Children's Hospital.
Congratulations, Dr. Ricardo Londono, and best wishes for continued success!
---
Dr. Thomas Rando Elected to National Academy of Medicine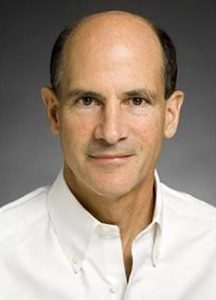 The National Academy of Medicine (NAM) announced the election of 70 regular members and 9 international members during its annual meeting in October.  McGowan Institute for Regenerative Medicine affiliated faculty member Thomas Rando, MD, PhD, professor of neurology and neurological sciences, and director, Glenn Laboratories for the Biology of Aging, Stanford University School of Medicine, Stanford, California, is one of its newest members.  Election to the Academy is considered one of the highest honors in the fields of health and medicine and recognizes individuals who have demonstrated outstanding professional achievement and commitment to service.
Dr. Rando earned his MD and PhD from Harvard Medical School and Harvard University, respectively. He did his internship at Department of Medicine, Massachusetts General Hospital, and his residency with the Department of Neurology, University of California, San Francisco, where he became chief resident. He then did a research fellowship with the Department of Molecular Pharmacology, Stanford University.
Dr. Rando is a member of the American Academy of Neurology, the American Association for the Advancement of Science, the American Society for Cell Biology, the American Neurological Association, and the International Society for Stem Cell Research.
The main areas of interest of the Rando Laboratory are muscle stem cell biology (myogenic lineage progression, cell fate determination, asymmetric cell divisions, Notch signaling, Wnt signaling), muscle stem cell aging (epigenetic determinants, local and systemic influences, roles in age-related decline in regeneration and age-related atrophy), muscular dystrophies (disease pathogenesis, biomarkers, and non-invasive imaging), tissue engineering (artificial scaffolds, regenerative therapies), and basic muscle cell biology (myogenic differentiation, muscle development).
Illustration:  Stanford Center on Longevity.
---
Dr. Freddie Fu Receives SIGASCOT Honorary Membership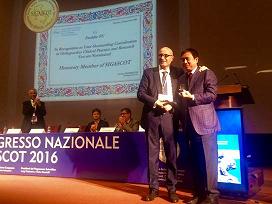 At the 6th Congresso Nazionale SIGASCOT meeting in Florence, Italy, Professor Stefano Zaffagnini surprised McGowan Institute for Regenerative Medicine affiliated faculty member Freddie Fu, MD, with an honorary membership to SIGASCOT (Italian Society of Arthroscopy Knee Cartilage Sport Orthopaedic Technologies).  Dr. Fu was honored in recognition of his outstanding contribution in orthopaedics clinical practice and research.  This is the first such membership ever awarded by the society.
Dr. Fu is a Distinguished Service Professor and the David Silver Professor of Orthopaedic Surgery and Chairman of the Department of Orthopaedic Surgery at the University of Pittsburgh School of Medicine and University of Pittsburgh Medical Center. Dr. Fu is the head team physician for the University of Pittsburgh Department of Athletics (since 1986).  He also holds secondary appointments at Pitt as a Professor of Physical Therapy, School of Health and Rehabilitation Sciences, Professor of Health and Physical Activity, School of Education, and Professor of Mechanical Engineering & Materials Science, Swanson School of Engineering. Dr. Fu is known worldwide for his pioneering surgical techniques to treat sports-related injuries to the knee and shoulder and his extensive scientific and clinical research in the biomechanics of such injuries.
Professor Zaffagnini completed a Sports Medicine Research Fellowship in the Department of Orthopaedic Surgery at the University of Pittsburgh in 1994.  He is currently the President of the Italian Society of Knee Surgery SIGASCOT, Director of the Complex Structure General Orthopaedics, and Director of the Centre of Excellence in Sports Traumatology at the Rizzoli Orthopaedic Institute of Bologna, Italy. He is also an Associate Professor of Orthopaedics and Traumatology in the Second Orthopaedic Clinic University of the Rizzoli Orthopaedic Institute.
Congratulations, Dr. Fu!
---
Regenerative Medicine Podcast Update
The Regenerative Medicine Podcasts remain a popular web destination. Informative and entertaining, these are the most recent interviews:
#165 –– Dr. Paulo Fontes is a transplant surgeon, a scientist, and an entrepreneur. He is an Associate Professor of Surgery at the University of Pittsburgh Medical Center and a Deputy Director, McGowan Institute of Regenerative Medicine. He is also the Director of the Machine Perfusion Program, a collaborative effort between the Thomas E. Starzl Transplantation Institute (STI), Department of Surgery, and the McGowan Institute. Dr. Fontes discusses his research in organ perfusion.
Visit www.regenerativemedicinetoday.com to keep abreast of the new interviews.
---
PICTURE OF THE MONTH
The Picture of the Month is a compliment to the longstanding features Grant of the Month and Publication of the Month. Each of these features highlights the achievements of McGowan affiliated faculty and their trainees. As we have always welcomed suggestions for grants and publications, please also consider submitting images that can highlight your pioneering work.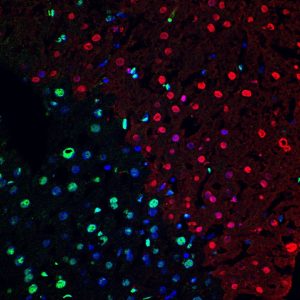 TUNEL+ cells (red) in mouse liver following ischemia-reperfusion injury. Green is HMGB1, indicating that apoptotic/necrotic cells lose this protein. Nuclei are Hoechst-stained (blue)
Center for Biologic Imaging
---
PUBLICATION OF THE MONTH
Author:  Kim E, Erdos G, Huang S, Kenniston T, Falo LD Jr, Gambotto A
Title: Preventative Vaccines for Zika Virus Outbreak: Preliminary Evaluation
Summary: Since it emerged in Brazil in May 2015, the mosquito-borne Zika virus (ZIKV) has raised global concern due to its association with a significant rise in the number of infants born with microcephaly and neurological disorders such as Guillain-Barré syndrome. We developed prototype subunit and adenoviral-based Zika vaccines encoding the extracellular portion of the ZIKV envelope gene (E) fused to the T4 fibritin foldon trimerization domain (Efl). The subunit vaccine was delivered intradermally through carboxymethyl cellulose microneedle array (MNA). The immunogenicity of these two vaccines, named Ad5.ZIKV-Efl and ZIKV-rEfl, was tested in C57BL/6 mice. Prime/boost immunization regimen was associated with induction of a ZIKV-specific antibody response, which provided neutralizing immunity. Moreover, protection was evaluated in seven-day-old pups after virulent ZIKV intraperitoneal challenge. Pups born to mice immunized with Ad5.ZIKV-Efl were all protected against lethal challenge infection without weight loss or neurological signs, while pups born to dams immunized with MNA-ZIKV-rEfl were partially protected (50%). No protection was seen in pups born to phosphate buffered saline-immunized mice. This study illustrates the preliminary efficacy of the E ZIKV antigen vaccination in controlling ZIKV infectivity, providing a promising candidate vaccine and antigen format for the prevention of Zika virus disease.
Source:  EBioMedicine. 2016 Nov;13:315-320. doi: 10.1016/j.ebiom.2016.09.028. Epub 2016 Oct 3.
---
GRANT OF THE MONTH
PI: Anne Robertson
Title: Improving cerebral aneurysm risk assessment through understanding wall vulnerability and failure modes
Description: Intracranial aneurysms affect a substantial portion of the adult population. They rarely rupture, but intracranial hemorrhage due to a ruptured brain aneurysm has devastating effects with high mortality and disability rates. Since the risk of treatment may exceed the natural risk of rupture, there is an urgent need for a reliable method to identify fragile aneurysms at risk of rupture that require immediate treatment and avoid unnecessary treatment in others. Prior work has largely focused on looking for correlations between rupture and clinically attainable quantities such as geometry, hemodynamics and patient characteristics. However, to date, these efforts have been promising but have not reached their full potential. Our group and others believe this is because the flow dynamics play more than one role in wall degradation and further there are multiple modes of wall failure. Therefore, it is extremely challenging to identify correlations without further information about the wall itself. The proposed research is innovative in our opinion because it seeks to shift the way aneurysm pathology is studied by turning the focus to the clinically relevant vulnerable aneurysm wall and by directly assessing the possibly multiple mechanisms by which hemodynamics alters the wall and studying the mechanisms of structural failure. This approach is possible because we have spent the prior R21 period i) building a collaborative team of world leaders with diverse skills in aneurysm research, ii) acquiring all needed IRB and MTA documents that will enable us to obtain over 350 IA domes during this program, and iii) developing the numerous innovations in methodology that take advantage of access to an array of important experimental facilities. Understanding the factors that discriminate between robust aneurysm walls with well-organized collagen fibers and vulnerable or fragile aneurysm walls with diverse changes to the collagen architecture is essential for effective prediction of aneurysm vulnerability and design of treatments to slow or reverse this change. Specifically, the goals of this project are: 1) determine the characteristics of structurally sound aneurysm walls, 2) determine structural causes of aneurysm wall vulnerability, 3) determine the hemodynamic conditions that promote endothelial dysfunction and wall alteration, and 4) develop a framework for assessing risk of wall fragility. The contribution of the proposed work is significant because it will create a paradigm shift in how cerebral aneurysms are studied. The focus on rupture as the end point will be shifted to wall vulnerability using methods we developed during the R21 period. We will use this data, combined with patient characteristics, to develop a framework for assessing risk of wall vulnerability. These results will provide the basis for a larger multi-national trial using our framework for risk stratification. Clinical relevance of the proposed project: The results of this project will be immediately applicable to the clinical practice, in particular we will provide the community with a scale to grade the risk of an aneurysm of having fragile walls. Additionally, these results will guide future research aiming at developing new clinical imaging techniques and/or contrast agents by providing them with wall changes associated with vulnerable walls. Further by understanding the differences between robust and vulnerable walls, we will provide a target for pharmacological therapies directed at harnessing the natural ability of the wall to maintain a robust collagen structure. These advancements will all contribute to the improvement of patient care.
Source:  National Institute of Neurological Disorders and Stroke
Term: 01 July 2016 to 30 Apr 2021
Amount:  $656,528/year