---
From Technology Developed at the McGowan Institute, LyGenesis Closes $3 Million Series A Financing to Advance Its Organ Regeneration Technology to the Clinic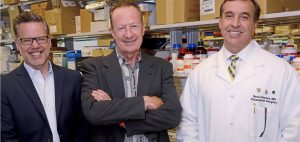 LyGenesis, Inc., a biotechnology company developing innovative technology for organ regeneration, announced recently that they have raised $3 million in Series A financing from Juvenescence, Ltd.  LyGenesis' technology uses lymph nodes as bioreactors to regrow functioning organs within a patient's own body. The financing will enable LyGenesis to complete the final preclinical work required to enable human clinical trials, which will initially focus on patients with end stage liver disease.
LyGenesis was built on nearly a decade of groundbreaking academic research by McGowan Institute for Regenerative Medicine faculty member Eric Lagasse, PharmD, PhD, Associate Professor in the Department of Pathology at the University of Pittsburgh and LyGenesis' Chief Scientific Officer. This research, funded in part by the National Institutes of Health and conducted at the University of Pittsburgh's McGowan Institute, revealed that a variety of different cells types and tissues, including the liver, could engraft and grow within lymph nodes. LyGenesis has licensed patents for this technology from Pitt.
"Remarkably, we were able to get these transplanted cells to organize, proliferate, and vascularize into functioning ectopic organs, which rescued animals from otherwise fatal cases of organ failure," noted Dr. Lagasse.
"With thousands of patients on organ transplant waiting lists, our organ regeneration technology has the potential to address the imbalance between organ supply and demand in two ways," said Michael Hufford, PhD, Chief Executive Officer of LyGenesis. "First, instead of one donated organ treating just one patient, one donated organ could serve as the seed to treat dozens of patients simultaneously. Second, procedures using Lygenesis' technology would not require major transplantation surgery, but would instead use a minimally invasive outpatient endoscopy, decreasing costs while enabling patients considered too sick or having too many comorbidities to qualify for traditional organ transplantation to receive treatment."
McGowan Institute affiliated faculty member and Professor of Surgery, and Director, Research & Innovation, in the Department of Surgery at West Virginia University's School of Medicine and LyGenesis' Chief Medical Officer, Paulo Fontes, MD, FACS, said, "There is no greater privilege and responsibility than the care of patients in need of life-saving therapies. Having trained with Dr. Thomas Starzl, the father of modern transplantation surgery, and directed the Liver Transplant Program at the Starzl Transplant Institute for over a decade, I immediately appreciated the potential clinical significance of this technology. Working with the patient's own body, instead of transplanting a whole new organ or externally bioengineered organ, is a promising new paradigm for regenerative therapies."
"LyGenesis has the wonderful combination that we look for in a life science company: innovative science, broad applicability to not only treat human disease but also to potentially extend healthy longevity, with a management team that has the experience and dedication to bring this technology to patients and execute on the business plan," said Greg Bailey, MD, Co-Founder and CEO of Juvenescence, who will also be joining LyGenesis' Board of Directors.
"The technology is a treatment in and of itself, but it is also a platform for pursuing additional therapies for pathologies that are directly involved in the process of aging, the delivery of future regenerative therapies based on induced pluripotent stem cells (iPS cells), and the delivery of other genetically modified cellular therapies." To learn more, please visit the LyGensis website at www.lygenesis.com.
LyGenesis, Inc. is one of three recent spinout companies of the McGowan Institute.  The other two include Renerva (Nerve Regeneration—Bryan Brown, PhD; Lorenzo Soletti, PhD, CEO), and Restoure (Esophageal Repair—Stephen Badylak, DVM, PhD, MD; Paul Fagan, CEO).
Illustration:  LyGenesis has three employees. Eric Lagasse, PharmD, PhD (pictured center), who directs the Cancer Stem Cell Center at the McGowan Institute, where he has a lab, is chief scientific officer. West Virginia University Director of Research and Innovation Paulo Fontes, MD (pictured right), is chief medical officer. Pitt Innovation Institute entrepreneur-in-residence Michael Hufford, PhD (pictured left), a veteran of the life sciences field with 20 years' experience, is CEO.  Credit:  Lake Fong/Pittsburgh Post-Gazette.
---
RESOURCES AT THE MCGOWAN INSTITUTE
June Histology Special
Safranin O Staining for Cartilage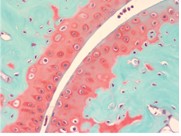 Over the last several years, surgeons and scientists have elaborated a series of cartilage repair procedures that help to postpone the need for joint replacement. Bioengineering techniques are being developed to generate new cartilage, using a cellular "scaffolding" material and cultured cells to grow artificial cartilage
Safranin O Staining is used for the detection of cartilage, mucin, and mast cell granules on formalin-fixed, paraffin-embedded tissue sections, and may be used for frozen sections as well. The cartilage and mucin will be stained orange to red, and the nuclei will be stained black. The background is stained bluish green.
Through the month of June, you will receive 30% off your Safranin O Staining, when you mention this ad. Contact Lori at the McGowan Core Histology Lab and ask about our staining specials.  Email perezl@upmc.edu or call 412-624-5265.
As always, you will receive the highest quality histology in the lowest amount of time.
Did you know the more samples you submit to the histology lab the less you pay per sample?  Contact Lori to find out how!
---
UPCOMING EVENTS
7th Annual Internal Symposium on Regenerative Rehabilitation Symposium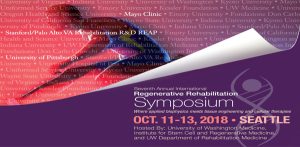 The Symposium on Regenerative Rehabilitation is the largest medical and scientific conference specific to Regenerative Rehabilitation in the world, bringing together two disparate disciplines, regenerative medicine and rehabilitative research, into one synergistic field of science. Innovative ideas, concepts and technologies were shared, deliberated and debated at this premier event.   This new and innovative approach combines discoveries in tissue engineering and cellular therapies with rehabilitative treatments, resulting in improved functional outcomes for patients. This Symposium encourages the participation of scientists, clinicians and physical therapists who are in the fields of regeneration, physical medicine and rehabilitation. The Symposium agenda is designed to create a platform for bridging these areas of expertise in a setting that fosters discussion, interaction, cross-discipline pollination and networking.
The Symposium will be held October 11-13, 2018 in Seattle, Washington.
---
SCIENTIFIC ADVANCES
LifeX™ Health Solutions Platform Opens Headquarters…Announces $2 Million Henry L. Hillman Foundation Grant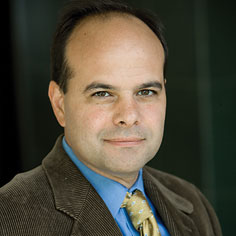 LifeX™ celebrated the opening of its first headquarters, where it will provide expertise and working space to aid the growth of biotechnology companies.  McGowan Institute for Regenerative Medicine affiliated faculty member Dietrich Stephan, PhD, professor and chairman of the Department of Human Genetics at the University of Pittsburgh, is CEO and founder of LifeX which was launched in December 2017.  LifeX is a biotechnology commercialization platform that empowers scientist entrepreneurs to create and deliver new solutions to alleviate suffering and premature death across the globe. Founded by the University of Pittsburgh, LifeX's initial cohort of companies will focus on unmet health needs related to cancer, Alzheimer's disease, multidrug-resistant bacterial infections, obesity and diabetes and rare genetic diseases.
The facility at 2124 Penn Ave. in Pittsburgh's Strip District includes office and laboratory space where biotechnology companies can collaborate. In addition to the physical space, the LifeX platform brings together experts with proven track records of building new pharmaceuticals, medical devices, molecular diagnostics and population-health solutions to support entrepreneurs with deep industry knowledge.
With the April 17 ribbon-cutting came the announcement of a $2 million grant from the Henry L. Hillman Foundation to advance startup operations, facilities and programming.
"Throughout its history, the Henry L. Hillman Foundation has supported projects that increase and leverage the Pittsburgh region's strengths and its competitive advantages," said David K. Roger, president of the Hillman Family Foundations. "Our support for the Brookings Institution's report, "Capturing the next economy: Pittsburgh's rise as a global innovation city," is magnified in this opportunity to build on the region's strengths in accord with the report's findings.
"The LifeX initiative presents an innovative opportunity to expand the impact of Pittsburgh's life sciences strengths by nurturing — here in the city's naturally occurring innovation district — the life sciences ecosystem that will bring these innovations to the world."
Rob A. Rutenbar, PhD, senior vice chancellor for research at the University of Pittsburgh, said: "The Hillman Foundation's support amplifies the University's ongoing efforts to translate its world-class life sciences insights to the marketplace for the improvement of human health around the globe.
"This support for LifeX and its new headquarters also is key to accelerate Pittsburgh's ability to punch at its weight as a global innovation city. We are proud to continue working together with the Hillman Foundation to benefit our region and the world."
Dr. Stephan said: "Pittsburgh's life sciences pioneers brought the world the polio vaccine, liver transplantation and innumerable other innovations that have transformed the lives of so many across the globe. The LifeX team is proud to have the Hillman Foundation's support as we continue this long-standing legacy of facilitating cures to the most devastating and prevalent causes of suffering and death."
LifeX will operate as its own entity and include four key components:
LifeX Labs: a facility that will nurture the next generation of biotechnology organizations. Startup companies will be invited to LifeX's Pittsburgh headquarters in the Strip District near downtown Pittsburgh, which will extend the innovation corridor from Oakland. This site will include the latest technology and equipment as well as mentorship from LifeX's active management group of industry experts.
LifeX Seed: a targeted investment fund raising $25 million to provide early-stage funding to support companies involved in the LifeX Labs over a five-year period.
LifeX Capital: a larger fund that will be created to assist biotechnology companies working within LifeX's specialty areas of interest. The fund will deliver investment over a five-year period and syndicate heavily with its network of investors and partners.
LifeX Portfolio: a collection of companies that will be funded and facilitated by LifeX. These will consist largely of trailblazing startup pharmaceutical companies from around the world, selected for their stand-out innovation and potential solutions.
---
Living Donor Liver Transplant:  A Lifesaving Option for All Patients with Liver Failure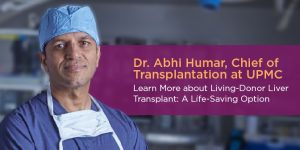 The following is an excerpt from an article published in The Conversation and authored by McGowan Institute for Regenerative Medicine affiliated faculty member Abhinav Humar, MD, Clinical Director of the Thomas E. Starzl Transplantation Institute and the Chief, Division of Transplantation in the Department of Surgery at the University of Pittsburgh Medical Center. He is also a Professor in the Department of Surgery at the University of Pittsburgh School of Medicine and a Staff Physician at the Pittsburgh VA Medical Healthcare System.  Read the entire article here.
While most livers for transplant in the U.S. come from deceased donors, a major advance has occurred in recent years. It now is possible for a surgeon to take a portion of a liver from an otherwise healthy individual and use that for transplant. The procedure started first in children, with the first U.S. transplant in 1989. It then expanded for use in adults by 1996. The availability of a living donor obviates the need for someone to wait, and, therefore, potentially limits the likelihood a person will die while waiting for a liver.
Live liver transplantation allows patients to receive a transplant from a living donor as soon as they are deemed ready for a transplant. This is often a point sooner in the disease process, when they are healthier and better able to tolerate the procedure. This leads to a quicker and less complicated recovery. Additionally, patients who are not eligible for a transplant from a deceased donor can still receive a transplant from a living donor if there is a survival benefit.
Despite the advantages, living donor liver transplants in the U.S. account for less than 5 percent of all liver transplants. In other countries, such as Korea, Japan and India, living donor liver transplants account for almost 90 percent of liver transplants.
The main reason for the underutilization is a lack of awareness of the procedure, both by patients and the health care community. At UPMC, we strongly believe in the ability of living donor liver transplant to be a lifesaving procedure and offer this as a first-line option to all our patients in need of a liver transplant.
We perform the most living donor liver transplants in the country, and for the first time ever, in 2017, performed more transplants from living than deceased donors.
The bottom line is that living donor liver transplant represents a lifesaving option for all patients with liver failure, offering numerous advantages over the option of waiting for a deceased donor. In my view, all patients in need of a liver transplant should be made aware of this procedure and, in almost every case, be offered a transplant from a live donor as the first option. With this change, many more lives could be saved every year.
Illustration:  UPMC.
---
Heartbeat Out of Sync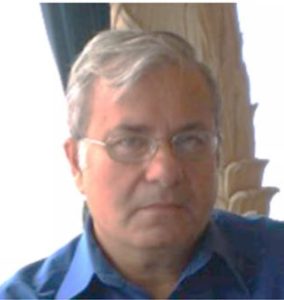 Life-threatening cardiac arrhythmias often occur after a heart attack, as the scar tissue can interfere with the spread of electrical impulses that activate the heart. An international research team under the leadership of the University Hospital Bonn in collaboration with colleagues from the Cornell University and the University of Pittsburgh has now developed a method to improve electrical transmission in the heart by transferring a single gene, connexin43, to cells that form the infarct scar. The results are now published in Scientific Reports. McGowan Institute for Regenerative Medicine affiliated faculty member Guy Salama, PhD, Professor within the Department of Medicine, Division of Cardiology at the University of Pittsburgh School of Medicine, is a co-author on the study.
In a severe heart attack, many heart muscle cells die and are replaced by scar tissue, rather than new heart cells. "The connective tissue cells act like an electrical insulator," explains Prof. Dr. med. Wilhelm Röll from the Department of Cardiac Surgery at the University Hospital Bonn (UKB). For this reason, the normal electrical excitation of the heart is disrupted by the scar, often resulting in a dangerously rapid heart rhythm that is the most common cause of sudden death. "This disruption of conduction results in a condition that is equivalent to a cardiac arrest," emphasizes Röll.
Heart muscle cells are electrically coupled to each other via tunnel proteins, the so-called connexins, that allow the electrical wave to propagate rapidly from one heart muscle cell to the next, provided that there is no scar tissue. "The Connexin 43, is particularly important for the transmission of electrical stimuli between heart muscle cells," says Prof. Dr. med. Bernd K. Fleischmann from the Institute of Physiology I at the Life & Brain Center of the University of Bonn.
Connexin 43 improves the transmission of stimuli in the infarct area
The aim of the international research team was to introduce connexin 43 into the infarct in order to improve the electrical connection within the cells of the scar tissue. In mice that had previously suffered a heart attack, the connexin 43 gene was introduced with a virus, resulting in the expression of connexin 43 by scar cells that are normally electrically silent.
Subsequent investigations revealed that mice (over)expressing Cx43 in the infarct area were only half as likely to suffer from the cardiac arrhythmia compared to control animals that failed to produce Cx43. "We were able to visualize that connexin 43 improves the spreading of the electrical signal in the infarct area," says Dr. Salama.
"What is new here is that we show that expression of a single gene, connexin 43, enables the electrically silent cells that form the scar to participate in electrical conduction; modest expression of this gene markedly limits the risk of dangerous cardiac arrhythmias in this model of a cardiac infarction," reports Prof. Michael Kotlikoff from Cornell University on the study results.
The international team of researchers, which included scientists from the UKB's Institute of Pharmacology and Toxicology and who produced the lentiviral constructs, also showed that the protective effect of connexin 43 persisted for many weeks.
Currently, patients who are at increased risk for cardiac arrhythmias are implanted with a defibrillator, which uses strong electrical pulses to restore a more normal heartbeat in case of ventricular fibrillation. The scientists now hope that their findings suggest a rather simple gene therapy approach to reducing the incidence of cardiac arrhythmias following myocardial infarction, avoiding the complications and unpleasant sensations associated with pacemaker therapy. "So far, our findings have been based on studies on mice," emphasizes Dr. Röll. "There is still a long way to go before it can be used on humans, but our experimental findings on small animals are very encouraging."
---
Dr. John Pollock Develops Award-Winning App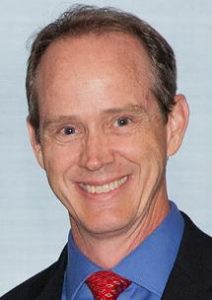 After winning two Emmys and multiple other awards, John Pollock, PhD, a Duquesne University professor earned further recognition with his newly released educational app.
The app, BiblioTech "Rebound: Beating Concussions," was created by The Partnership in Education, an Emmy Award-winning program based at Duquesne University that aspires to make science engaging and fun for people of all ages through its innovative educational products.
Dr. Pollock, director of The Partnership in Education, professor of biological sciences at Duquesne, and McGowan Institute for Regenerative Medicine affiliated faculty member, described the app as a "branched, build-your-own story with interactive graphics, games, a digital notebook and embedded video," with Adaptive Reader software that enables the app to cater to the reader.
"Rebound: Beating Concussions" was recently selected to receive the 2018 Parents' Choice Recommended Award by the Parents' Choice Foundation, which is the oldest and most revered nonprofit organization in the U.S. that recognizes quality media and toys for children.
To create "Rebound," Dr. Pollock worked with concussion experts and writers to develop the story about a high school basketball player who gets a concussion, subsequently working on the games and graphics that accompany the narrative. Simcoach Games, a game development company in the Strip District, then helped Dr. Pollock and his team bring their creation to life.
Dr. Pollock believes that "Rebound: Beating Concussions" will not only educate readers about concussions and why they are injuries that should be taken seriously, but it will help people to become better readers thanks to its Adaptive Reader technology.
"The text adapts to the reader. At the end of each chapter, you can pick to make the reading easier or more challenging, causing the vocabulary to shift as well as the sophistication of the sentence structure based on your decision," said Dr. Pollock. "In this way, everyone gets the same story, the same information and learning goals no matter how proficient a reader they are."
Clinical and Executive Director of the UPMC Sports Medicine Concussion Program, Michael Collins, PhD, who advised Dr. Pollock with the app, stressed the importance of treating concussions.
"A key to recovery is recognizing symptoms and seeking proper treatment," said Dr. Collins. "There are a lot of myths about concussions and one of our goals is to help educate people."
Dr. Collins also expresses how "Rebound: Beating Concussions" assists in sharing and emphasizing the significance of treating concussions like any other serious injury.
"We have made tremendous progress in the diagnosis, management and rehabilitation of concussions, and the e-book appropriately stresses that a concussion is a treatable injury and provides a compelling case example to demystify the fears associated with the injury," Dr. Collins said.
The app is compatible with Android and iOS devices.
---
EVLP: Expand the Donor Pool and Lead to Better Transplant Outcomes

Ex vivo lung perfusion (EVLP) has developed as a novel organ preservation method in lung transplantation. EVLP allows physicians to evaluate lung graft function and condition prior to transplantation, leading to the possibility to utilize marginal lung grafts and/or high-risk donor lungs including donation after circulatory death (DCD), atelectasis lung, lung with slight edema and functional problem without other concerns, as well as the lung grafts met to normal criteria. Also, EVLP allows reconditioning of such lung grafts on ex vivo prior to transplantation using various options for treatment including high dose drug administration, stem cell transplantation, gene transfection, ex vivo surgery, and so on.
"Transplants are a very exciting field right now, very exciting time and there's a lot going on," McGowan Institute for Regenerative Medicine affiliated faculty member Jonathan D'Cunha, MD, PhD, Associate Professor of Cardiothoracic Surgery and Chief of the Lung Transplant Division at the University of Pittsburgh Medical Center, told Andrew Tarantola of Engadget. "It doesn't matter whether it's general urinary transplant or lungs or heart or liver, kidney, they all have different aspects or components to them which we're trying to push the field further and further."
"Many patients who are waiting for lungs can't get a lung transplant because the donor supply is so limited," he said. "So, we're always looking to improve things and expand the donor pool and new technologies are under development by many investigators to try to achieve this goal."
Recently, a modified EVLP system, "Dual EVLP," where pulmonary artery and bronchial artery are synchronously perfused has been developed and achieved more physiological and therapeutic environment which may be considered to lead better graft recovery. These therapeutic means on EVLP have much possibility to expand the donor pool and lead better transplant outcomes. Therefore, it is important as a translational research to see the beneficial and/or adverse effects of EVLP and the ex vivo pretreatment to high risk donor lungs for further development of lung transplantation. The aims of this study are to test EVLP and Dual EVLP for high risk donor lung and to clarify their effects on the grafts during preservation and after transplantation.
"Having the time to assess [donor organs] properly and make good judgments so you have a good patient outcome is absolutely critical," Dr. D'Cunha said. "Additionally, what the future may hold with things like Ex Vivo Lung Perfusion is the opportunity to even repair or intervene on lungs to make them better."
---
Producing Protein Nano-Armor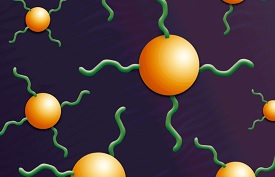 Carnegie Mellon University researchers—including McGowan Institute for Regenerative Medicine affiliated faculty member Krzysztof Matyjaszewski, PhD—have developed methods that speed up the process of developing chemically linked synthetic and biological molecules by more than 10 times in natural conditions. The findings, which marry biology and chemistry, could make the production of bioconjugates for use in biomedicine, materials science, and other fields more efficient and cost effective.
Bioconjugates are formed when a biological molecule is joined with another molecule using covalent bonds. For example, in the case of biologic drugs, like interferon, the drug is connected to polymers that act like a cloak of nano-armor that protects the drug from damage until it reaches its target.
While promising, making bioconjugates has been expensive, time consuming and difficult to control.
Alan Russell, PhD, the Highmark Distinguished Career Professor, a professor of chemical engineering, director of Carnegie Mellon's Disruptive Health Technology Institute, and former founding director of the McGowan Institute, and Dr. Matyjaszewski, the J.C. Warner University Professor of Natural Science and a professor of chemistry, have discovered how to speed up the process and perform the chemistry of this process in truly natural conditions. Drs. Russell and Matyjaszewski co-direct the Center for Polymer-Based Protein Engineering at Carnegie Mellon.
Bioconjugates are traditionally made in solution, and purification after each step can take days or weeks. Even in the hands of a skilled scientist, it can take a week to make a few conjugates.
Drs. Russell and Matyjaszewski redesigned the chemistry for making bioconjugates to significantly decrease synthesis and purification time and made the approach so straightforward that even non-experts could create bioconjugates. The work—performed by a Carnegie Mellon team with Drs. Russell, Matyjaszewski, doctoral student Stefanie Baker, and researchers Hironobu Murata, PhD, and Sheiliza Carmali, PhD—builds on a technique called Atom Transfer Radical Polymerization (ATRP), a novel method of polymer synthesis developed by Dr. Matyjaszewski's lab that has revolutionized the way macromolecules are made.
In a paper published in Nature Communications, they introduced the new method of growing polymers on proteins, known as Protein-ATRP on Reversible Immobilization Support (PARIS). It uses a "grafting-from" technique that exquisitely controls the growth of synthetic molecular hairs from the surface of proteins. These hairs can form a strong nano-armor that protects the biomolecule.
These new methods of growing polymers and armoring proteins have the potential to affect many aspects of our daily lives.
"Many people use enzymes in their everyday life," says Dr. Russell. "We use proteins and enzymes in laundry detergents, beer manufacturing, paper manufacturing, medicines, and so much more. Our work is aimed at improving the impact these proteins make on all our lives."
Illustration:  Carnegie Mellon University.
---
Lifestyle Impacts Health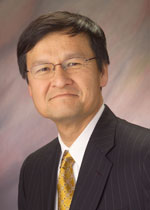 Recent research published in the journal Circulation estimated the impact of lifestyle factors on premature mortality and life expectancy in the US population.  The researchers recommended the following 5 simple lifestyle changes:
Eat a healthy diet.
Don't smoke.
Exercise regularly.
Keep trim.
Drink moderately.
McGowan Institute for Regenerative Medicine affiliated faculty member Joon Sup Lee, MD, Associate Professor of Medicine at the University of Pittsburgh, Division Chief of Cardiology, and Executive Director of UPMC Heart and Vascular Institute, hopes the research (in which he was not involved) inspires Americans to lead healthier lives.
"It's important for the public to understand the magnitude of the impact lifestyle has," said Dr. Lee, to Linda Carroll for Today.
We're just now starting to see the impact of "the tsunami impact of obesity," Dr. Lee continued.
Up until 2011, deaths from heart disease had been declining mostly due to improvements in technology and medicine, he said. "But after that it started going up again."
"If all my patients really understood we are talking about a decade of your life that you could be prolonging they might be inspired to make more changes," Dr. Lee said. "And though the paper doesn't address this, it's not simply about extending the duration of your life, but likely also extending the healthy duration of life."
---
AWARDS AND RECOGNITION
McGowan Institute for Regenerative Medicine 2018 Top Docs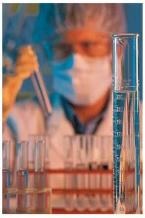 The McGowan Institute for Regenerative Medicine applauds its affiliated faculty members who were recently recognized by Pittsburgh Magazine. Each year the magazine commissions Castle Connolly Medical Ltd. to select top doctors on the national and regional levels. The physician-led research team identifies highly skilled, exceptional doctors by evaluating their medical education, training, and hospital appointments, and by surveying area hospital leaders and physicians.
This year 30 McGowan Institute affiliated faculty were recognized in the May issue of the magazine with 3 colleagues* receiving dual specialty acknowledgment. Congratulations are extended to:
Anesthesiology:  Erin Sullivan, MD
Cardiovascular Disease:  Dennis McNamara, MD, John Pacella, MD
Critical Care Medicine:  Derek Angus, MD, MPH, John Kellum, MD, FACP
Neurological Surgery:  David Okonkwo, MD, PhD, Mark Richardson, MD, PhD,* Elizabeth Tyler-Kabara, MD, PhD*
Neurology:  Mark Richardson, MD, PhD
Obstetrics and Gynecology:  Pamela Moalli, MD, PhD
Orthopedic Surgery:  Freddie Fu, MD, MaCalus Hogan, MD, Patrick McMahon, MD, Kurt Weiss, MD
Otolaryngology: Barry Hirsch, MD, Carl Snyderman, MD, MBA
Pathology:  Anthony Demetris, MD
Pediatric Cardiology:  Jacqueline Kreutzer, MD
Pediatric Gastroenterology:  Sohail Z. Husain, MD
Pediatric Neurological Surgery:  Elizabeth Tyler-Kabara, MD, PhD
Pediatric Surgery:  George Gittes, MD, George Mazariegos, MD
Physical Medicine and Rehabilitation:  Michael Boninger, MD
Plastic Surgery:  Howard Edington, MD,* Michael Gimbel, MD, Ernest Manders, MD, Peter Rubin, MD, Kenneth Shestak, MD
Surgery:  Timothy Billiar, MD, Abhinav Humar, MD
Surgical Oncology:  Howard Edington, MD
Thoracic Surgery:  Thomas Gleason, MD, James Luketich, MD
Also, in this year's issue Dr. Mazariegos was featured for his work supporting living-donor liver transplants for pediatric patients.  Per Kate Benz, Pittsburgh Magazine, Children's Hospital of Pittsburgh of UPMC performs more living-donor liver transplants than any other pediatric transplant center in the country, having done more than 135 procedures since the program's inception in 1981. The Scientific Registry of Transplant Recipients has ranked Children's as the best out of 62 of the country's pediatric liver transplant centers in terms of one-year overall survival for both the patient and the liver graft.
"What we really want is that every child gets the liver that they need at the right time," says Dr. Mazariegos. "Living donation can be a lifesaving therapy for many children, so we want to extend that to as many kids as can benefit from it."
Congratulations, all!
---
Regenerative Medicine Podcast Update
The Regenerative Medicine Podcasts remain a popular web destination. Informative and entertaining, these are the most recent interviews:
#183 –– Dr. Cecelia Yates is an Assistant Professor, Department of Health Promotion & Development, School of Nursing, University of Pittsburgh, with a secondary appointment in the Department of Pathology, School of Medicine, and McGowan Institute of Regenerative Medicine.   Dr. Yates discusses her research in the chronic and fibrotic responses to injury and in Scleroderma.
Visit www.regenerativemedicinetoday.com to keep abreast of the new interviews.
---
PUBLICATION OF THE MONTH
Author:  Murata H, Carmali S, Baker SL, Matyjaszewski K, Russell AJ
Title: Solid-phase synthesis of protein-polymers on reversible immobilization supports
Summary: Facile automated biomacromolecule synthesis is at the heart of blending synthetic and biologic worlds. Full access to abiotic/biotic synthetic diversity first occurred when chemistry was developed to grow nucleic acids and peptides from reversibly immobilized precursors. Protein–polymer conjugates, however, have always been synthesized in solution in multi-step, multi-day processes that couple innovative chemistry with challenging purification. Here we report the generation of protein–polymer hybrids synthesized by protein-ATRP on reversible immobilization supports (PARIS). We utilized modified agarose beads to covalently and reversibly couple to proteins in amino-specific reactions. We then modified reversibly immobilized proteins with protein-reactive ATRP initiators and, after ATRP, we released and analyzed the protein polymers. The activity and stability of PARIS-synthesized and solution-synthesized conjugates demonstrated that PARIS was an effective, rapid, and simple method to generate protein–polymer conjugates. Automation of PARIS significantly reduced synthesis/purification timelines, thereby opening a path to changing how to generate protein–polymer conjugates.
Source:  Nature Communications. 2018 Feb 27;9(1):845.
---
GRANT OF THE MONTH
PI: Dietrich Stephan
Title: LifeX
Description: The facility at 2124 Penn Ave. in Pittsburgh's Strip District includes office and laboratory space where biotechnology companies can collaborate. In addition to the physical space, the LifeX platform brings together experts with proven track records of building new pharmaceuticals, medical devices, molecular diagnostics and population-health solutions to support entrepreneurs with deep industry knowledge.  LifeX's initial cohort of companies will focus on unmet health needs related to cancer, Alzheimer's disease, multidrug-resistant bacterial infections, obesity and diabetes and rare genetic diseases.
Source: The Henry L. Hillman Foundation
Amount: $2 million