---
New Study Shows Promise of ALung's Hemolung Technology to Help Protect the Injured Lung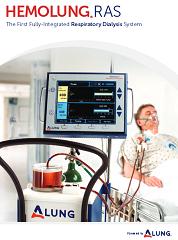 Based on core technology developed by McGowan Institute of Regenerative Medicine faculty members William Federspiel, PhD, W.K. Whiteford professor of bioengineering, chemical engineering, and critical care medicine, and the late Brack Hattler, MD, ALung Technologies, Inc., is today a leading provider of low-flow extracorporeal carbon dioxide removal (ECCO2R) technologies for treating patients with acute respiratory failure.  The company announced recently the publication of new results from an investigator-sponsored clinical study of its Hemolung Respiratory Assist System (RAS) in patients with moderate acute respiratory distress syndrome (ARDS). The Hemolung RAS, a minimally invasive artificial lung device which removes carbon dioxide independently of the lungs through a process called Respiratory Dialysis®, was shown to safely and effectively facilitate an ultra-protective mechanical ventilation strategy in this group of patients.
Many patients with respiratory failure require the assistance of a ventilator as a life-sustaining measure. Unfortunately, the positive pressure exerted by the ventilator can lead to additional injury, complications, and increased mortality. Reducing ventilator pressures has been one of the most important interventions shown to improve outcomes in these critically ill patients, and further reduction of ventilator settings beyond today's standards may be beneficial. A limiting factor of this approach is the accumulation of carbon dioxide in the blood when ventilation is reduced. The Hemolung RAS removes carbon dioxide directly from the blood, facilitating low volume, low pressure, ultra-protective mechanical ventilation while maintaining normal carbon dioxide levels.
The feasibility of providing ultra-protective ventilation using the minimally invasive approach of the Hemolung RAS was tested in this new study. Four leading European hospitals enrolled 15 patients with moderate ARDS. The trial successfully achieved its primary endpoint of reducing tidal volume by approximately 33% while maintaining normal carbon dioxide levels. Driving pressures were also significantly reduced, and complications were minimal. Results of the study were recently published in the journal Critical Care.
"In our study, extracorporeal CO2 removal with the Hemolung RAS safely facilitated significant reductions in ventilator pressures and volumes, a strategy which may help to minimize ventilator induced lung injury in patients with ARDS," said Dr. Jordi Mancebo, Director of Intensive Care at Hospital de Sant Pau, Barcelona, Spain. "We believe that this technology is very promising, and look forward to advancing the evaluation of ECCO2R as a participant in the SUPERNOVA study."
ALung is participating in two larger ARDS trials to determine the effect of an ultra-protective ventilation strategy on mortality. Currently enrolling patients is the European Society of Intensive Care Medicine's SUPERNOVA study. ALung has also been chosen as the sole technology provider for the 1140-patient UK REST Trial, the world's first pivotal study of ECCO2R sponsored by Queen's University Belfast.
Illustration:  ALung Technologies, Inc.
---
RESOURCES AT THE MCGOWAN INSTITUTE
March Special at the Histology Lab
March is here!!   Spring is on the horizon!!  Spring into action and take advantage of some Spring Specials at the McGowan Institute Histology Lab!
As the days grow longer, and the days grow warmer, the days will begin to explode with color!  The histology lab enjoys a little color too.
A Movat Pentachrome highlights the various constituents of connective tissue by five colors in a single stained slide.

Black: Nuclei
Purple-Black: Elastin Fibers
Dark Red-Red: Fibrinoid, Muscle
Blue-Blue Green: Ground or Background substance
Yellow Collagen: Reticulum Fibers
Masson's Trichrome stains collagen and muscle fiber differentially when treated sequentially with Biebrich Scarlet-Acid Fuchsin, and Aniline Blue.  Cytoplasm and muscle fibers stain red whereas collagen displays blue coloration.

Contact Lori at the McGowan Core Histology Lab about the color specials of March.  Email perezl@upmc.edu or call 412-624-5265.  She will be happy to offer you a 30% discount on these colorful stains.
As always, you will receive the highest quality histology in the quickest turn-around time.
Did you know the more samples you submit to the histology lab the less you pay per sample?  Contact Lori to find out how!
---
Flow Cytometry Lab "Invaluable Asset" for Research
Efforts at the Flow Cytometry Lab are continuing to successfully support the various research programs of McGowan Institute for Regenerative Medicine and University of Pittsburgh scientists.  Flow cytometry is used to perform several procedures including cell counting, cell sorting, detection of biomarkers, and protein engineering.
Eva Schmelzer, PhD, is a McGowan Institute for Regenerative Medicine affiliated faculty member and a Research Assistant Professor in the Department of Surgery at the University of Pittsburgh.  She shares her experience with the Flow Cytometry Lab personnel here:
The Flow Cytometry Core Facility of the McGowan Institute for Regenerative Medicine has supported many of our research projects. For several years now, our lab (Jörg Gerlach, MD, PhD, Professor in Pitt's Department of Surgery, and Eva Schmelzer, PhD) has implemented flow cytometric analyses and sorting, resulting in the publication of numerous successful research projects. By providing expert advice and excellent support, Lynda Guzik, the manager and operator of the Core, has become an invaluable asset for accomplishing our specific flow cytometry projects. In 2015 alone, four of our publications included flow cytometry-based research:
Pekor C, Gerlach JC, Nettleship I, Schmelzer E. (2015). Induction of Hepatic and Endothelial Differentiation by Perfusion in a Three-Dimensional Cell Culture Model of Human Fetal Liver. Tissue Eng Part C Methods 21(7):705.  By flow cytometry, we determined the effects of perfusion on endothelial, hematopoietic, and hepatic liver cell populations.
Schmelzer E, Finoli A, Nettleship I, Gerlach JC. (2015). Long-term three-dimensional perfusion culture of human adult bone marrow mononuclear cells in bioreactors. BiotechnolBioeng 112(4):801.  Various human bone marrow cell fractions (hematopoietic stem cells, mature endothelial cells and progenitors, osteoblasts, and erythrocytes) were followed in an advanced long-term model for bone marrow culture.
Gerlach JC, Over P, Foka HG, Turner ME, Thompson RL, Gridelli B, Schmelzer E. (2015). Role of transcription factor CCAAT/enhancer-binding protein alpha in human fetal liver cell types in vitro. Hepatol Res 45(8):91.  Proliferation rates (determined by Ki67+ expression) and the frequency of various specific hepatic sub-populations were determined after C/EBPalpha knockdown and over-expression.
Esteban-Vives R, Young M, Over P, Schmelzer E, Corcos A, Ziembicki J, Gerlach J. (2015). In vitro keratinocyte expansion for cell transplantation therapy is associated with differentiation and loss of basal layer derived progenitor population. Differentiation 89(5):137.  Flow cytometry was used to characterize keratinocyte progenitors in vitro. We found that expansion of progenitor populations is associated with differentiation and loss of progenitor numbers. We further determined that the established stem cell antibody markers α6int, K5, and K15 may not be useful for identification of cultured basal progenitor keratinocytes without also addressing cell size variations as suggested by differences in light scatter signals.
Gating strategy for in vitro differentiation process analysis.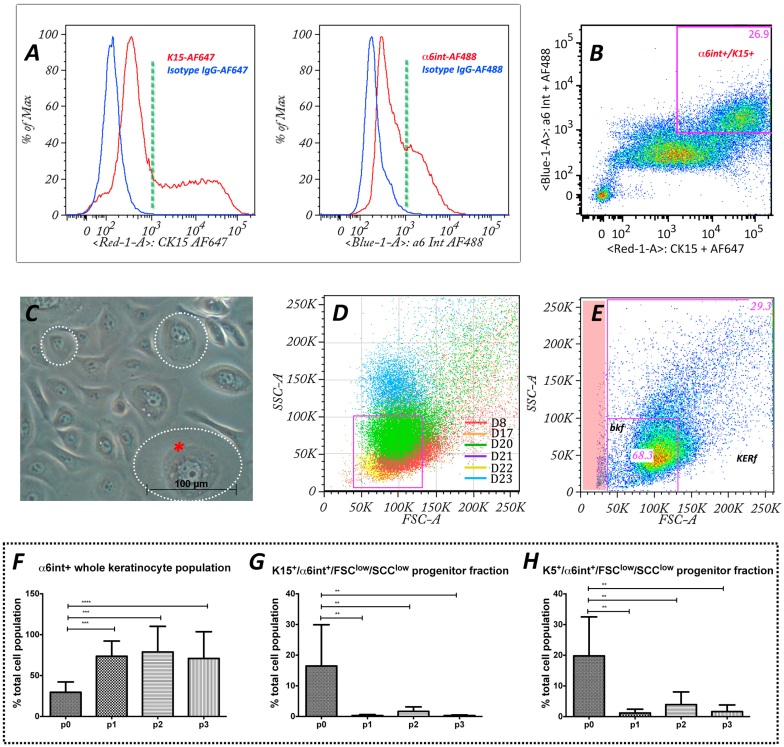 (A) Flow cytometry histograms showing freshly isolated epidermal cells stained for basal progenitor markers α6int+ and K15+. Negative controls, as determined by isotype staining are shown in blue.
(B) Higher intensity progenitor markers α6int+ and K15+ were used to calculate the FSC average threshold to establish the basal progenitor gate.
(C) Phase contrast microscopy of epidermal keratinocytes in passage 1 culture (p1) shows different cell sizes (dotted circles) and inner cytoplasmic complexity characterized by lipid vesicles, nucleolus (red asterisk). In flow cytometry cell size and inner cytoplasmic complexity is represented by FSC and SSC, respectively. The cell size (FSC) and the inner cell complexity (SSC) combined with differentiation markers were analyzed using flow cytometry techniques to characterize cell differentiation during the culture process.
(D) Scatter plot showing the relative cell size (FSC) and inner complexity (SSC) of the α6int+/K15+ cell fraction from 6 different donor populations at p0. The information obtained was used to define the basal keratinocyte fraction (bkf) gateway (in purple).
(E) FSC/SSC scatter plot combined with α6int+/K15+ was established as a gate defining a basal keratinocyte progenitor fraction (bkf) compared to the rest of the entire keratinocyte population fraction (kerf).  Note: debris (red stripe) is excluded from analysis once gates are selected.
(F)–(H) Flow cytometry analysis of keratinocyte differentiation during 3 passages of in vitro culture. Total percentage of cultured keratinocyte populations through 3 passages compared to freshly isolated cells showing α6int+ whole keratinocyte population (F), basal keratinocyte subpopulations (bkf), α6inthigh/K15high/FSClow/SSClow (G), and α6inthigh/K5high/FSClow/SSClow (H).  Anova was used as a statistical test with Dunnett's multiple tests. *p<0.05; **p<0.01 ***p<0.001; n.s, not significant.
Contact Lynda Guzik, the Flow Cytometry Lab Manager, for more information on how the Lab's resources can help you:  412-648-8660 or guzilj@upmc.edu.
---
UPCOMING EVENTS
Save the Date: McGowan Institute Distinguished Lecture

The McGowan Institute's Spring Distinguished Lecture Series has been announced.  The Distinguished Lecturer is Robert H. Bartlett, MD, Emeritus Professor of Surgery, University of Michigan. Dr. Bartlett's main field of interest is Applied Physiology in Surgery.  He developed the heart-lung technology known as extracorporeal membrane oxygenation (ECMO).  He will speak on "ECLS, Past, Present, and Future."
The lecture is scheduled for Thursday, March 31, 2016 at 4:00 pm.  It will be held at Scaife Hall Auditorium 5.  A reception will follow at 5:00 pm in Scaife Hall Room 1105A.
---
Save the Date: 9th Symposium on Biologic Scaffolds for Regenerative Medicine
The 9th Symposium on Biologic Scaffolds for Regenerative Medicine will be held at the Silverado Resort in Napa, California on April 28th – 30th, 2016.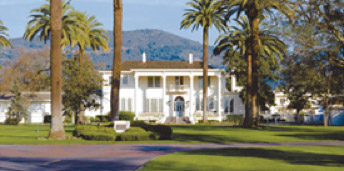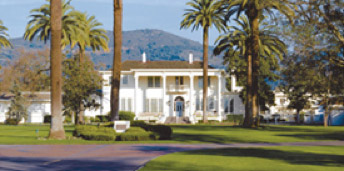 Although all topic areas are considered and will be represented, the 2016 symposium will definitely include the following:
An in depth account of the most recent findings regarding the mechanisms by which biologic scaffolds facilitate constructive remodeling of tissues; including body wall (skeletal muscle), cardiovascular, reconstructive surgical applications such as breast and pelvic floor, and whole organs such as liver, lung and heart.
Identification and discussion of manufacturing issues such as tissue source, decellularization methods, and sterilization decisions that affect the quality and performance of biologic scaffolds for surgical applications.
A review of clinical experiences, especially general surgery, orthopedic and trauma related challenges, neurologic applications, gastrointestinal applications, and cardiovascular applications.
Identification and discussion of the effect of the host innate immune response upon scaffold remodeling and clinical outcome.
List of invited (and accepted) speakers to date: Robert M. Nerem, PhD (Georgia Institute of Technology), Arnold I. Caplan, PhD (Case Western Reserve University), Jeffrey M. Davidson, Ph.D. (Vanderbilt University), Cyrus Ghajar, PhD (Fred Hutchinson Cancer Research Center), Jeffrey A. Hubbell, PhD (Swiss Federal Institute of Technology, EPFL), Kristen Jones, MD (University of Minnesota), C. James Kirkpatrick MD PhD DSc FRCPath (Johannes Gutenberg University), Robert G. Martindale, MD, PhD (Oregon Health & Science University), Charles D. Mills, PhD (BioMedical Consultants), Laura E Niklason PhD, MD (Yale University), Frederick J. Schoen, MD, PhD (Harvard University), Allan S. Stewart, MD (Mount Sinai Hospital NYC), and Nadia Rosenthal, PhD (Monash University, Australia).
---
SCIENTIFIC ADVANCES
DBS: Treating Movement Disorders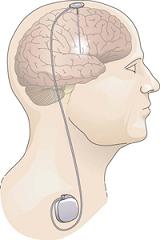 It is only in the last decade that deep brain stimulation (DBS) technology was refined and widely accepted as a treatment for Parkinson's disease and movement disorders, according to McGowan Institute for Regenerative Medicine affiliated faculty member Mark Richardson, MD, PhD, Assistant Professor of Neurological Surgery at the University of Pittsburgh and the Director, Brain Modulation Laboratory, and the Director, Epilepsy and Movement Disorders Surgery Program, both in the Department of Neurological Surgery.
What is DBS?
DBS surgery involves placing a thin metal electrode (about the diameter of a piece of spaghetti) into one of several possible brain targets and attaching it to a computerized pulse generator, which is implanted under the skin in the chest below the collarbone.  All parts of the stimulator system are internal; there are no wires coming out through the skin.  A programming computer held next to the skin over the pulse generator is used during routine office visits to adjust the settings for optimal symptom control.  Unlike older lesioning procedures or gamma knife radiosurgery, DBS does not destroy brain tissue.  Instead, it reversibly alters the abnormal function of the brain tissue in the region of the stimulating electrode.  It is important to note that DBS therapy may demand considerable time and patience before its effects are optimized.
How does DBS work?
DBS is not a cure for movement disorders, but it can successfully treat symptoms by disrupting the abnormal patterns of brain activity that become prominent in these diseases.  DBS is often described as a brain "pacemaker" because constant pulses of electrical charge are delivered at settings that are thought to restore normal brain rhythms, allowing the restoration of more normal movements.  The exact mechanisms of this neuromodulation are still unknown.
Who should get DBS?
This is a common question with a surprisingly simple answer:  Anyone who would get significant benefit from the treatment and can undergo the operation with minimal risk.  It is not necessary to suffer for years after diagnosis with a movement disorder, trying every known combination of medicine, before DBS can be considered.  DBS is a surgical option that is known to improve quality of life for movement disorder patients, so when one's quality of life is dramatically affected by a disease or by medication side effects, it's time to consider DBS.
Patients with these conditions may benefit from DBS:
Parkinson Disease: DBS surgery offers important symptomatic relief in patients with moderate disability from Parkinson's disease who still retain some benefit from antiparkinsonian medications and who are cognitively intact. Patients who fluctuate between "ON" and "OFF" medication states are usually good surgical candidates, as are those who have troublesome dyskinesias.
Dystonia: DBS surgery does not cure dystonia but can decrease the abnormal movements and postures of dystonia. The degree of benefit appears to vary with both the type of dystonia and the duration of the symptoms. Adolescents and young adults with inherited forms of primary dystonia appear to get very significant benefit. For patients with secondary dystonia due to stroke or head trauma, the benefit may be mild.  Adults who have had dystonia for many years probably have less improvement than those with more recent onset of symptoms.
Meige Syndrome: Also known as oral-facial dystonia, this syndrome is a combination of two forms of dystonia: blepharospasm and oromandibular dystonia. Dr. Richardson works closely with Raymond Sekula, MD, Director of the Cranial Nerve Disorders Program, to identify patients with Meige Syndrome who may benefit from DBS.
Essential Tremor: DBS is a highly effective therapy for patients with essential tremor, often resulting in an 80% decrease in tremor that lasts for several years.  Patients with a tremor secondary to stroke, traumatic brain injury, or multiple sclerosis are less likely to benefit from DBS.
Dr. Richardson is aware of the persistent unknowns of DBS research.  "There is still plenty of science in the field that remains to be uncovered," he said. "But it is important to note that it does work really well, even if we don't fully know why it works really well."
Illustration:  NIH.
---
Under the Microscope: Dr. Barry Hirsch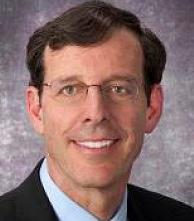 As reported by Heather Chronis in the Fall 2015 Sight & Sound newsletter of the Eye and Ear Foundation of Pittsburgh, McGowan Institute for Regenerative Medicine affiliated faculty member Barry Hirsch, MD, Director of the Division of Otology in the Department of Otolaryngology in the University of Pittsburgh School of Medicine, is highly regarded by his patients as compassionate and knowledgeable, and is nationally recognized for excellence in ear surgery. He came to the University of Pittsburgh in 1979 for a residency in Otolaryngology (ENT), after graduating from the University of Pennsylvania Medical School. His interview with the Chairman of the Department of Otolaryngology, Eugene N. Myers, MD, sealed the deal for relocating to Pittsburgh.
"Dr. Myers was making the program come alive," states Dr. Hirsch. Upon completing the residency, Dr. Hirsch joined the Georgetown Faculty in 1982 and stayed until 1984, when he was given the opportunity to return to the Eye and Ear Hospital for a fellowship with his mentor, Donald B. Kamerer, MD. This "golden opportunity" coincided nicely with his wife, Jean Harwick, MD, beginning a cornea fellowship at Eye and Ear Hospital.
In 1987, Dr. Hirsch established the Temporal Bone Laboratory as a training area for residents. He recognized the need for the Residents and Fellows to obtain the necessary practice to develop their skills in ear surgery. The laboratory began with state-of-the-art equipment, including the same microscopes that are used in the operating room. Following his fellowship with Dr. Ugo Fisch in Switzerland in 1996, Dr. Hirsch began to incorporate techniques of Skull Base Surgery into the training facility. Donor funding from many of Dr. Hirsch' patients, the Lions Clubs, and other organizations continues to provide updated equipment that maintains the status of the laboratory as one of the finest in the country. As a testament to its success, the dynamic space is now also used by Ophthalmology, Urology, and Plastic Surgery for training purposes.
Otolaryngology residents and neurotology fellows regard Dr. Hirsch as an outstanding instructor. As a resident recently commented, "Dr. Hirsch clearly loves working with residents and teaching, and is very trusting in surgical situations that require precision measured in millimeters. He is just as patient and thoughtful in the clinic setting, and is always ready to answer and discuss clinical questions. Dr. Hirsch is also one of the most personable Attendings I have had the pleasure of working with — he obviously cares a great deal for his patients, and they for him."
Dr. Hirsch takes a considerate and personalized approach to every one of his patients. "I first began treatment with Dr. Hirsch in 1989, when I had my first ear surgery. Quite frankly, I would be nearly deaf today, if it had not been for Dr. Hirsch's medical treatment. Dr. Hirsch takes the time to explain everything regarding the problem at hand and how to resolve the issue. He is always happy to see me and I am always astounded at how cordial he is even during the worst appointments," states Laura Underhill. Twenty six years later, she continues to be a patient of Dr. Hirsch.
The admiration is not all one sided. Dr. Hirsch is often inspired by his patients. A teenage patient of Dr. Hirsch's has a metastatic tumor that has spread to his lungs and treatment, at this point, is directed toward controlling the primary tumor and those to his lungs. The patient has a "phenomenal outlook" and shares his love of music, including a self-produced CD with Dr. Hirsch all while receiving chemotherapy at Children's Hospital of Pittsburgh of UPMC. Dr. Hirsch considers this patient a role model and source of inspiration showing strength and love of life.
Dr. Hirsch remains passionate about Otolaryngology more than 30 years after arriving at the Eye and Ear Institute. His excellence in treating patients, along with training residents and fellows, has helped the institution maintain its top national ranking. Dr. Hirsch is a prime example of the continued exceptional patient care and treatment that has been the hallmark of the Eye and Ear Institute since its inception.
---
McGowan Institute for Regenerative Medicine Affiliated Faculty Receive CMI Grants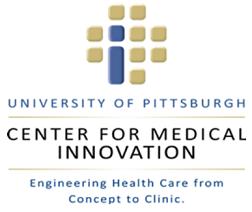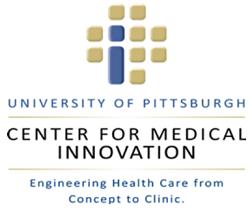 The University of Pittsburgh's Center for Medical Innovation (CMI) awarded grants totaling $85,000 to four research groups through its 2015 Round-2 Pilot Funding Program for Early Stage Medical Technology Research and Development. Two of these funding proposals from McGowan Institute for Regenerative Medicine affiliated faculty members are for a nanowire glaucoma drainage implant and for bioactive hydrogels for bone regeneration.  Details include:
Self-Cleaning Smart Antibacterial Surfaces:  Award to design, build, and test a glaucoma drainage implant with antimicrobial properties based on nanowire technology.
Paul W. Leu, PhD, Assistant Professor, Industrial Engineering
Graham Hatfull, PhD, Professor, Department of Biological Sciences
Robert M.Q. Shanks, PhD, Associate Professor, Department of Ophthalmology
Nils Loewen, DMSC, MD, PhD, Associate Professor, Department of Ophthalmology
RegenMatrix (Collagen-mimetic Bioactive Hydrogels for Bone Regeneration):  Award to develop a bioactive hydrogel to guide bone mineralization in osteoporosis and in healing of fractures.
Shilpa Sant, PhD, Assistant Professor, Pharmaceutical Sciences
Yadong Wang, PhD, Professor, Bioengineering
Sachin Velankar, PhD, Associate Professor, Chemical Engineering
Charles Sfeir, DDS, PhD, Associate Professor, Department of Oral Biology
CMI, a University Center housed in Pitt's Swanson School of Engineering (SSOE), supports applied technology projects in the early stages of development with "kickstart" funding toward the goal of transitioning the research to clinical adoption. Proposals are evaluated on the basis of scientific merit, technical and clinical relevance, potential health care impact and significance, experience of the investigators, and potential in obtaining further financial investment to translate the particular solution to healthcare.
"This is our fourth year of pilot funding, and our leadership team could not be more excited with the breadth and depth of this round's awardees," said Alan D. Hirschman, PhD, CMI Executive Director. "This early-stage interdisciplinary research helps to develop highly specific biomedical technologies through a proven strategy of linking UPMC's clinicians and surgeons with the Swanson School's engineering faculty."
Illustration:  Center for Medical Innovation.
---
Corneacopia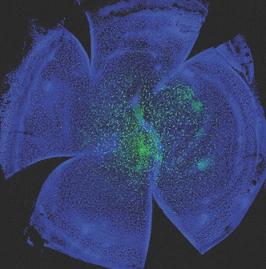 Corneal blindness affects millions worldwide. To date, the only treatment available is a corneal transplant. But potential new cures are coming from unexpected places—including wisdom teeth!
A husband-and-wife team at the University of Pittsburgh has been working toward the dream of regrowing new corneal tissue for years—that's McGowan Institute for Regenerative Medicine affiliated faculty member James Funderburgh, PhD, a professor of ophthalmology and the Associate Director of the Louis J. Fox Center for Vision Restoration, and Martha Funderburgh, a research assistant in his lab and a corneal transplant recipient herself.
Working with Sayan Basu, a physician-scientist in Hyderabad, India, and Fatima Syed-Picard, a Pitt postdoc-turned NIH award recipient, the Funderburghs are now developing ways to repair corneal damage—and even prevent corneal scarring from happening in the first place. It turns out that adult stem cells taken from our own eyes and teeth are capable of regenerating this tissue so vital to our focusing power.  Learn more about this fascinating research by listening to this Pitt Medcast.
Illustration:  Pitt Medcast.
---
Scientists to Scientists: California 5th Grade Team Benefits from Badylak Lab Team Support
The Malcom Mechanical Mariners Robotics Team of Laguna Niguel, California, recently accepted a First Place Award in the VEX IQ Challenge: Science, Technology, Engineering, Mathematics (STEM) Research Project Competition for their entry, "Regenerative Growth Technology."  McGowan Institute for Regenerative Medicine deputy director Stephen Badylak, DVM, PhD, MD, professor in University of Pittsburgh's Department of Surgery, and Michelle Scarritt, PhD, and Scott Johnson, MS, from his lab assisted the fifth grade teacher and coach, Nona Reimer, and the team with their understanding of the science behind their project.
The California team consists of 8 students—Ryan Weiss, Ethan Shaver, Josh Chernekoff, Jackson Garbino, Dante Viramontes, Brenden Bellavia, Ben Dailey, and Anthony DeCato—from  John Malcom Elementary School.  The team chose tissue engineering and regenerative medicine as its area of study.  During their preliminary research, the students learned that tissue from pig bladders can be used to form scaffolds that can be used in used in humans to trigger stem cells to regenerate damaged or missing tissue.  They read an article about a man whose finger tip grew back with the use of a regenerative powder.  They watched a video of a news clip that showed a man with a skiing injury strengthen his leg by regenerating damaged muscle tissue and even read about a serviceman who regrew muscle tissue in his leg after sustaining a disabling injury while serving our country.  The team all agreed, "This research is amazing to us."
Wanting to know all that they could about tissue engineering and regenerative medicine, the team reached out to Dr. Badylak to increase their understanding of the answer to their question:  "How does a powder grow back human tissue?"  Following a conference call, the students learned from Drs. Badylak and Scarritt and Mr. Johnson exactly what they needed to know to prepare for their winning presentation to judges at their first competition on January 15, 2016.
The Malcom Mechanical Mariners Robotics Team's next stop is a state competition on March 12 with the hope to make it to World's in April in Louisville, Kentucky.
Congratulations and best of luck, team!
---
Fabricating Devices for the Detection and Separation of Target Molecules from Complex Fluids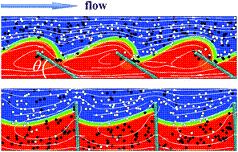 Congratulations to McGowan Institute for Regenerative Medicine affiliated faculty member Anna Balazs, PhD, Distinguished Professor of Chemical Engineering and the Robert v. d. Luft Professor, Department of Chemical & Petroleum Engineering, University of Pittsburgh, and her team on their recent cover illustration of the journal, Soft Matter.
Their publication, "Computational modeling of oscillating fins that "catch and release" targeted nanoparticles in bilayer flows," appears in Issue 5 of 2016.  The abstract reads:
A number of physiological processes in living organisms involve the selective "catch and release" of biomolecules. Inspired by these biological processes, we use computational modeling to design synthetic systems that can controllably catch, transport, and release specific molecules within the surrounding solution, and, thus, could be harnessed for effective separation processes within microfluidic devices. Our system consists of an array of oscillating, microscopic fins that are anchored onto the floor of a microchannel and immersed in a flowing bilayer fluid. The oscillations drive the fins to repeatedly extend into the upper fluid and then tilt into the lower stream. The fins exhibit a specified wetting interaction with the fluids and specific adhesive interactions with nanoparticles in the solution. With this setup, we determine conditions where the oscillating fins can selectively bind, and thus, "catch" target nanoparticles within the upper fluid stream and then release these particles into the lower stream. We isolate the effects of varying the wetting interaction and the fins' oscillation modes on the effective extraction of target species from the upper stream. Our findings provide fundamental insights into the system's complex dynamics and yield guidelines for fabricating devices for the detection and separation of target molecules from complex fluids.
Illustration:  Anna Balazs.
---
AWARDS AND RECOGNITION
Dr. Tracy Cui to Be Inducted Into AIMBE College of Fellows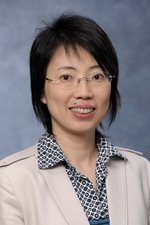 The American Institute for Medical and Biological Engineering (AIMBE) has announced the pending induction of McGowan Institute for Regenerative Medicine faculty member Tracy Cui, PhD, William Kepler Whiteford Professor of Bioengineering, Department of Bioengineering, University of Pittsburgh, into its College of Fellows.  Dr. Cui was nominated, reviewed, and elected by peers and members of the College of Fellows "for outstanding contributions to the research and development of neural interface technology, drug delivery, and biosensors."
Dr. Cui is the Director of the Neural Tissue/Electrode Interface and Neural Tissue Engineering Lab. She is also the Neural Engineering Track Coordinator for the Department of Bioengineering Graduate Committee and serves on the Leadership Team of the Center for Medical Innovation. Prior to Pitt, she was a Research Scientist at Unilever Research US in Edgewater, New Jersey. Dr. Cui earned her BE in Polymer Materials and Chemical Engineering and her MS in Biophysics at Tsinghua University in Beijing, China. She went on to earn her PhD in Macromolecular Science and Engineering at the University of Michigan, Ann Arbor, Michigan.
In Dr. Cui's Lab, the primary research focus is on the interactions between neural tissue and smart biomaterials. Dr Cui's research interests lie in neural engineering with special focuses on neural electrode-tissue interface, neural tissue engineering, central nervous system drug delivery, and biosensors. Specific projects include biomimetic surface coatings for neural microelectrode arrays to improve chronic neural recording and stimulation stability, reliability, and longevity; novel material and device development for implantable neural electrodes; micro-patterning of biochemical, surface chemical, and electrical cues on electrode arrays for neural network study; on demand drug delivery in the nervous system; implantable biosensors for cytokines and neurochemicals; control of neural stem cell growth and differentiation via surface and electrical cues; and smart coatings for magnesium-based implants.
Dr. Cui has won numerous awards, including the Swanson School of Engineering William Kepler Whiteford Professor (2015); Peking University Engineering Globex Fellow (2013, 2014); Swanson School of Engineering Bicentennial Alumni Faculty Fellow (2013); Carnegie Science Emerging Female Scientist Award (2013); Pitt Innovator Award (2009, 2011); National Science Foundation Career Award (2008); and the Wallace Coulter Foundation Translational Early Career Award (2005).
She serves as a grant agency reviewer for the National Institute of Health, National Science Foundation, Science Foundation of Ireland as well as the American Institute of Biological Sciences.  Dr. Cui holds one granted and three filed U.S. patents, and she is a reviewer for many prestigious journals, including Advanced Materials, Biomaterials, Journal of Controlled Release, Acta Biomaterialia, Biomedical Microdevices, Biosensors and Bioelectronics, Journal of Neural Engineering, and Nature Communication, among others.  Dr. Cui is the Associate Editor of the Journal of Materials Chemistry B.
The College of Fellows is comprised of the top two percent of medical and biological engineers in the country. The most accomplished and distinguished engineering and medical school chairs, research directors, professors, innovators, and successful entrepreneurs, comprise the College of Fellows.
AIMBE Fellows are regularly recognized for their contributions in teaching, research, and innovation. AIMBE Fellows have been awarded the Presidential Medal of Science and the Presidential Medal of Technology and Innovation and many also are members of the National Academy of Engineering, National Academy of Medicine, and the National Academy of Sciences.
A formal induction ceremony will be held during AIMBE's 25th Annual Meeting at the National Academy of Sciences Great Hall in Washington, DC, on April 4, 2016.  Dr. Cui will be inducted along with 160 colleagues who make up the AIMBE College of Fellows Class of 2016.
AIMBE's mission is to recognize excellence in, and advocate for, the fields of medical and biological engineering in order to advance society. Since 1991, AIMBE's College of Fellows has lead the way for technological growth and advancement in the fields of medical and biological engineering. Fellows have helped revolutionize medicine and related fields in order to enhance and extend the lives of people all over the world. They have also successfully advocated for public policies that have enabled researchers and business-makers to further the interests of engineers, teachers, scientists, clinical practitioners, and ultimately, patients.
Congratulations, Dr. Cui!
---

Regenerative Medicine Podcast Update
The Regenerative Medicine Podcasts remain a popular web destination. Informative and entertaining, these are the most recent interviews:
#156 –– Dr. Bryan Tillman is an Assistant Professor in the Division of Vascular Surgery at University of Pittsburgh Medical Center.  Dr. Tillman discusses his research in the development of novel endovascular devices.
Visit www.regenerativemedicinetoday.com to keep abreast of the new interviews.
---
PICTURE OF THE MONTH
The Picture of the Month is a compliment to the longstanding features Grant of the Month and Publication of the Month. Each of these features highlights the achievements of McGowan affiliated faculty and their trainees. As we have always welcomed suggestions for grants and publications, please also consider submitting images that can highlight your pioneering work.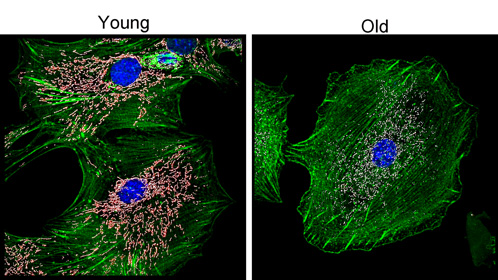 Impact of aging on mitochondria abundance and morphology in disc cells.
Cultures of disc cells derived from young (6 month) and old (30 month) rabbits were stained by immunofluorescence for the mitochondria (white), nuclei (blue), and actin cytoskeleton (green). In these images we performed 3D surface rendering (pink-white) to obtain measures of mitochondrial fragmentation, volume and sphericity using Imaris (Bitplane). With surface rendering, an artificial surface is generated based on the contrast in the area around the object (in this case mitochondria labeled with TOM20). This allows the selection of objects where the overall intensity many vary within the depth of the image.
Image by Drs. Nam Vo and Claudette St.Croix
---
PUBLICATION OF THE MONTH
Author:  Pasta S, Phillippi JA, Tsamis A, D'Amore A, Raffa GM, Pilato M, Scardulla C, Watkins SC, Wagner WR, Gleason TG, Vorp DA
Title:  Constitutive modeling of ascending thoracic aortic aneurysms using microstructural parameters
Summary:  Ascending thoracic aortic aneurysm (ATAA) has been associated with diminished biomechanical strength and disruption in the collagen fiber microarchitecture. Additionally, the congenital bicuspid aortic valve (BAV) leads to a distinct extracellular matrix structure that may be related to ATAA development at an earlier age than degenerative aneurysms arising in patients with the morphological normal tricuspid aortic valve (TAV). The purpose of this study was to model the fiber-reinforced mechanical response of ATAA specimens from patients with either BAV or TAV. This was achieved by combining image-analysis derived parameters of collagen fiber dispersion and alignment with tensile testing data. Then, numerical simulations were performed to assess the role of anisotropic constitutive formulation on the wall stress distribution of aneurysmal aorta. Results indicate that both BAV ATAA and TAV ATAA have altered collagen fiber architecture in the medial plane of experimentally-dissected aortic tissues when compared to normal ascending aortic specimens. The study findings highlight that differences in the collagen fiber distribution mostly influences the resulting wall stress distribution rather than the peak stress. We conclude that fiber-reinforced constitutive modeling that takes into account the collagen fiber defect inherent to the aneurysmal ascending aorta is paramount for accurate finite element predictions and ultimately for biomechanical-based indicators to reliably distinguish the more from the less 'malignant' ATAAs.
Source:  Medical Engineering and Physics. 2016 Feb;38(2):121-30.  Epub 2015 Dec 6.
---
GRANT OF THE MONTH
PI: Stephen Badylak
Titles: IPA#14 – Development and Evaluation of Xenografts for Soft Tissue Reconstruction; IPA#15 – Development and/or Evaluation of Synthetic Materials, Synthetic/Biologic Material Composites, surgical hemostats/sealants/adhesives and/or Methods for Improving the Host Tissue Response to Such Materials; IPA#16 – Development and/or Refinement of In Vitro Methods which would Characterize and/or Predict the Host Response to a Test Article; and IPA#17 – Development / Refinement of Preclinical Models and Ex-Vivo Test Methods
Description: Grant continuation.
Source:  CR Bard
Term:  1/1/2016-12/31/2017
Amount:  $600,000