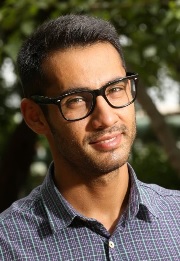 The University of Pittsburgh Department of Bioengineering selected Ali Behrangzade for its Leonard H. Berenfield Graduate Fellowship in Cardiovascular Bioengineering. This competitive fellowship is awarded to one student each academic year. Mr. Behrangzade is a graduate student in the Soft Tissue Biomechanics Lab, which is headed by McGowan Institute for Regenerative Medicine affiliated faculty member Jonathan Vande Geest, PhD, Professor, Department of Bioengineering.
Recipients of this award receive one year of funding for cardiovascular research performed in Pitt's Swanson School of Engineering. They retain the title of Berenfield Fellow throughout their PhD studies and occasionally meet with the award's donor.
Mr. Behrangzade earned his BSc and MSc degrees in mechanical engineering from the University of Tehran. During his master's, he focused on experimental and computational fluid mechanics. He is currently pursuing a PhD in bioengineering under advisor Dr. Vande Geest.
Mr. Behrangzade is working on functional tissue-engineered vascular grafts (TEVGs) that will be used for coronary artery bypass graft (CABG) surgery. According to a 2015 American Heart Association report, coronary artery disease (CAD) occurs in 32.2 percent of males and 18.8 percent of females over the age of 80, and most of these patients require CABG surgery.
Autologous vessels are blood vessels obtained from the same individual and used in CABG surgery. However, these vessels are not always suitable because of prior harvesting or pre-existing vascular disease.
"Since current alternatives for autologous vessels lead to failure of the grafts via intimal hyperplasia – thickening of the inner layer of a blood vessel – and graft thrombosis, a functional TEVG is required for CABG surgery," said Mr. Behrangzade. "As part of this project, I'm studying vasoactivity – the contraction and dilation of a blood vessel in response to different stimuli – of these vascular grafts which is a necessary feature of a functional TEVG."
"Vasoactivity contributes to the regulation of blood pressure by a contraction/dilation process. Since smooth muscle cells (SMCs) play the key role in vasoconstriction/vasodilation, I am investigating the responsiveness of the SMC-seeded vascular graft to different chemical stimuli," explained Mr. Behrangzade. "The ultimate goal of this research is to provide a functional TEVG as a reliable alternative for autologous vessels for CABG surgery, which will lead to less failure and can benefit patients and the healthcare system.
About Leonard H. Berenfield:
Leonard H. Berenfield received his bachelor's degree in mechanical engineering from the University of Pittsburgh in 1964.
In 1965, after one year at Westinghouse, he moved to Warren, Pennsylvania, to use his engineering knowledge to help grow Berenfield Steel Drum Co. – the family steel drum manufacturing business. The firm's continued growth led to reorganization as Berenfield Containers, Inc. in 1985 with Mr. Berenfield assuming the role of President. Further expansions of existing plants over the years and the acquisition of plants in Harrisburg, North Carolina, and Pine Bluff, Arkansas, as well as new factories to diversify the product line into fibre drums established the company's legacy. Mauser USA purchased Berenfield Containers in 2016.
Mr. Berenfield was born and raised in the Pittsburgh area and is an active volunteer. He has held posts in several nonprofit and industry boards including the American Heart Association, the United Way, the Jewish Federation of Cincinnati, Hebrew Union College, the Steel Shipping Container Institute, the International Fibre Drum Institute, and the Industrial Steel Drum Institute.
In 2018, he was named Distinguished Alumnus of the Swanson School's Department of Mechanical Engineering and Materials Science.
Congratulations, Mr. Behrangzade!
Illustration:  University of Pittsburgh Swanson School of Engineering.
Read more…
University of Pittsburgh Swanson School of Engineering News Release