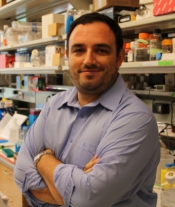 The Foundation for Women's Wellness has awarded the 2016 Iris Klarman Women's Health Fellowship Award to Riccardo Gottardi, PhD, a fifth year post-doc fellow in orthopaedic regenerative medicine at the University of Pittsburgh School of Medicine, Department of Orthopaedic Surgery. His research is examining gender differences in osteoarthritis and joint damage, specifically the effect of sex hormones on cartilage in menopausal women (who are disproportionately affected by this disease). He has an impressive list of awards and academic success. In talking to Dr. Gottardi, it is clear that he is not only capable and highly motivated, but also passionate about improving the lives of women suffering from these diseases. His advisor wrote that Dr. Gottardi is "one of the brightest and highly ranked trainees (in our) department."
Dr. Gottardi works in the laboratory of McGowan Institute for Regenerative Medicine associate director Rocky Tuan, PhD, director, Center for Cellular and Molecular Engineering, the Arthur J. Rooney, Sr. professor and executive vice chair, Department of Orthopaedic Surgery, director, Center for Military Medicine Research, and professor in the Departments of Bioengineering and Mechanical Engineering & Materials Science, University of Pittsburgh.
The Foundation for Women's Wellness (FWW) is a 501c3 nonprofit public charity dedicated to improving women's health by raising support for innovative early-stage research and education. Their focus is straight forward — keep FWW's infrastructure minimal and optimize giving to go directly to research and fellowship awards.
FWW Research Awards focus on start-up funding for small, short-term studies with great promise for advancing women's health. The FWW primarily targets leading women's health concerns such as cardiovascular disease, top female cancers, and hormones' role in disease and stage-of-life health concerns such as pregnancy and menopause. This start-up funding is crucial for moving women's health forward and yet is scarce in medical funding today. Their selection process is guided by their Medical Advisory Board which emphasizes the promise of both the research and investigator to positively impact women's health. FWW Fellowship Awards support emergent physician-scientist dedicated to women's health research.
Read more…
Foundation for Women's Wellness