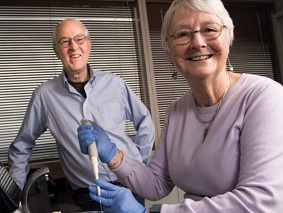 In the Pitt Summer 2018 edition, author Jennie Dorris highlights the career paths of McGowan Institute for Regenerative Medicine affiliated faculty member James Funderburgh, PhD, Professor of Ophthalmology and Cell Biology & Physiology, University of Pittsburgh School of Medicine, and his wife, Martha Funderburgh, MPH, Lab Manager and Sr. Research Technician, Corneal Cell Biology Laboratory, Department of Ophthalmology, University of Pittsburgh School of Medicine.  The story provides "an exciting outlook for a research team inspired by personal experience and driven by the desire to help others see a brighter future."
In the Corneal Cell Biology Laboratory, the Funderburghs' research focuses on the cornea, an organ that provides a visual portal to the world. A transparent outer layer that covers the iris and pupil, it's responsible for helping the eye focus by bending, or refracting, light.  The connective tissue of the cornea is extremely tough and transparent to light. It also presents a significant biological barrier to infection. In millions of individuals, worldwide, however the cornea has lost its transparency due to disease or trauma. Corneal scarring can disrupt vision permanently. The team's work focuses on the biological processes that produce and maintain the unique connective tissue of the cornea as well as the pathological changes that occur during scarring. These involve studies of extracellular matrix molecules and how they influence cell behavior.
In the lab, work extends to studies designed to reverse the scarring process or replace scarred cornea with bioengineered cornea tissue. Over the past few years the researchers have explored the use of stem cells to restore corneal transparency. Using nanofiber scaffolding they found that stem cells produce a tissue identical to that of the transparent tissue of the cornea. They are developing this material to serve as replacement of corneal tissue in scarred eyes. In addition, the team has found that adult stem cells induce regeneration of corneal tissue, removing pathological tissue and replacing it with organized transparent new tissue. These adult cells can be obtained autologously, allowing individuals to be treated with their own cells. The lab is actively investigating the mechanism by which adult stem cells induce tissue regeneration and is developing an approach to clinical trials for using corneal stem cells to treat blindness.
Ms. Dorris' story takes the Funderburghs' research efforts from the University of Washington, to the Kansas State University, to the University of Pittsburgh in 1999 where their investigations focused on alternatives to corneal transplants to treat corneal disease.  It was in 2002, during a McGowan Institute seminar, the scientists learned that most tissues in the body harbor stem cells.  A eureka moment!
"We could grow these stem cells and then convert them into corneal cells," Dr. Funderburgh remembers realizing.
In 2011, after Dr. Funderburgh presented his latest research findings at an international conference, he met Sayan Basu, MBBS, MS, an ophthalmologist and cornea specialist from the L V Prasad Eye Institute in Hyderabad, India.  This meeting led to a collaborative effort to bring the Funderburghs' research to the clinic.  It was in 2014 in India the Funderburghs witnessed the first-ever procedure in a clinical trial to treat corneal damage in humans using stem cells applied in gel.  The operation took mere minutes to complete.  Over 70 patients have been treated with the technique so far, with no reported complications and a high rate of vision improvement.  So far, the interim analysis of results, Dr. Basu says, is "extremely encouraging."
Today, the researchers are exploring options of using either the stem cells or the products made by the cells in clinical trials in the United States.  Though the process is slow and expensive, Dr. Funderburgh is hopeful that they could have a product ready for initial clinical trials within the next two years.
Illustration:  Tom Altany/Pitt Visual Services.
Read more…
Abstract (Concise review: stem cells in the corneal stroma.  Pinnamaneni N1, Funderburgh JL.  Stem Cells; 2012 Jun;30(6):1059-63.)
Abstract (Human limbal biopsy-derived stromal stem cells prevent corneal scarring.  Basu S, Hertsenberg AJ, Funderburgh ML, Burrow MK, Mann MM, Du Y, Lathrop KL, Syed-Picard FN, Adams SM, Birk DE, Funderburgh JL.  Science Translational Medicine; 2014 Dec 10;6(266):266ra172.
Abstract (Compressed collagen enhances stem cell therapy for corneal scarring.  Shojaati G, Khandaker I, Sylakowski K, Funderburgh ML, Du Y, Funderburgh JL.  Stem Cells Translational Medicine; 2018 Jun;7(6):487-494.)