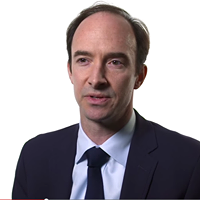 Deep brain stimulation (DBS) at UPMC has proven to be an effective treatment for involuntary movements associated with Parkinson's disease and epilepsy, such as tremors, slowness of movement, rigidity, and problems with walking and balance. DBS is also approved for obsessive-compulsive disorder (OCD) treatment under a Humanitarian Device Exemption.
McGowan Institute for Regenerative Medicine affiliated faculty member R. Mark Richardson, MD, PhD, is an Assistant Professor, Department of Neurological Surgery, University of Pittsburgh. At Pitt, Dr. Richardson is also the Director, Brain Modulation Laboratory, and the Director, Epilepsy and Movement Disorders Surgery Program, both in the Department of Neurological Surgery.  Dr. Richardson calls DBS the "gold standard" for treating patients with Parkinson's disease and for those with essential tremor, the most common type of tremor mainly found in people over age 65. An essential tremor is not dangerous or life-threatening, but it can be annoying and embarrassing for many people.
In the Summer 2018 issue of PittMed, Gavin Jenkins reports several of Dr. Richardson's patients' experiences before and after DBS—one with Parkinson's disease and one with an essential tremor—and others involved with testing DBS for other potential clinical uses.  Dr. Richardson has performed more than 300 DBS surgeries in seven years at Pitt. DBS is designed to be reversible. It's more targeted than current interventions that bathe the brain and the rest of the body in chemicals.
Yet, he understands why there are hesitations about the procedure. He's implanting foreign objects into a brain, placing a pacemaker-like battery into the chest, and connecting it all with a wire under the skin. Do we know enough about the brain to fiddle with it in this way? Can DBS somehow change who these patients are?
"The counterargument is," Dr. Richardson says, "that we're trying to restore these people's identity."
Deep brain stimulation is a surgical procedure in which a hair-thin wire (electrode) is implanted in the area of the brain that is responsible for abnormal movement. The wire is connected to a pulse generator that is implanted under the skin below the collarbone. Once activated, the generator sends mild electrical pulses through the wire to the brain. These electrical pulses modify the brain's electrical signals to help control or stop abnormal movements.
Deep brain stimulation is both adjustable and reversible. New technology allows patients to use a remote control to adjust the level of stimulation needed to provide the greatest symptom relief with the least amount of side effects.
Patients who received deep brain stimulation have shown:
Symptoms lessen by 40 to 60 percent
Improved quality of life
Increased independence
The most profound DBS issue for Dr. Richardson:  So few patients who qualify for the help actually get the procedure. Medical-device makers estimate that only 10 to 13 percent of eligible Parkinson's patients receive the surgery.
Read more…
UPMC: Deep Brain Stimulation (DBS) for Movement Disorders and OCD