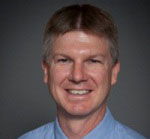 Rotator cuff tears are one of the most common injuries seen by orthopedic surgeons, resulting in 30 percent of all visits to orthopaedic surgeons and over 150,000 surgical procedures per year in the United States. The preferred initial treatment is 6 to 12 weeks of physical therapy (PT), but 25-50 percent of those cases still require surgery. Researchers at the University of Pittsburgh's Swanson School of Engineering recently received a $2.79 million award from the National Institutes of Health to develop diagnostic methods to allow surgeons to determine whether PT or surgery is the most effective initial treatment.
Principal investigator of the 5-year study, "Predicting the Outcome of Exercise Therapy for Treatment of Rotator Cuff Tears," is McGowan Institute for Regenerative Medicine affiliated faculty member Richard Debski, PhD, associate professor of bioengineering and co-director of the Orthopaedic Robotics Laboratory at Pitt. Co-principal investigators are James J. Irrgang, PhD, professor and chair of the Department of Physical Therapy in Pitt's School of Health and Rehabilitation Sciences and vice chair of clinical outcomes research in the Department of Orthopaedic Surgery; and Scott Tashman, PhD, professor of orthopaedic surgery at the University of Texas Health Science Center at Houston.
"Rotator cuff injuries are one of the most common injuries for people aged 40-70, and can be caused by an injury but often occur simply from wear and tear as we age," Dr. Debski explained. "Over the age of 50, chances increase that 40-50 percent of people have a tear and many don't know it. Although physical therapy is the first preferred treatment, most patients still require surgery, which prolongs recovery time and increases costs. Our goal is to utilize new methods to perform a biomechanical analysis to determine whether a patient is more suited for PT or surgery, and thereby improve overall recovery."
Over the first 2 years, Dr. Debski and his group plan to enroll 100 patients with isolated full thickness tears of the supraspinatus tendon – the most basic tear. The biomechanics analysis will measure shoulder motion and tear size before and after physical therapy. He noted the technology that they will use, a bi-planar x-ray system that Dr. Tashman developed, is unique in such a study. The x-ray images provide quantitative measurements of shoulder motion during activities of daily living and are representative of rotator cuff function. The group will also track the tear size longitudinally out to 1 year, a first for such a study. Their long-term goal is to perform a clinical trial to determine whether the predictions make a difference in treatment outcomes.
"Determining the characteristics of treatment versus surgery will be critical, but for the first time we'll be gathering comprehensive, quantitative data to make these predictions," he said. "The genesis of this study began in 2011 with Volker Musahl, MD, medical director of the UPMC Rooney Center for Sports Medicine and orthopaedic surgeon for Pitt's football team. Our rotator cuff research has now grown to include bioengineering, radiology, physical therapy, and orthopaedic surgery, which is a tremendous interdisciplinary effort to attack this problem."
Illustration:  Biodynamics Laboratory, Department of Orthopaedic Surgery, University of Pittsburgh.
Read more…
University of Pittsburgh Swanson School of Engineering News Release