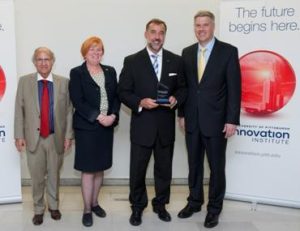 The University of Pittsburgh has witnessed more than 120 startup companies launched based on Pitt-developed inventions since 1996.  McGowan Institute for Regenerative Medicine deputy director Paulo Fontes, MD, FACS, UPMC transplant surgeon and associate professor, Starzl Transplantation Institute, Department of Surgery, University of Pittsburgh School of Medicine, received a 2016 Pitt Innovator Award for his scientific discovery, which has been patented (WO2014059316 A1, PCT/US2013/064607) and further licensed by VirTech Bio LLC, Beverly, Massachusetts. This project was originally sponsored by a charitable fund from the Virginia Garcia de Souza (VGS) Foundation, Sao Paulo, SP, Brazil. It creates a new technology for organ and tissue preservation based on the combined use of machine perfusion and a new hemoglobin-based oxygen carrier solution.  Recently, Dr. Fontes received his award from Chancellor Patrick Gallagher, Provost Patricia Beeson, and Senior Vice Chancellor for the Health Sciences and Dean of the School of Medicine, Arthur Levine (all pictured with Dr. Fontes).
The pioneering research led by Dr. Fontes, was also selected as a 2016 TechConnect Innovation Awardee.  The TechConnect Innovation Awards selects the top early-stage innovations from around the world through an industry-review process of the top 15% of annually submitted technologies into the TechConnect National Innovation Summit.  Rankings are based on the potential positive impact the submitted technology will have on a specific industry sector.
Voice of America recently featured Dr. Fontes' award-winning work.  Listen to the interview here.
Currently, 20 to 40 percent of donor livers cannot be transplanted into recipients because oxygen deprivation during storage and transport in conventional containers can make pre-existing tissue damage worse, explains Dr. Fontes.  If the damage is too extensive, the organ cannot be safely transplanted into a patient.
"Standard practice is to use a method called cold static preservation, which uses tissue cooling to slow down metabolism with the aim of reducing the demand for oxygen and thus protecting cells from death," Dr. Fontes said. "In our new system, we pump a special fluid designed to deliver oxygen to the liver, creating an environment that supports normal function. The integrity of the cells and vital metabolic activity is sustained for eventual transplantation of the organ."
Congratulations, Dr. Fontes!