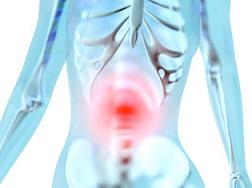 Results of a study recently published online in the Journal of Crohn's and Colitis provided positive results from the assessment of the effectiveness of a hydrogel for the treatment of Inflammatory Bowel Disease ("IBD").   The study was led by McGowan Institute for Regenerative Medicine deputy director Stephen Badylak, DVM, PhD, MD, in collaboration with Asana Medical, Inc.  The study focused on effectiveness of an ExtraCellular Matrix Hydrogel ("ECMH") in the treatment of IBD.  Asana has a field-limited exclusive license to certain patent rights for this technology from the University of Pittsburgh.
The preclinical design leveraged earlier proof-of-concept studies. The results confirm that ECMH inhibits inflammation and promotes the rapid regeneration of healthy tissue in a rodent model of Ulcerative Colitis ("UC"). Specifically, the use of ECMH established:
proof of mucosal regeneration and reduction in inflammation and ulceration
reduction in stool blood and weight loss
restoration of the cell barrier function
reduction in inflammatory biomarkers
Dr. Badylak, professor in the Department of Surgery, deputy director of the McGowan Institute, and director of the Center for Pre-Clinical Tissue Engineering within the Institute, said, "The study results suggest an alternative to traditional therapies for Inflammatory Bowel Disease. The study shows the ability of ECMH to rapidly transform the inflammatory flares of UC into a healing state in this rodent model. These findings are consistent with the known mechanisms by which ECM provides constructive signals in other body tissues."
McGowan Institute for Regenerative Medicine affiliated faculty member Neill Turner, PhD, Research Assistant Professor in Pitt's Department of Surgery, was a member of the research team.
"Results from this study suggest a new method of potential treatment for Ulcerative Colitis," said Steven Wexner, MD, PhD (Hon), Director of the Digestive Disease Center and Chairman of the Department of Colorectal Surgery at Cleveland Clinic Florida, and current member of Asana's Medical Advisory Board and a paid consultant. "Traditional therapy attempts to ameliorate clinical symptoms by reducing inflammation. This approach with ECMH seems to be to try to provide a local scaffold to allow healing."
Illustration:  Asana Medical, Inc.
Read more…
Asana Medical, Inc. News Release
Abstract (Restoring mucosal barrier function and modifying macrophage phenotype with an extracellular matrix hydrogel: potential therapy for ulcerative colitis.  Timothy J. Keane, Jenna Dziki, Eric Sobieski, Adam Smoulder, Arthur Castleton, Neill Turner, Lisa J. White, Stephen F. Badylak.  Journal of Crohn's and Colitis; first published online: 20 August 2016.)