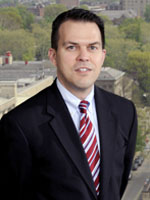 William Wagner, PhD, Director of the McGowan Institute for Regenerative Medicine and Professor of Surgery, Bioengineering and Chemical Engineering at the University of Pittsburgh, has been named Inventor of the Year by the Pittsburgh Intellectual Property Law Association.
The award recognizes the innovative contributions of Dr. Wagner and his team.  Together they have invented a series of new biomedical materials focused on biodegradable, elastic polymers that can be used to slow the dilatation of the heart following heart attack as well as in other applications, such as creating cardiac valves.  Dr. Wagner holds 19 issued patents, 7 international patents, and an additional 27 patent filings in the field of cardiovascular biomaterials, medical devices, imaging, and tissue engineering. Six of his patents have been licensed by Pitt's University Office of Technology Management. Together with collaborator David Vorp, PhD, and two former students, Dr. Wagner co-founded a company, Neograft Technologies, that has raised over $34.3M in funding to date. The company recently initiated clinical trials in Europe around an invention that creates a temporary elastic support system around veins prior to their use as arterial grafts in coronary artery bypass surgery.
The award also recognizes the positive, significant economic impact the McGowan Institute for Regenerative Medicine has had within the western Pennsylvania region. Under Dr. Wagner's direction, the McGowan Institute is a leader in the commercialization of medical device and regenerative medicine technologies and has made an international impact on healthcare with its development of circulatory assist devices (including the current most commonly implanted ventricular assist device), pulmonary assist devices, and extracellular matrix-based materials for regenerative repair and healing.  He has played an important role in the facilitation and nurturing of academic innovation and the transfer of this technology to positively impact society. The McGowan Institute has created 28 start-up companies that have attracted over $500M in external investment.  The McGowan Institute is also noteworthy for its numerous programs to aid its faculty in rapidly refining their innovation efforts by providing ready access to an executive-in-residence program for competitive landscape evaluation and business model development. This program, which has been supported by philanthropy and the University of Pittsburgh Innovation Institute has refined numerous nascent technologies and helped to refine business plans and technical approaches. The Institute has also been well ahead of its peers by its early integration of regulatory expertise into product development efforts. This acumen has aided the Institute as it has attracted major research and technology development grants from the Department of Defense in creating solutions for warfighter injuries, and partnered with industry in the medical device and pharmaceutical space.
Congratulations, Dr. Wagner!
University of Pittsburgh Swanson School of Engineering News Release